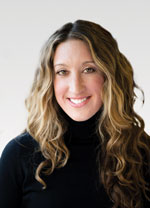 Gravity Goldberg
Gravity Goldberg is an international educational consultant and author of eight books on teaching. Mindsets & Moves (Corwin Literacy, 2015) put her on the world stage with its practical ways to cultivate student agency, leading to speaking engagements and foreign translations of her work. She has almost 20 years of teaching experience, including positions as a science teacher, reading specialist, third grade teacher, special educator, literacy coach, staff developer, assistant professor, educational consultant, and yoga teacher. Gravity holds a B.A. and M.Ed. from Boston College and a doctorate in education from Teachers College, Columbia University. She is the founding director of Gravity Goldberg, LLC, a team that provides side-by-side coaching for teachers.

---
Workshops
Workshops
Supporting Student Independence: Creating Classrooms Where Students Take Charge:

Teachers will learn about what gets in the way of student independence, as well as the research on motivation and ownership. Teachers of all subject areas will leave with concrete ideas for what they can do (and possibly stop doing) so students can take charge of their own learning process.

Conferring With Readers:

Gravity explains the benefits of student reading conferences and how to use them to meet individual student needs. Gravity will also demonstrate conferences and offer tips and tools for both veteran and novice teachers.

Using the Gradual Release Model to Support Ownership and Independence:

Gravity will clarify what the gradual release model is and how it fits within a reading and writing classroom. She will break each part of the model down into manageable and easy to replicate steps for teachers.

Cultivating Growth Mindsets with Readers:

Gravity will explain the concept of mindset and the relevant research about how it impacts student readers. She will then shift to focus on the moves teachers can make to identify students' mindsets, and if needed, help shift them towards greater growth.

Personalizing the Reading and Writing Experience:

Gravity helps teachers think about easy to implement ways to bring more personalization into the classroom while helping students work towards meeting standards. Teachers will learn how to restructure lessons and assignments to support more meaningful student engagement.

Embedding Assessment Throughout the Reading Process:

Gravity helps teachers envision assessment in authentic and embedded ways that do not interfere with valuable reading instructional time. These include self-assessment, reflection, small group assessments, and formal and informal methods.
---
Related Titles
This is a carousel with related book cards. Use the previous and next buttons to navigate.