Hands-on, Practical Guidance for Educators
From math, literacy, equity, multilingual learners, and SEL, to assessment, school counseling, and education leadership, our books are research-based and authored by experts on topics most relevant to what educators are facing today.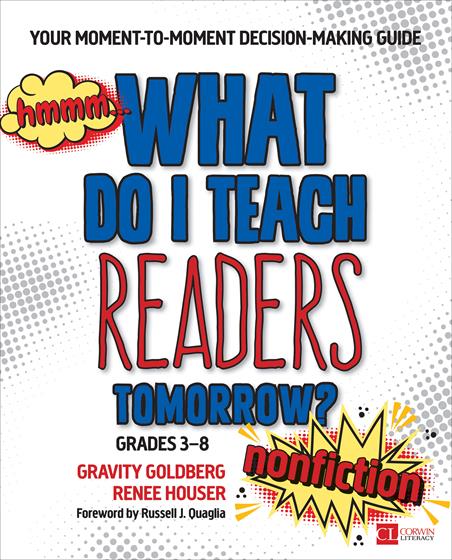 Bestseller!
What Do I Teach Readers Tomorrow? Nonfiction, Grades 3-8
Your Moment-to-Moment Decision-Making Guide
Foreword by Russell J. Quaglia

Discover how to move your readers forward with in-class, actionable formative assessment in just minutes a day with a proven 4-step process and lots of next-step resources.
Product Details
Grade Level: PreK-12
ISBN:

9781506351216

Published By: Corwin
Series: Corwin Literacy
Year:

2017



Page Count: 296

Publication date:

February 01, 2017
Price: $39.95
Description
"Well, that was a great minilesson—now what?"

For every teacher who has uttered those words, this book is for you. In What Do I Teach Readers Tomorrow? Nonfiction, educators Gravity Goldberg and Renee Houser take the guesswork out of determining students' needs with a moment-to-moment guide focused on the decisions that make the biggest impact on readers' skill development. With the authors' guidance, you put their next-step resources into action, including:
Tips for what to look for and listen for in reading notebook entries and conversations about books
Reproducible Clipboard Notes pages that help you decide whether to reinforce a current type of thinking, teach a new type of thinking, or apply a current type of thinking to a new text
More than 30 lessons on synthesizing information and understanding perspectives, writing about reading, organizing thinking, and more
Reading notebook entries and sample classroom conversations to use as benchmarks
Strategies for deepening the three most prevalent types of thinking students do when synthesizing: Right-Now Thinking (on the page), Over-Time Thinking (across a picture book, a chapter, or longer text), or Refining Thinking (nuanced connections across text and life concepts)
Strategies for deepening the three most useful types of thinking—feelings, frames, and opinions—when considering perspectives
Online video clips of Renee and Gravity teaching, conferring, and "thin slicing" what nonfiction readers need next
With What Do I Teach Readers Tomorrow? Nonfiction, you learn to trust your instincts and trust your students to provide you with information about the next steps that make the most sense for them. Teaching students to engage with and understand nonfiction becomes personal, purposeful, and a homegrown process that you can replicate from year to year and student to student.
"Goldberg and Houser – both former staff developers at the Teachers College Reading and Writing Project – have perfectly combined theory and practice to help teachers put students first in their decision-making process. Best of all, they've provided the tools necessary to assist teachers in making those decisions become a reality right away."
— Reviewed by Pam Hamilton for MiddleWeb
Key features
QR codes in book to video clips of Gravity and Renee showing the moves in this book. A PD guide will be on the companion website too. Cross connections to fiction version TBD.
Table of Contents
Foreword
---
Acknowledgments
---
A Quick-Start Guide for Easy Access
---
Chapter 1: Each Classroom Moment Is an Instructional Decision
Acting Without a Script: Embracing Our Role as Improvisers
Answering the "What Next?" Question
Intentional Teaching: Decision Making With Students at the Center
Self-Reflection Questionnaire: What Type of Decision Maker Are You?
Decision-Making Styles
Three Common Teaching Habits
Let Students Be Your Guide
Getting Started: An Action Plan
Chapter 2: Decisions About Book Selection
Making a Choice to Read Aloud a Nonfiction Text
Narrative Nonfiction
Persuasive Nonfiction
Expository Nonfiction
Mash-Ups
5 Ways to Engage Students in Nonfiction Read Alouds
Chapter 3: Decisions About Reading Notebooks
Why We Really Use Writing as a Tool for Understanding
Current Reality: Why Students Write About Reading in School
Writing About Reading: An Important Tool for Readers and Their Teachers
How to Collect Thinking in Notebook Entries
Self-Reflection Questionnaire: Reading Notebooks
What We Might Let Go of When Asking Students to Write About Reading
Reading Notebooks: An Action Plan
Chapter 4: Decisions About Discussion
The Benefits: Making Meaning in Texts and Our Lives
Teach Students to Have Meaningful Conversations
Making Decisions Based on Student Conversations
Effective Nonfiction Conversation Characteristics
What We Might Let Go of When Asking Students to Talk About Their Reading
Self-Reflection Questionnaire: Student Conversations
Authentic Conversations: An Action Plan
Chapter 5: Decisions About Synthesizing Information
What Is Synthesis?
Why Is Synthesis So Important?
What Other Reading Skills Fit With Synthesis?
What to Look for When Students Synthesize Information
Thin-Slicing Students' Synthesis Thinking
Decide What to Teach Next: Focus on Three Main Choices
Synthesis Across Texts
Synthesizing Information: An Action Plan
Chapter 6: Decisions About Understanding Perspectives
What Is Perspective?
Why Is Understanding Perspectives Important?
What Other Reading Skills Fit With Understanding Perspectives?
What to Look for When Understanding Perspective
Decide What to Teach Next
Reflecting With Students: How Understanding Perspectives Helps Us
Understanding Perspectives: An Action Plan
Chapter 7: Becoming Confident and Intentional Decision Makers
Appendices
---
Appendix A. Nonfiction Book Rating System
Appendix B. Some Favorite Nonfiction Texts
Appendix C. Clipboard Notes: Reading Notebook Entries
Appendix D. Clipboard Notes: Student Conversations
Appendix E. Synthesizing Nonfiction Texts
Appendix F. Clipboard Notes: Types of Thinking About Synthesizing Information
Appendix G. Understanding Perspectives in Nonfiction
Appendix H. Clipboard Notes: Types of Thinking About Understanding Perspectives
References
---
Index
---