Hands-on, Practical Guidance for Educators
From math, literacy, equity, multilingual learners, and SEL, to assessment, school counseling, and education leadership, our books are research-based and authored by experts on topics most relevant to what educators are facing today.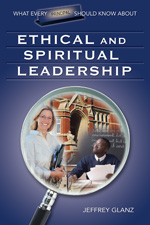 Look Inside
What Every Principal Should Know About Ethical and Spiritual Leadership
Flex some moral muscle to strengthen lifelong learning and achievement!

This third volume of a seven-part leadership series offers practical strategies infused with passionate insights about principals' vital role as ethical and spiritual leaders empowered to boost achievement. Research-based yet inspirational, the guide equips new and veteran administrators with the tools and reflective prompts needed to become esteemed role models. Features include:
Proven best practices for upholding the spiritual and moral dimensions of leadership
Five essential virtues for leading with conviction
Straightforward tactics for resolving real-world ethical dilemmas
Product Details
Grade Level: PreK-12
ISBN:

9781412915885

Published By: Corwin
Year:

2005



Page Count: 120

Publication date:

October 13, 2005
Price: $24.95
Table of Contents
Dedication
Acknowledgments
About the Author
Questionnaire: Before We Get Started...
1. Introduction
Case Study and Reflective Questions
2. Best Practices in Leading Ethically, With Moral Purpose, and With an Awareness of the Spiritual
Maintaining Assumptions About Ethics
Creating and Sustaining an Ethical Organization
Affirming 3 Qualities for a Moral Life
Following 7 Spiritual Gateways
Becoming a Holistic Educator
Conclusion
3. Leading With Soul and Conviction: Five Essential Virtues for Effective Leadership
Exhibiting Courage
Maintaining Impartiality
Demonstrating Empathy
Judging Ethically
Remaining Humble
Conclusion
4. Approaches to Resolving Ethical Dilemmas
Utilizing the Rest Model
Attending to the Five Principles of Ethics
Raising 12 Questions When Making a Decision
Conclusion
Conclusion: The Moral Imperatives of School Leadership
Resource A. Realities of Ethical and Spiritual Leadership: In-Basket Simulations
Resource B. Assessing Your Role as an Ethical and Spiritual Leader
Resource C. An Annotated Bibliography of Best Resources
References
Index