Hands-on, Practical Guidance for Educators
From math, literacy, equity, multilingual learners, and SEL, to assessment, school counseling, and education leadership, our books are research-based and authored by experts on topics most relevant to what educators are facing today.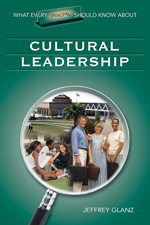 Look Inside
What Every Principal Should Know About Cultural Leadership
Set the tone for schoolwide success and watch student achievement soar!

Packed with straightforward insights, research, anecdotes, and proven best practices, this second volume of the seven-part series is a one-stop resource for harnessing the power of school culture to boost morale and achievement, while fostering a successful learning community.

It provides the nuts and bolts for building and strengthening the four-tiered cultural role of every principal to promote: a positive school climate, visionary leadership, cultural diversity, and school self-renewal. The user-friendly guide crystallizes key points for quick access and easy implementation to inspire new and veteran principals.
Product Details
Grade Level: PreK-12
ISBN:

9781412915878

Published By: Corwin
Year:

2005



Page Count: 144

Publication date:

October 13, 2005
Price: $28.95
Table of Contents
Dedication
Acknowledgments
About the Author
Questionnaire: Before We Get Started...
1. Introduction
Case Study and Reflective Questions
2. Best Practices in Sustaining Positive Organizational Climate and Culture
Building Relationships With Students
Building Relationships With Teachers
Building an Ethic of Caring
Building Staff Morale
Conclusion
3. Best Practices in Visionary Leadership
Examining Beliefs and Values
Composing a Vision Statement
Actualizing Your Vision
Conclusion
4. Best Practices in Promoting Cultural Diversity
Encouraging Culturally Relevant Teaching
Debunking Myths About Culturally Relevant Pedagogy
Leading in Culturally Relevant Ways
Conclusion
5. Best Practices in Fostering Organization Self-Renewal
Dealing With the Problem of Change
Dealing With the Problem of Conflict
Dealing With the Challenge of Renewal
Conclusion
Conclusion: Building and Sustaining a Learning Community
Resource A. Realities of Cultural Leadership: In-Basket Simulations
Resource B. Assessing Your Role as Cultural Leader
Resource C. An Annotated Bibliography of Best Resources
References
Index