Hands-on, Practical Guidance for Educators
From math, literacy, equity, multilingual learners, and SEL, to assessment, school counseling, and education leadership, our books are research-based and authored by experts on topics most relevant to what educators are facing today.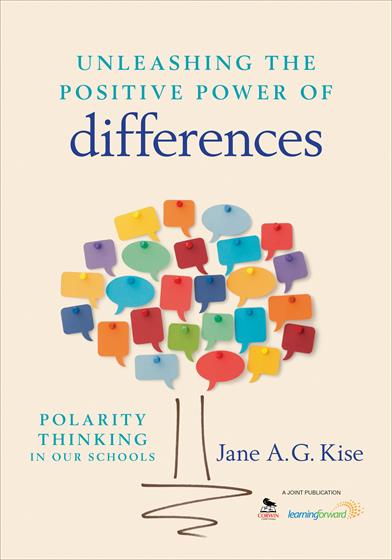 Look Inside
Unleashing the Positive Power of Differences
Polarity Thinking in Our Schools
An illuminating book shows how school leaders can effectively use polarity thinking—a powerful tool for bridging differences—to resolve contentious debates on education reform.
Product Details
Grade Level: PreK-12
ISBN:

9781452257716

Published By: Corwin
Year:

2013



Page Count: 288

Publication date:

November 05, 2013
Price: $39.95
Description
Move from entrenched differences to common goals!
All too often, key education initiatives collapse because leaders fail to anticipate and learn from the concerns of those charged with implementation. This illuminating book shows how education leaders can bring opposing groups to common ground, resulting in a solid plan built on diverse wisdom.

Acclaimed education coach Jane Kise demonstrates how polarity thinking—a powerful tool for bridging differences developed by Barry Johnson of Polarity Partnerships—provides an alternative to endless debates and either/or thinking. Rather than seeing conflicting forces, the tools help us view them as equally important—even interdependent—concepts, approaches, or models. Readers will find:
Ways to recognize polarities, map the positive and negative aspects, and channel energy wasted on disagreement toward a greater common purpose
Tools for introducing and working with polarities
Polarity mapping to help leaders improve processes for leading change and creating buy-in
Ways to use polarity with students as a framework for higher-level thinking
"Jane Kise provides guidance for educators engaged in deep change and implementation of initiatives in which stakeholders have opposing perspectives. Through authentic examples of significant changes educators face today, Kise guides educators to leverage polarity thinking to promote commitment, engagement, and investment."
— Joellen Killion, Senior Advisor
Learning Forward
"The mind, entrenched in the rigidity of either/or thinking, dwells on the divisions and ignores the connections of both/and. This engaging and practical book helps our students (and their teachers) transcend those divisions in a journey toward enriched enlightenment and greater flexibility."
—Arthur L. Costa, Emeritus Professor
California State University, Sacramento
Key features
Applies the framework and tools of polarity management – a powerful means to bridging differences – to the most contentious education reform debates.
Guides readers in applying the framework to their local contexts.
Includes sample polarity maps as well as case studies, professional development activities, and group exercises for mapping and "tapping" polarities
Grounded in extensive interdisciplinary research
Table of Contents
List of Professional Development Activites
---
Acknowledgments
---
About the Author
---
Part I. Understanding Polarity Thinking
---
Chapter 1. Introduction: Let's Put Our Differences to Work for Us
Chapter 2. Getting Unstuck in Education
Part II. The Big Picture of Polarity Thinking in Education Reform
---
Chapter 3. Leveraging Education Goals: Academic Success AND Whole Child Success
Chapter 4. Ensuring Effective Teachers: Evaluation as a Measure of Effectiveness AND a Guide for Professional Growth
Chapter 5. A Math Wars Truce: Mastery of Knowledge AND Mastery of Problem Solving
Chapter 6. Making Diplomas Meaningful: Standardization AND Customization
Part III. Putting the SMALL Polarity Thinking Tools to Work
---
Chapter 7. Introducing Polarity Thinking to Your Team
Chapter 8. Guiding Your Team Through Polarity Thinking
Chapter 9. Using Polarity Tools to Explore Initiatives and Opposing Experts
Chapter 10. Working With Common Polarities in Education
Chapter 11. Students and Polarities: A Tool for Critical Thinking
Part IV. A Closer Look at Why We Believe What We Believe
---
Chapter 12. Carl Jung, Neuroscience, and the Truth That We're Wired to Develop Different Viewpoints
Conclusion: Moving Beyond Polarization in Education
---
Appendix A. A PACT Process Case Study
---
Appendix B. Chapter 9 Reading: How Do We Help Students Succeed?
---
References
---
Suggestions for Further Reading
---
Index
---