Hands-on, Practical Guidance for Educators
From math, literacy, equity, multilingual learners, and SEL, to assessment, school counseling, and education leadership, our books are research-based and authored by experts on topics most relevant to what educators are facing today.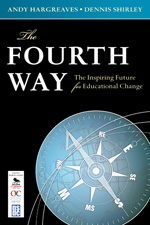 Look Inside
Bestseller!
The Fourth Way
The Inspiring Future for Educational Change
This book analyzes three previous major change efforts, outlines their strengths and limitations, and offers a successful and sustainable fourth way to integrate teacher professionalism, community engagement, government policy, and accountability.
Product Details
Grade Level: PreK-12, Elementary, Secondary
ISBN:

9781412976374

Published By: Corwin
Year:

2009



Page Count: 168

Publication date:

August 11, 2009
Price: $33.95
Description
"Andy Hargreaves and Dennis Shirley, always one or two steps ahead of the field, have done it again. An extremely balanced and insightful treatment of the first three ways of change, in which the authors clearly display the strengths and limitations of each model. And then they go to town in mapping out the fourth way—a concise and compelling framework for change that integrates teacher professionalism, community engagement, government policy, and accountability. The Fourth Way is itself a powerful 'catalyst for coherence' in a field that badly needs guidance. Read the book and rethink your approach to educational reform."
—Michael Fullan, Educational Consultant
Author, The Challenge of School Change
A compelling approach to lasting educational change informed by lessons learned and new successes worldwide!
In an expressive and absorbing style, this penetrating volume offers a plan for viable and sustainable educational reform that reflects research on traditional methods and new findings from successful school initiatives around the globe.
Beginning with an incisive analysis of the three major educational change efforts of the past 25 years, Andy Hargreaves and Dennis Shirley offer a plan that integrates government policy, professional involvement, and public engagement to create an environment of greater inclusiveness, security, and humanity. Drawing on "Four Horizons of Hope"—examples of promising implementation and practice—the book demonstrates how districts and schools can achieve dramatic improvement built on:
Six Pillars of Purpose that support change
Three Principles of Professionalism that drive change
Four Catalysts of Coherence that sustain change
Written for educators, consultants, and administrators at the school and district level, The Fourth Way represents an innovative vision of educational change for meeting the dramatic problems and dynamic challenges facing educators in the 21st century.



Read Andy Hargreaves' cover article, "Leadership Succession and Sustainable Improvement," in the December 2009 issue of The School Administrator magazine.

See the authors' op-ed piece in The Boston Globe. (September 7, 2009)
Key features
Goes beyond how a district, school or policy shift has made a difference in bringing about change and suggests a new way that is based on research and global successes
Written for school principals, staff developers, district consultants, preservice educators
Provides established practice and clear guidelines for implementation
Table of Contents
Preface
Acknowledgments
About the Authors
1. The Three Ways of Change
2. The Three Paths of Distraction
3. The Four Horizons of Hope
4. The Fourth Way
Endnotes
Index