Hands-on, Practical Guidance for Educators
From math, literacy, equity, multilingual learners, and SEL, to assessment, school counseling, and education leadership, our books are research-based and authored by experts on topics most relevant to what educators are facing today.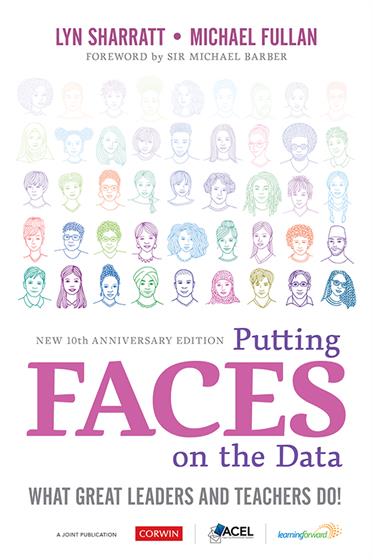 Bestseller!
Putting FACES on the Data
What Great Leaders and Teachers Do!
New 10th Anniversary Edition
A co-publication with ACEL
A co-publication with Learning Forward
Foreword by Sir Michael Barber

Updated case studies, insights from 500+ educators, practical tools, and worldwide research provide a road map for using assessments to inform instruction and drive equity.
Product Details
Grade Level: PreK-12
ISBN:

9781071855102

Published By: Corwin
Year:

2022



Page Count: 376

Publication date:

August 26, 2022
Price: $39.95
Description
When numbers become people, learners thrive
Waves of data—indigestible, dehumanized, and disaggregated—are crashing into the education system every day, driving you to distraction. But imagine a world where you're not being drowned by data, but inspired by it; where that data has a FACE and gives you focused information on how to reach every student.
Sharratt and Fullan turn worldwide research into a road map for school leaders to use ongoing assessment to inform instruction and drive equity at the classroom, school, district, and state levels. Inside you will find
A fresh look at data to incorporate new learning
Updated case studies, figures, and vignettes
Insights from more than 500 educators in answering the 3 research questions: Why do we put FACES on data? How do we put FACES on data? and What are the top three leadership skills needed to do this work?
An integrated approach to using the 14 Parameters to enhance Deep Learning and critical thinking
Tools for committing to "equity and excellence"
FACES is about setting up the conditions for success in every classroom: identifying the right factors, at the right time, with the right resources. Its focus on student-centered data will help you:
Increase learners' growth and achievement
improve engagement that results in students, teacher and leader empowerment
build cultures of learning
drive a learning environment of continuous improvement
Key features
This New 10th Anniversary Edition provides:

A refreshed look at relevant data sources and how they can be used to put FACES on individual students

Responses from over 500 educators world-wide to these questions: 1) Why put FACES on data? 2) How do we do so? and 3) What leadership qualities are necessary to lead system change?

New case studies in each chapter showcasing the impact of successful application of Sharratt & Fullan's 14 Parameters in real school, system, and national settings

New figures, vignettes, and data from the U.S., Canada, Australia, the U.K., and other countries demonstrating how beneficial this approach is to real students

Practical strategies & policies showing how data can inform the enhancement of Deep Learning leading to students becoming critical thinkers prepared for the 4th Industrial Revolution

Practical tools for leaders who commit to equity and to making a difference for all learners
Table of Contents
Foreword
---
Preface
---
Chapter 1: Information Glut to Well-Known FACES
---
Chapter 2: The Power of Putting FACES on the Data
---
Chapter 3: Making It Work in Practice - Assessment Literacy
---
Chapter 4: Making It Work in Practice - Instruction
---
Chapter 5: Leaderhsip - Individualizing for Improvement
---
Chapter 6: Ownership - Of All the Faces
---
Epilogue
---