Hands-on, Practical Guidance for Educators
From math, literacy, equity, multilingual learners, and SEL, to assessment, school counseling, and education leadership, our books are research-based and authored by experts on topics most relevant to what educators are facing today.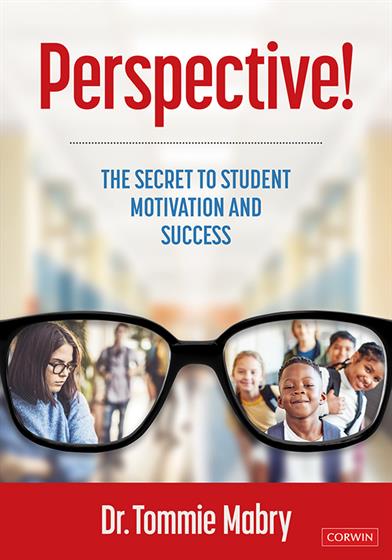 Look Inside
Bestseller!
Perspective!
The Secret to Student Motivation and Success
Layered with effective methodologies, this guide shares a holistic construct encompassing mindset, emotions, effort, and outcomes to address relationships, empathic capacity, trust, culturally responsive teaching, and student passion.
Product Details
Grade Level: PreK-12
ISBN:

9781071856154

Published By: Corwin
Year:

2022



Page Count: 112

Publication date:

March 14, 2022
Price: $31.95
Description
Understand Where Your Students are Coming From!
The factors that influence students' beliefs and attitudes about the value of formal education are complex and expansive, especially with respect to marginalized student populations. Motivational speaker and master storyteller Dr. Tommie Mabry builds from personal experiences as a child labeled "at risk" to promote empathy and understanding in motivating the success of youth.
Written in a clear style, this practical guide leads educators through shifting student perspectives on the value and benefits of formal schooling, beginning first with teacher self-examination of their own perspectives. Perspective is a holistic construct that encompasses mindset, emotions, effort, and outcomes. Layered with effective methodologies, chapters address a range o­f critical topics important to this view of perspective, including extensive information on
Building positive relationships
Drawing on educators' empathic capacity
Engendering trust
Practicing culturally responsive teaching
Igniting students' passions
Written with an emphasis on marginalized students and adverse childhood experiences, the concepts and strategies are applicable across all student populations.
Table of Contents
Publisher's Acknowledgments
---
About the Author
---
Introduction
---
Prologue
---
Chapter 1: Shut Up and Listen…Actively: Value the Voices of Others
Chapter 2: Should Is a Futile Word: Build Your Students Up With Principles
Chapter 3: Re-Examine Yourself: Dig Deep and Go Beyond Biases
Chapter 4: Know Their Strengths: Develop Positive Attitudes and Student Growth
Chapter 5: Put Yourself in Their Shoes: Understand and Respond to Their Whys
Chapter 6: Show Them You Care: Create Safe Spaces and Build Trust
Chapter 7: Get Them Moving: Engage Them with Kinesthetic and Collaborative Learning
Chapter 8: Your Students Will Teach You: Connect With Culturally Responsive Teaching
Chapter 9: Dreams Lead to Education: Capture Their Passions in Your Lessons
Chapter 10: What Shaped My Perspective?: Your Students Need You
References
---