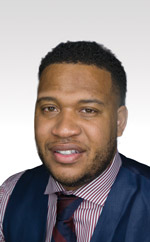 Dr. Tommie Mabry
Dr. Tommie Mabry grew up in Jackson, Mississippi. With a lack of positive role models, Dr. Mabry turned to life in the streets. He was expelled from numerous schools and by age 11, he was arrested for breaking and entering. Things started to change for Dr. Mabry when he joined an AAU basketball team that traveled around the world. Although he was shot in the foot during his senior year, he received a full basketball scholarship to Missouri State University West Plains. After completing his undergraduate studies at Tougaloo College, he taught school in the same district where he had been expelled numerous times. Subsequently he has served as Director of Enrollment at Tougaloo College before founding the company that bears his name. He earned his Ph.D. from Jackson State University and has published three books, A Dark Journey to a Light Future, If Tommie Can Do It, We Can Do It, and Little Tommie's Four B's.
Dr. Mabry's platform tackles the experiences and challenges that minority students face in communities and educational environments. By focusing on real-life topics such as, bullying, life skills, classroom management and more, it gives students a positive outlook on teaching and learning and the ability to balance.
As an advocate for education and student success, Dr. Mabry travels around the country encouraging educators to focus on the whole student and motivating youth to never give up on hope.
---
Related Titles
This is a carousel with related book cards. Use the previous and next buttons to navigate.