Hands-on, Practical Guidance for Educators
From math, literacy, equity, multilingual learners, and SEL, to assessment, school counseling, and education leadership, our books are research-based and authored by experts on topics most relevant to what educators are facing today.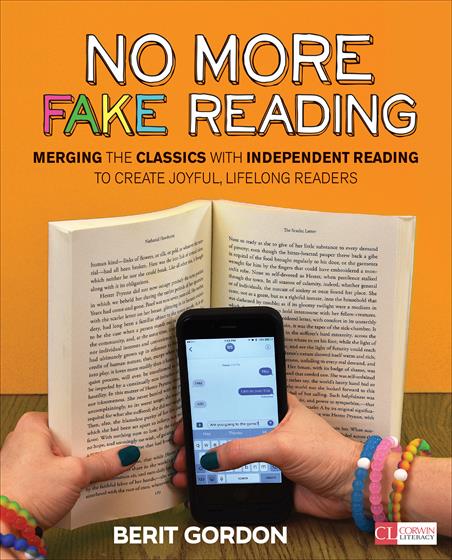 Look Inside
Bestseller!
No More Fake Reading
Merging the Classics With Independent Reading to Create Joyful, Lifelong Readers
Discover how to transform your classroom into a vibrant reading environment. This ground-breaking book combines the benefits of classic literature with the motivational power of choice reading.
Product Details
Grade Level: PreK-12
ISBN:

9781506365510

Published By: Corwin
Series: Corwin Literacy
Year:

2017



Page Count: 288

Publication date:

August 04, 2017
Price: $32.95
Description
For middle- and high-school teachers, it's one of today's most vexing problems: How do you motivate students with varied interests and little appetite for classic literature to stop faking their way through texts and start advancing as skilled, engaged readers?

Independent reading is an important part of the answer, but it's just that — a part of the whole. In this groundbreaking book, Berit Gordon offers the complete solution, a blended model that combines the benefits of classic literature with the motivational power of choice reading.

With the blended model, teachers lead close examinations of key passages from classic texts, guiding students to an understanding of important reading strategies they can transfer to their choice books. Teachers gain a platform for demonstrating the critical reading skills students so urgently require, and students thrive on reading what they want to read.

In this research-backed book, Gordon leads you step by step to classroom success with the blended model, showing:
The basics of getting your classroom library up and running
How to build a blended curriculum for both fiction and non-fiction units, keeping relevant standards in mind
Tips and resources to help with day-to-day planning
Ideas for selecting class novel passages that provide essential cultural capital and bolster students' reading skills
Strategies for bringing talk into your blended reading classroom
How to reach the crucial learning goal of transfer
A practical, user-friendly approach for assessing each student's progress
No More Fake Reading gives you all the tools you need to put the blended model to work for your students and transform your classroom into a vibrant reading environment.

Berit Gordon coaches teachers as they nurture lifelong readers and writers. Her path as an educator began in the classroom in the Dominican Republic before teaching in New York City public schools. She also taught at the Teachers College of Columbia University in English Education. She currently works as a literacy consultant in grades 3-12 and lives in Maplewood, New Jersey with her husband and three children.
Table of Contents
Acknowledgments
---
Introduction: "What Book Should I Read Next?"
---
Vignette of a High School Reader
CHAPTER ONE Why Are My Students Snapchatting Their Way Through The Odyssey—and What Can I Offer Instead?
Why We Have to Minimize the Role of, but Not Abandon, the Classics
Why We Need to Incorporate Choice Reading
What the Blended Model Offers
What's Next: Sparking Joy in Our Classes
CHAPTER TWO Getting Ready for the Blended Model
How to Set Up Your Classes So Students Really Read
Possible Follow-Up Steps
CHAPTER THREE Building a Blended Curriculum for Fiction-Based Units
Why Start With Fiction?
What's Important to Know About This Planning Process Before Diving In?
Getting Started
How to Make Your Unit Pop and Avoid Potential Pitfalls
CHAPTER FOUR Building a Blended Curriculum for Nonfiction-Based Units
Why Nonfiction?
What's Important to Know About Planning Nonfiction Units Before Diving In
What to Do When Your Students Are Choosing to Read Novels and It's Time to Teach Nonfiction
How to Plan a Nonfiction Unit Based on Your Class Text
How to Make Your Unit Pop and Avoid Potential Pitfalls
Why What You Just Planned Is Important
CHAPTER FIVE What to Plan for Day to Day
Crafting Daily Lesson Plans
Breakdown of the Period or Block
Ten Minutes of Focused Teacher-Led Instruction
Transitioning Into Reading Time
What Students Are Doing in Addition to Reading: Writing, Thinking, and Questioning
Teach Readers to Demonstrate Their Thinking About Reading: Modeling
What to Do With Students' Writing About Reading: Assessment and Differentiation
Closing Out the Class
Training Ground for Readers
CHAPTER SIX Bring Talk Into Your Blended Reading Classroom
Why We Need to Teach Our Students Ways to Talk About Books
How to Bring in Talk in Meaningful Ways
If They're Not All Reading the Same Book, What Are Students Talking About?
Time for Shared Texts, Too
How Often We Incorporate Talk Into Reading Time
Why Talk Boosts Our Teaching
CHAPTER SEVEN Assessing Readers: Grading That's Useful and User-Friendly
Formative Ongoing Assessments That Won't Make You Hate Your Job
Summative Assessments
How to Stay Sane When Grading
CHAPTER EIGHT Building Teacher–Student Relationships Through the Blended Model
Why the Blended Model Opens Up Space for Powerful One-on-One Teaching
How to Talk to Students About Their Reading
What We Can Expect as a Result of Talking to Students About Reading
Final Words
---
We're Ready to Embrace Change
Resources
---
Resource 1: Our Book Reviews: Sample Assignment for Sharing Choice Books
Resource 2: Technology Integration Ideas to Support Choice Reading
Resource 3: My Reading Goals: Student Sample
Resource 4: Bookmark Calendar Template
Resource 5: Sample Grade 10 Unit Plan: The Scarlet Letter
Resource 6: Unit Planning Template
Resource 7: Sample Grade 8 Unit Plan: The Outsiders
Resource 8: Sample Grade 11 Unit Plan: Narrative of the Life of Frederick Douglass, an American Slave
Resource 9: Reading Notebook Prompts: Transfer of Skills to Choice Books
Resource 10: Examples of Realistic Fiction Book Club Annotations and Analysis
Resource 11: Choice Read or Class Novel Check-In: How Do You Know They're Really Reading?
Resource 12: Reading Notebook Rubric Sample 1
Resource 13: Reading Notebook Rubric Sample 2
Resource 14: Reading Notebook Rubric Sample 3
Resource 15: Sample Essay Assignment, Outline, and Rubric Using Choice Book
Resource 16: Sample Literary Analysis Essay Assignment for Choice Book
References
---
Index
---