Hands-on, Practical Guidance for Educators
From math, literacy, equity, multilingual learners, and SEL, to assessment, school counseling, and education leadership, our books are research-based and authored by experts on topics most relevant to what educators are facing today.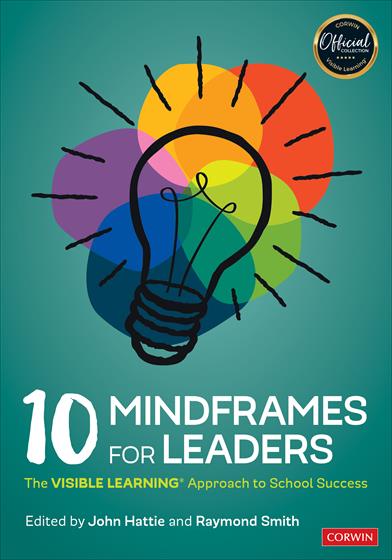 Look Inside
Bestseller!
10 Mindframes for Leaders
The Visible Learning Approach to School Success
It's not what you do, it's how you think about what you do. Educational thought leaders detail ten mindframes at the heart of successful school leadership.
Product Details
Grade Level: PreK-12
ISBN:

9781071800133

Published By: Corwin
Year:

2020



Page Count: 144

Publication date:

July 08, 2020
Price: $39.95
Description
It's not what you do, it's how you think about what you do.

Mindframes—your internal set of beliefs about your role as school leader—determine the high-impact leadership practices you choose to implement. In other words, how you think about the impact of the actions you take has more effect on student achievement than your leadership practices themselves.

Building on over twenty-five years of Visible Learning research and girded by a theory of action that ensures school leaders have the expertise to select, implement, and evaluate high impact interventions, 10 Mindframes for Leaders: The VISIBLE LEARNING® Approach to School Success brings the mindframes of ten world-renowned educators to life. Ten chapters, each written by a different thought leader, detail a mindframe at the heart of successful school leadership, along with the high probability influences that make each mindframe visible. A must-have resource for any educator working toward student achievement at ever-higher levels, each chapter includes:

• The most current, up-to-date findings from the Visible Learning research, including the factors from Visible Learning that support each mindframe
• Practical ideas for leaders to implement high-impact strategies in classrooms and schools
• Vignettes, questions, insights, and exercises to help educators clarify and refine their own mindframes

Lead your school to reform from the inside out. Cultivate these ways of thinking, and you're more likely to have major impacts on the learning lives of those students entrusted to your care.

Includes Contributions From…John Hattie, Peter DeWitt, Raymond L. Smith, Doug Fisher, Janet Clinton, Nancy Frey, Dylan Wiliam, Dominique Smith, Jenni Donohoo, Laura Link, Michael Fullan, Sugata Mitra, Zaretta Hammond, Jim Knight




Key features
This book will include:
Contributions from world renowned education thought leaders on the topic of leadership

The most current up-to-date findings from the VL research

Insights about the mindframes specifically for leader

Practical ideas for leaders to implement high-impact strategies throughout their schools
Table of Contents
About the Editors
---
About the Contributors
---
Introduction—John Hattie and Raymond Smith
Chapter 1. "I am an evaluator of my impact on teacher/student learning"—Janet Clinton
Chapter 2. "I see assessment as informing my impact and next steps"—Dylan Wiliam
Chapter 3. "I collaborate with my peers and my teachers about my conceptions of progress and my impact"—Jenni Donohoo
Chapter 4. "I am a change agent and believe all teachers/students can improve"—Michael Fullan
Chapter 5. "I strive for challenge rather than merely 'doing my best'"—Zaretta Hammond
Chapter 6. "I give and help students/teachers understand feedback and I interpret and act on feedback given to me"—Peter M. DeWitt
Chapter 7. "I engage as much in dialogue as in monologue"—Douglas Fisher, Nancy Frey, and Dominique Smith
Chapter 8. "I explicitly inform teachers/students what successful impact looks like from the outset"—Laura Link
Chapter 9. "I build relationships and trust so that learning can occur in a place where it is safe to make mistakes and learn from others"—Sugata Mitra
Chapter 10. "I focus on learning and the language of learning"—Jim Knight
Conclusion—John Hattie and Raymond Smith
References
---
Index
---