Hands-on, Practical Guidance for Educators
From math, literacy, equity, multilingual learners, and SEL, to assessment, school counseling, and education leadership, our books are research-based and authored by experts on topics most relevant to what educators are facing today.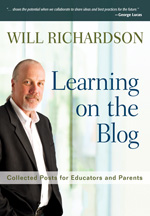 Look Inside
Learning on the Blog
Collected Posts for Educators and Parents
Best-selling author Will Richardson's collection of blog posts on today's key education topics that describe how to reform schools to prepare students for 21
st
-century careers.
Product Details
Grade Level: PreK-12, Elementary, Secondary
ISBN:

9781412995702

Published By: Corwin
Year:

2011



Page Count: 144

Publication date:

August 17, 2011
Price: $32.95
Description
Education reform: We don't need better, we need different
Today's students are immersed in the digital age, but can our educational system keep up? Best-selling author Will Richardson's comprehensive collection of posts from his acclaimed blog, weblogg-ed.com, outlines the educational reform we must achieve to stay ahead of the curve. The book's entries present a multifaceted vision of the 21st-century classroom and describe how a social media-changed world has created new opportunities for:
Project-based learning
Student-created media that develops critical thinking
Extending learning beyond the classroom and school hours
Cooperative and collaborative learning
Student empowerment and career readiness
The necessary shift will not magically happen, but experts agree that it must happen now. This compilation will inspire educators and parents to engage in the technology their children already embrace, and to take an active role in transforming education to meet the challenges of the digital revolution.
Table of Contents
About the Author
---
Introduction: Invitation to Participate in the Dialogue
---
Part I. Teachers as Master Learners
---
On My Mind: Teachers as Master Learners
Personalizing Education for Teachers, Too
Urgent: 21st Century Skills for Educators (and Others) First
Why Is It So Hard for Educators to Focus on Their Own Learning?
Teaching Ourselves Right Out of a Job
The Next Generation of Teachers
Teachers as Learners Part 27
Unlearning Teaching
"What Did You Create Today?"
Get. Off. Paper.
Opportunity, Not Threat
Response to Jay Matthews at the Washington Post
Part II. Learning is Anytime, Anywhere, Anyone
---
I Don't Need Your Network (or Your Computer, or Your Tech Plan, or Your . . .)
What do We Know About Our Kids' Futures? Really.
Aggregator as Textbook
The Steep "Unlearning Curve
What I Hate About Twitter
It's the Empowerment, Stupid
So What Is the Future of Schools?
The End of Books? (For Me, at Least?)
No, Actually, You're Out of Balance
Making Kids "Googleable"
"I Never Knew I Could Have a Network"
Part III. The Learner as Network
---
The Learner as Network
Social Learning
"The Less You Share, the Less Power You Have"
"School as Node"
Part IV. Learning and Leadership
---
Don't, Don't, Don't vs. Do, Do
Transparency = Leadership
Yeah, You've Got Problems. So Solve Them.
"Willing to Be Disturbed"
"Tinkering Toward Utopia"
"What Do We Do About That?"
Who's Asking?
Part V. Parent as Partner
---
It's the Parents' Fault. Not.
Dear Kids, You Don't Have to Go to College
"So Why Do You Only Give Your Kids 45 Minutes a Day on the Computer?
A Parent 2.0's Back to School Dilemma
A Summer Rant: What?s Up With Parents?
Owning the Teaching . . . and the Learning
The Ultimate Disruption for Schools
Part VI. The Bigger Shifts . . . Deal with It
---
The Bigger Shifts . . . Deal With It
Failing Our Kids
Why Blogging Is Hard . . . Still
The Wrong Conversations
Index
---
Reviews
This is a carousel with review cards. Use the previous and next buttons to navigate.
"An inspiration for innovative educators everywhere providing the big ideas and insights that transform the way we think about, discuss, and support student learning."


Lisa Nielsen, Author,The Innovative Educator Blog
Innovation Specialist, NYC Dept of Education
"Learning on the Blog is the single best place to start understanding how to take advantage of the power of social media, and the changes in teaching and learning that digital media have made possible. A great way to start cultivating your personal learning network is to read Will Richardson's book, follow his blog, and follow him on Twitter."
Howard Rheingold, Lecturer
Stanford University, CA
"… shows the potential when we collaborate to share ideas and best practices for the future."
George Lucas
Edutopia
"Perusing this succinct, reader-friendly book feels like being invited into Will Richardson's restaurant for some fine dining and animated conversation. One of my favorite dishes: teachers at the center of their own learning networks."
Milton Chen, Senior Fellow
The George Lucas Educational Foundation