Hands-on, Practical Guidance for Educators
From math, literacy, equity, multilingual learners, and SEL, to assessment, school counseling, and education leadership, our books are research-based and authored by experts on topics most relevant to what educators are facing today.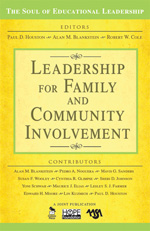 Look Inside
Leadership for Family and Community Involvement
With articles by Alan M. Blankstein, Pedro A. Noguera, Mavis G. Sanders, Paul D. Houston, and others, this volume examines educators' pivotal role in leading family and community involvement in school success.
Product Details
Grade Level: PreK-12, Elementary, Secondary
ISBN:

9781412981279

Published By: Corwin
Series: The Soul of Educational Leadership Series
Year:

2010



Page Count: 160

Publication date:

June 02, 2010
Price: $33.95
Description
"Establishing school-family-community partnerships to promote the social, emotional, and academic learning of students is the most important challenge for 21st-century education. In this volume, leading practitioners and researchers compellingly convey the rationale and inspiration for these partnerships. They also share many practical, innovative, and effective strategies that readers can readily implement to engage partners in raising knowledgeable, responsible, caring, and contributing children."
—Roger P. Weissberg, Liberal Arts and Sciences Distinguished Professor
University of Illinois at Chicago
Making schooling a community endeavor!
Because schools are the heart and soul of a community, educational leaders have a responsibility to bring the community into the school, as well as to make the school a part of the surrounding community. This volume in the Soul of Educational Leadership series goes beyond administrative skills to examine educators' pivotal role of leading family and community involvement in school success.
With articles written by leading authorities and practitioners in the field, this resource discusses how school leaders can build successful family and community partnerships that flourish even in trying circumstances and over time. Readers will find:
Contributions from Alan M. Blankstein, Pedro A. Noguera, Mavis G. Sanders, Paul D. Houston, Edward H. Moore, and others
Inspiring and unique perspectives on the interplay of family and community in school success
Ideas for engaging families as partners
Key features
This current volume goes beyond leadership skills to probe the pivotal roles of families and community organizations in school success. The chapters in this book have been written by leading authorities in the field with a specific view to sharing how school leaders can engage in exemplary practice to point the way toward success for schools and their communities. The gains to be realized from creating communities and schools that work in partnership are valuable beyond price.
Key contributors include:
Alan Blankstein and Pedro Noguera
Paul Houston
Lesley S.J. Farmer
Edward Moore
Lin Kuzmich
Table of Contents
Preface
---
Acknowledgments
---
About the Authors
---
1. Engaging Families to Enhance Student Success
2. Parents as Leaders: School, Family, and Community Partnerships in Two Districts
3. Sharing the Dream: Engaging Families as Partners in Supporting Student Success
4. The 'What' and 'How' of Helping Parents Help Students Become Successful Learners
5. Family Literacy: The Roles of School Libraries and Public Libraries
6. Balancing Your Communication Ledger:Using Audits to Involve Communities and Build Support for Schools
7. Manage the Molehill Before It Becomes a Mountain: Keeping Parent Interactions Productive for Students
8. Raising the Village by Bringing Communities and Schools Together
Index
---