Hands-on, Practical Guidance for Educators
From math, literacy, equity, multilingual learners, and SEL, to assessment, school counseling, and education leadership, our books are research-based and authored by experts on topics most relevant to what educators are facing today.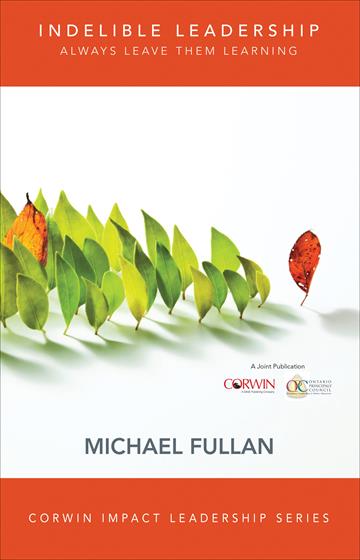 Bestseller!
Indelible Leadership
Always Leave Them Learning
Use these actionable examples of six key leadership elements to promote deep and lasting systemic change. Covers mastering the change process, co-leading and co-learning, mentoring and more!
Product Details
Grade Level: PreK-12
ISBN:

9781506323626

Published By: Corwin
Series: Corwin Impact Leadership Series
Year:

2016



Page Count: 104

Publication date:

June 20, 2016
Price: $23.95
Description
Make a deep impact today that leaves a growing legacy for tomorrow.
Learn to lead well and leave a lasting impact with this compact, richly innovative book from the Corwin Impact Leadership series. Discover six specific leadership attributes to stimulate deep learning— and deep leadership— that transforms schools for the future.

Concrete examples and critical, yet implementable action steps help you:
Commit to deep, meaningful work
Master the content and process of change
Co-learn and co-lead simultaneously
Collaboratively develop individuals and groups
Link your goals to the larger school system
Produce new, capable leaders
Uncover new ways of thinking and acting, for you and for those you lead, with this powerful leadership guide!
Other books by Corwin:

Quaglia: Principal Voice
Zhao: Teaching for Greatness
Glaze: Avis Glaze's Impact Leadership
"Few today have broader and deeper insights than Michael Fullan in helping to develop leadership amidst the cross currents of today's school environments. Two of Fullan's timely insights in Indelible Leadership—Students themselves are the hidden agents for deep change, and the real leadership capabilities needed today can be learned."
Peter Senge
MIT and Academy for Systemic Change
"This book provides a wonderfully clear and concise guide for education leaders who want to make a real difference in the midst of challenging times. Fullan is a master!"
Tony Wagner, Author
The Global Achievement Gap and Creating Innovators
Table of Contents
Preface
---
Author's Note: Deep Leadership: Managing Six Big Tensions
---
1. Moral Imperative and Uplifting Leadership
---
2. Master Content and Process
---
3. Lead and Learn in Equal Measure
---
4. See Students as Change Agents and Protégés
---
5. Feed and Be Fed by the System
---
6. Be Essential and Dispensable
---