Hands-on, Practical Guidance for Educators
From math, literacy, equity, multilingual learners, and SEL, to assessment, school counseling, and education leadership, our books are research-based and authored by experts on topics most relevant to what educators are facing today.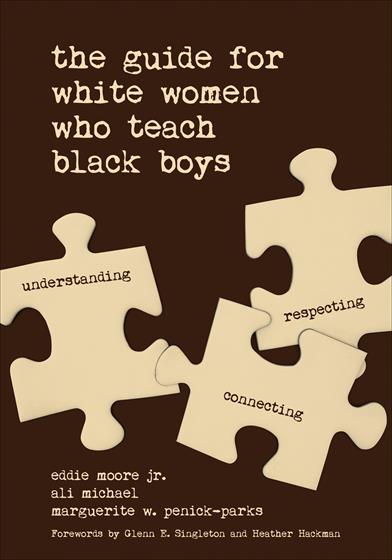 Look Inside
Bestseller!
The Guide for White Women Who Teach Black Boys
Forewords by Glenn E. Singleton and Heather Hackman

If we want to change outcomes for Black boys, then White women, who make up 65% of the teaching force, must heed the call.
Product Details
Grade Level: PreK-12
ISBN:

9781506351681

Published By: Corwin
Year:

2017



Page Count: 472

Publication date:

October 11, 2017
Price: $30.95
Description
Empower black boys to dream, believe, achieve

Schools that routinely fail Black boys are not extraordinary. In fact, they are all-too ordinary. If we are to succeed in positively shifting outcomes for Black boys and young men, we must first change the way school is "done." That's where the eight in ten teachers who are White women fit in . . . and this urgently needed resource is written specifically for them as a way to help them understand, respect and connect with all of their students.

So much more than a call to call to action—but that, too!—The Guide for White Women Who Teach Black Boys brings together research, activities, personal stories, and video interviews to help us all embrace the deep realities and thrilling potential of this crucial American task. With Eddie, Ali, and Marguerite as your mentors, you will learn how to:
Develop learning environments that help Black boys feel a sense of belonging, nurturance, challenge, and love at school
Change school culture so that Black boys can show up in the wholeness of their selves

Overcome your unconscious bias and forge authentic connections with your Black male students
If you are a teacher who is afraid to talk about race, that's okay. Fear is a normal human emotion and racial competence is a skill that can be learned. We promise that reading this extraordinary guide will be a life-changing first step forward . . . for both you and the students you serve.
About the Authors
Dr. Eddie Moore, Jr., has pursued and achieved success in academia, business, diversity, leadership, and community service. In 1996, he started America & MOORE, LLC to provide comprehensive diversity, privilege, and leadership trainings/workshops. Dr. Moore is recognized as one of the nation's top motivational speakers and educators, especially for his work with students K–16. Dr. Moore is the Founder/Program Director for the White Privilege Conference, one of the top national and international conferences for participants who want to move beyond dialogue and into action around issues of diversity, power, privilege, and leadership.

Ali Michael, Ph.D., is the co-founder and director of the Race Institute for K–12 Educators, and the author of Raising Race Questions: Whiteness, Inquiry, and Education, winner of the 2017 Society of Professors of Education Outstanding Book Award. She is co-editor of the bestselling Everyday White People Confront Racial and Social Injustice and sits on the editorial board of the journal, Whiteness and Education. Dr. Michael teaches in the mid-career doctoral program at the University of Pennsylvania's Graduate School of Education, as well as the Graduate Counseling Program at Arcadia University.

Dr. Marguerite W. Penick-Parks currently serves as Chair of Educational Leadership and Policy at the University of Wisconsin, Oshkosh. Her work centers on issues of power, privilege, and oppression in relationship to issues of curriculum with a special emphasis on the incorporation of quality literature in K–12 classrooms. She appears in the movie, "Mirrors of Privilege: Making Whiteness Visible," by the World Trust Organization. Her most recent work includes a joint article on creating safe spaces for discussing White privilege with preservice teachers.
Key features
A Message From the Editors

When Eddie Moore Jr. first asked me if I'd be interested in co-editing The Guide for White Women Who Teach Black Boys, I let out a sigh of recognition that I hear from most people when I mention the title of this book. It's a collective sigh that says, "I've been waiting for that book." We hear it from people of all gender identities, and all racial backgrounds. It's as if to say, "That book really should exist, shouldn't it?" or "It's about time, isn't it?"

In my case, I said, "I want to read that book, but I don't know if I can produce that book." But Eddie convinced me that this is the kind of book that none of us could produce alone. I know a lot about White women, and my research focuses on White teachers. I am a White woman. Between Marguerite Penick-Parks, a teacher educator who works almost exclusively with White pre-service teachers in Wisconsin, and I, we have White women covered. Eddie knows Black boys from his research on Black men and sports, from his experience as a former Black boy, a Black man, a father, a teacher, a diversity director, and from his 18 year leadership of the White Privilege Conference.

Producing this book required that we acknowledge that none of us could have all of the answers on our own. In fact, we each have different, sometimes contradictory answers. And this book is our collective inquiry into the question of how White women can be effective teachers of Black boys, supported by the 70+ authors in this book.

In our first workshop on this book in 2013, Eddie asked the audience if a White woman could help a Black boy grow up to be W.E.B. DuBois? Malcolm X? Frederick Douglass? He clearly thought the answer was "no." Throughout the course of the workshop, it slowly dawned on me that he didn't think White women could teach Black boys. Afterwards, we had to go head to head. Why on Earth were we creating a "Guide for White Women who Teach Black Boys," if we didn't think it was fundamentally possible? The ensuing conversation was our first evidence that this book—and our team—would be successful, if we were successful because of our differences, not in spite of it. That the magnetic energy that comes from honoring different—and sometimes opposite—polarities, is not generated without the presence of difference.

Four years later, it seems like Eddie has more hope for White women. We have a 45 chapter guide with 30 personal vignettes, which take teachers step by step through the personal understanding, respecting the contextual and systemic racism in our society, the connective understanding about inherently biased school structures, and we have met countless White women do the work we seek to describe. And yet Marguerite and I, who were initially much more optimistic about the capacity of White women (and by extension, ourselves), have moved much closer to Eddie's initial position. We feel daunted by the enormity of his initial vision, which we didn't even fully grasp when we began this project. Can White women do what is required to teach Black boys in a way that enables them to be their whole selves, to have the tools to navigate a racist society, to fully included and centralized in the life of the school, to could be leaders in the Black community or any community they choose to be a part of, and to be unapologetically Black (not stereotypically, but in the way that feels authentic to them) in their self image, the language they choose to speak, the way they choose to dress, the radical self love they choose to embrace, and the radical love of other Black people.

As James Baldwin has written, radical Black self love can be intimidating, even threatening to White people. And yet how can anyone be successful in this lifetime, without a fundamental love of self, home and community. But can White people, White teachers cultivate that in Black boys? I don't know. After 4 years, multiple drafts of 70 written pieces, 60 hours of video footage with White and Black interviewees that is interspersed throughout the book, Marguerite and I (both White women) have come closer to Eddie's side initial view, and Eddie has come closer to ours.

Ultimately the answer lies with the 65% of White women who are currently in the drivers' seat in classrooms in the United States. While we don't think White women can do it themselves, and we are simultaneously working to increase the number of Black teachers of all gender identities in classrooms, we acknowledge that for the time being, the vast majority of teachers are White women. If this work happens, it will because White women heed the call to do school in a way that is different from how we currently do it.

We hope that when it is hard, when teachers face disagreement and difference, that they remember that energy and magnetism come from opposing forces. As an editorial team, we are clear that our relationships with one another, and the polarity of our differences, is absolutely a manifestation of the same energy that runs through this book. It is an energy that comes from our love and respect for one another, from the electrical current that our differences spark. It is an energy generated by the coexistence of seemingly contradictory answers that together lead to complex, multifaceted solutions. We recognize that without each other we could not even ask these questions, much less answer them.

By Ali Michael with Eddie Moore Jr. and Marguerite Penick-Parks

Table of Contents
FOREWORDS
---
ACKNOWLEDGMENTS
---
ABOUT THE AUTHORS
---
ABOUT THE CONTRIBUTORS
---
INTRODUCTION: WELCOME TO THE GUIDE FOR WHITE WOMEN WHO TEACH BLACK BOYS
---
UNDERSTANDING
---
Part 1: Exploring the Self
---
1. READY TO MAKE A DIFFERENCE, THE OLD-FASHIONED WAY
Vignette: Raisins in the Sun: White Teacher as a Force of Nature Buffering the Radiation of Racial Retaliation
2. THE STATE OF THE WHITE WOMAN TEACHER
3. ADVANCING THE SUCCESS OF BOYS AND MEN OF COLOR
Vignette: Two Black Boys
4. UNDERSTANDING UNCONSCIOUS BIAS AS ONE MORE TOOL IN THE COMMITTED WHITE TEACHER'S EQUITY TOOLKIT
5. WHITE FEMALE TEACHERS AND BLACK BOYS: RIGHT TEACHERS AND (MIS)UNDERSTOOD BOYS
6. WHITE RACIAL IDENTITY DEVELOPMENT
7. WHAT IF BEING CALLED RACIST IS THE BEGINNING, NOT THE END, OF THE CONVERSATION?
Vignette: New Understandings
8. WHAT DOES IT MEAN TO BE A WHITE TEACHER?
Part 2: Understanding the Constraints and Challenging the Narratives About Who Black Boys Are and Who White Women Can Be
---
9. RESPECTING BLACK BOYS AND THEIR HISTORY
10. "I CAN SWITCH MY LANGUAGE, BUT I CAN'T SWITCH MY SKIN": WHAT TEACHERS MUST UNDERSTAND ABOUT LINGUISTIC RACISM
Vignette: The Color of Poop
11. IDENTITY SAFETY AS AN ANTIDOTE TO STEREOTYPE THREAT
12. THE SCIENCE BEHIND PSYCHOLOGICAL VERVE AND WHAT IT MEANS FOR BLACK STUDENTS
13. THE VISIT
14. REWRITING THE NARRATIVE
Vignette: Slavery's Archetypes Affect White Women Teachers
15. "DON'T LEAN—JUMP IN": THE FIERCE URGENCY TO CONFRONT, DISMANTLE, AND (RE)WRITE THE HISTORICAL NARRATIVE OF BLACK BOYS IN EDUCATIONAL INSTITUTIONS
RESPECTING
---
Part 3: Respecting the Broad Diversity of Black Boys' Experiences and Identities
---
Vignette: Prince Taught Me the Redefinition of Black Masculinity
16. STRATEGIES FOR SHOWING LOVE TO BLACK BOYS
17. WHITE PRIVILEGE AND BLACK EXCELLENCE: TWO TERMS I'VE BEEN "AFRAID" OF FOR MUCH OF MY LIFE
18. BLACK BOYS AND THEIR RACIAL IDENTITY: LEARNING HOW THEY FIT INTO SOCIETY AND IN YOUR CLASSROOM
Vignette: I Had a Right
19. TEACHING BLACK BOYS DURING CHILDHOOD: A COUNTERNARRATIVE AND CONSIDERATIONS
Vignette: Being Black and Deaf Is a Double Stigma
20. "HOW DARE YOU MAKE THIS ABOUT RACE?!": CENTERING RACE, GENDER, AND POVERTY
21. THE N!GGA(ER) IN ME
Vignette: Die N-word Die
22. BLACKNESS/TRANSNESS: TWO TARGETS ON MY BACK
Vignette: What Educators Can Do to Support Trans Students
23. WHITE TEACHERS AND THE POWER TO TRANSFORM: EARLY CHILDHOOD EDUCATORS AND THE POTENTIAL FOR LASTING HARM
Vignette: Brown Mothers, White Children
24. LEARN ABOUT US BEFORE YOU TEACH (ABOUT) US: QUEER BLACK BOYS
25. BLACK MALE STUDENTS AND TEACHERS IN K–12 CLASSROOMS: STRATEGIES FOR SUPPORT TO INCREASE PERFORMANCE AS STUDENTS AND PROFESSIONALS
Vignette: The Administrative Assistant Staff Member: Oh, and Black!
Part 4: Relationships With Parents, Colleagues, and Community
---
26. HELPING AMAZING BLACK BOYS BECOME AMAZING BLACK MEN
27. CONNECTING WITH BLACK STUDENTS AND PARENTS: EQUAL VISION
Vignette: Being a Black Mom of Black Boys
28. ACTIVATING INCLUSIVENESS
29. BELIEF, PEDAGOGY, AND PRACTICE: STRATEGIES FOR BUILDING POWERFUL CLASSROOM COMMUNITIES
Vignette: The Symbolic Teacher
30. RUMINATIONS FROM THE INTERSECTIONS OF A #BLACKMOMMYACTIVIST
Vignette: Discipline Practices of Caribbean Families
31. FIND FREEDOM IN THE CLASSROOM: A LOVE LETTER TO MY BABIES' TEACHERS
CONNECTING
---
Part 5: Connecting Student Success and Failure to School Structures and Classroom Strategies
---
32. START OUT FIRM
33. A PARABLE OF ACADEMIC MISGIVINGS: THE EDUCATOR'S ROLE IN ADDRESSING COLLEGE UNDERMATCH
Vignette: Nonviolence, Violence, Standing Up
---
34. THE COLLUSION OF SOCIAL NORMS AND WORKING WITH INTERRACIAL FAMILIES
35. WHAT ARE WE DOING TO SUPPORT "THESE" STUDENTS TO MEET THEIR POTENTIAL? STRATEGIES FOR CREATING EQUITABLE CLASSROOMS
Vignette: Dismantling the "White Savior Mentality"
---
36. INTERRUPTING SCHOOL STRUCTURES: ADD/ADHD OVERIDENTIFICATION AND HOW BLACK CULTURAL STYLES ARE OFTEN CONFUSED FOR ADD
37. FOOTBALL, SPORTS, AND MOORE - USING SCHOOL STRUCTURES TO GET MORE OUT OF BLACK BOYS
Part 6: Connecting Student Success to School Structures and Classroom Strategies
---
Vignette: How Do Black Lives Matter in Your Curriculum?
38. STRATEGIES THAT DE-ESCALATE CONFLICT IN THE CLASSROOM
39. MEETING STUDENTS WHERE THEY ARE: PROJECT-BASED LEARNING AND CRITICAL THINKING SKILLS
40. BLACK FACES AND WHITE SPACES: RECOGNIZING AND SUPPORTING BLACK BOYS IN GIFTED EDUCATION
41. THE BOOK MATTERS: USING THE COLOR-CODED BLOOM-BANKS MATRIX TO SUPPORT THE LITERACY AND ENGAGEMENT OF BLACK BOYS
42. BOOKS AND CURRICULUM: WHAT TO READ WITH BLACK MALES IN ELEMENTARY SCHOOL TO CREATE A STRONG FOUNDATION OF POSITIVE RACIAL IDENTITY DEVELOPMENT
43. GLOBAL SKILLS: BEYOND THE CLASSROOM AND THE PLAYGROUND
OUTTRO: REMEMBER, BLACK GIRLS AREN'T DOING "JUST FINE": SUPPORTING BLACK GIRLS IN THE CLASSROOM
---
VIDEO RESOURCES
---
REFERENCES
---
INDEX
---