Hands-on, Practical Guidance for Educators
From math, literacy, equity, multilingual learners, and SEL, to assessment, school counseling, and education leadership, our books are research-based and authored by experts on topics most relevant to what educators are facing today.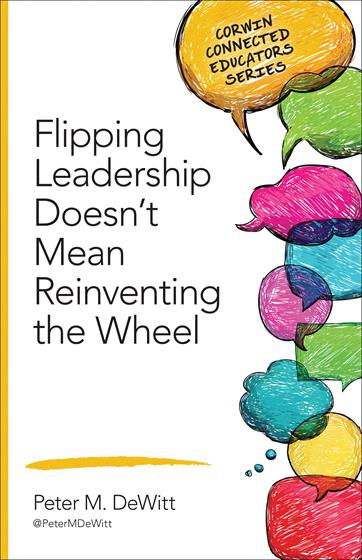 Look Inside
Flipping Leadership Doesn't Mean Reinventing the Wheel
This volume in the Connected Educators series translates the principles of flipped learning into a plan that delivers authentic staff meetings and effective parent communications.
Product Details
Grade Level: PreK-12
ISBN:

9781483317601

Published By: Corwin
Series: Corwin Connected Educators Series
Year:

2014



Page Count: 80

Publication date:

August 21, 2014
Price: $13.95
Description
Flip communication for instant impact—and real results for students!
Break away from the old ways of communication and revolutionize leadership and communication at your school. Use the principles of connectedness and flipped learning to engage stakeholders—teachers, administrators, and parents—digitally, so they're ready for engaging and productive discussions when you meet in person. Featuring action steps, reflections, and "connected moments," plus more resources online, this book shows you how flipped leadership:
Makes the school community visible to parents

Creates authentic staff meetings

Maximizes communication between parents and school

Models effective use of technology
The Corwin Connected Educators series is your key to unlocking the greatest resource available to all educators: other educators. Being a Connected Educator is more than a set of actions: it's a belief in the potential of technology to fuel lifelong learning. To explore the other books in this series, visit the Corwin Connected Educators website.

Check out the Connected Educator Series matrix to find out which book is right for you.

"Education is plagued by outdated leadership strategies and techniques that have long lost their luster. DeWitt provides a fresh look at how leaders can make use of precious time while increasing the effectiveness of meetings and communications."
—Eric Sheninger, Principal

"DeWitt shows his emerging passion for backward design, for working from what needs to be realized to how we then attain such success, and for listening and carrying his staff with him. The book describes a principal's road to realizing how to see the world in a different and more powerful way."
—John Hattie, Author, Visible Learning


Key features
Much has been written about flipping the classroom, but this book shows how administrators can apply the same principles of connectedness and flipped learning to enhance the learning experience for their staff and strengthen a school's relationship with the community. Through action steps, reflections, and "connected moments," this book will show leaders:
The importance of being connected to other educators and to school stakeholders

How flipping can enhance school communication

How to start flipping faculty meetings and parent communication
There is also the Connected Educators Series website where readers can connect with all of the authors of the series, find more resources, and find real support for putting flipped leadership into practice.
Table of Contents
Preface
---
Introduction
---
1. Connected Learning: The Precursor to Flipped Leadership
What is Connected Learning?
Vignette About Twitter and Social Networking
Building a PLN
2. To Flip or Not to Flip...and Other Lame Excuses
Why Flip?
The Haters
Is Flipping a Passing Fad?
Flipping Out the Classroom
3. Flipped Faculty Meeting
How to Flip a Faculty Meeting
How It Leads to Better Discussions
Examples and Action Steps
4. Flipping Parent Communication
Why?
How Does It Help School Communication?
How It Helps Build a Better Home-School Partnership
5. How to Flip Communication
It's What You Make of It
How I Do It