Hands-on, Practical Guidance for Educators
From math, literacy, equity, multilingual learners, and SEL, to assessment, school counseling, and education leadership, our books are research-based and authored by experts on topics most relevant to what educators are facing today.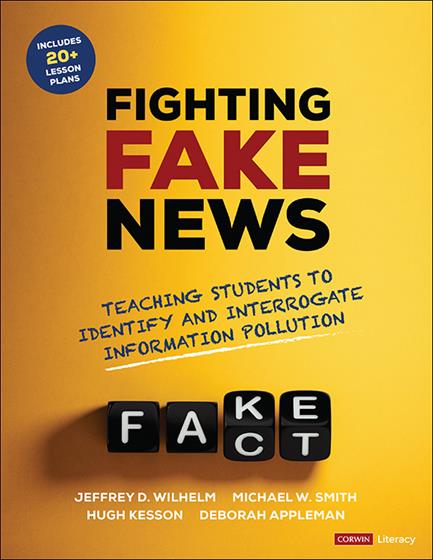 Fighting Fake News
Teaching Students to Identify and Interrogate Information Pollution
We all know texting while driving is dangerous. But what about when students get on the digital highway without critical thinking skills? Use Fighting Fake News to steer them toward a life of wisdom, not reactivity.
Product Details
Grade Level: PreK-12
ISBN:

9781071854655

Published By: Corwin
Series: Corwin Literacy
Year:

2023



Page Count: 264

Publication date:

February 17, 2023
Price: $26.95
Description
Texting while driving is dangerous; but so is sending our students on the digital highway without critical thinking skills.

Critical thinking and online reading need to go hand in hand—but they often don't. Students click, swipe, and believe because they don't know how to do otherwise. At times, so do we. And that's a problem. Fighting Fake News combats this challenge by helping you model how to read, myth-bust, truth-test, and respond in ways that lead to wisdom rather than reactivity.
No matter what content you teach, the lessons showcased here provide engaging, collaborative reading and discussion experiences so students can:
Notice how teacher and peers read digital content, to be mindful of how various reading pathways influence perception
Identify the author background, the website sponsor, and other evidence that help set a piece in context
Stress-test the facts by evaluating news sources, reading laterally, and other critical reading strategies
Use "Reader's Rules of Notice" to learn to identify common rhetorical devices used to influence the reader
Be aware of how for-profit social media platforms feed on our responses to narrow rather than widen our reading landscape
We are still in the wild west era of the digital age, scrambling to impart a safer, ethical framework for evaluating information. Thankfully, it distills to one mission: teach students (and ourselves) how to think critically, and we will forever have the tools to fight fake news.
Table of Contents
Part 1: So Much at Stake
---
Chapter 1: The Case for Teaching Critical Reading and Fighting Fake News
Chapter 2: Fake News: What It Is, Why it Works, and What We Can Start Doing About It
Part II: Lessons for Critical Reading and Fighting Fake News
---
Chapter 3: Lessons for Getting Started: Knowing Your Own Mind
Chapter 4: Lessons Using 'Rules of Notice' in Online Reading
Chapter 5: Lessons for Teaching Point of View in Digital Media
Chapter 6: Lessons for Examining News, Nonfiction, and Digital Texts through Literary Lenses
Chapter 7: Lessons for Teaching Students to Evaluate Evidence and Research
Conclusion: Some Final Words
Reviews
Quote by Kelly Gallagher: "If I were in charge of the world, every school would have a required media studies course, and every faculty would do a book study around Fighting Fake News. This book is an essential tool in helping students to be more consciously aware, reflective, and rational about the waves of news and other forms of "angertainment." I lost count of how many times I said, 'Yes!' while reading this book."
"If I were in charge of the world, every school would have a required media studies course, and every faculty would do a book study around Fighting Fake News. This book is an essential tool in helping students to be more consciously aware, reflective, and rational about the waves of news and other forms of "angertainment." I lost count of how many times I said, 'Yes!' while reading this book."
Kelly Gallagher