Hands-on, Practical Guidance for Educators
From math, literacy, equity, multilingual learners, and SEL, to assessment, school counseling, and education leadership, our books are research-based and authored by experts on topics most relevant to what educators are facing today.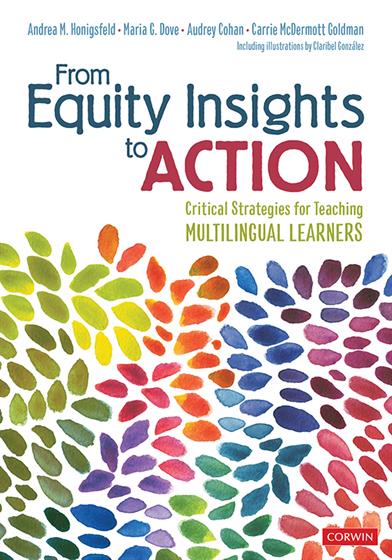 Bestseller!
From Equity Insights to Action
Critical Strategies for Teaching Multilingual Learners
Equity for MLLs means that students' cultural identities are valued sources of knowledge. This guide provides educators with thoughtful, research-informed, and accessible information on how to champion equity for MLLs.
Product Details
Grade Level: PreK-12
ISBN:

9781071855065

Published By: Corwin
Year:

2021



Page Count: 120

Publication date:

August 26, 2021
Price: $32.95
Description
Your Greatest Assets are Right Before Your Eyes: Your Multilingual Learners!
Equity for multilingual learners (MLLs) means that students' cultural and linguistic identities, backgrounds, and experiences are recognized as valued, rich sources of knowledge and their academic, linguistic, literacy, and social–emotional growth is ensured to the fullest potential. This ready-to-use guide offers practical, classroom-level strategies for educators seeking thoughtful, research-informed, and accessible information on how to champion equity for MLLs in a post-COVID era.
Focused on the deliberate daily actions that all teachers of multilingual learners can take, this resource guide captures a compelling advocacy framework for culturally and linguistically responsive equity work, including
Authentic examples of how educators understand and support MLLs through an equity lens
Student portraits of multilingual learners' experiences
Accessible answers to essential how-to questions
Robust professional learning activities
Access to print and online resources for additional information
Thoughtful probes throughout the guide help teachers develop student agency and foster pathways in their own practice and communication with multilingual learners.  
Table of Contents
Acknowledgments
---
About the Authors
---
About the Illustrator
---
CHAPTER 1. ESTABLISH YOUR WHY
THE URGENCY
WHO ARE MULTILINGUAL LEARNERS?
WHAT IS EQUITY?
HOW THIS BOOK GUIDES EQUITY WORK FOR MLS
CHAPTER ORGANIZATION
WHY EVERY EDUCATOR SHOULD READ THIS BOOK
REFLECTIONS AND ACTIONS
KEY RESOURCES
CHAPTER 2. AMPLIFY THE TALENTS, SPIRITS, AND PERSONAL POWERS OF MLS
---
THE URGENCY
TALK WITH AND LISTEN TO YOUR STUDENTS
STUDENT PORTRAITS
LOOKING BACK, LOOKING AHEAD
AMPLIFY MLS' TALENTS, NURTURE THEIR GIFTS, AND UPLIFT THEIR SPIRITS
MULTILINGUAL CONSCIOUSNESS: A PATHWAY TO EQUITY
EQUITY MOVES TO BOLSTER STUDENTS' TALENTS
BRIDGES TO EQUITABLE PRACTICES: INFUSING THE SPIRIT OF LEARNING
EQUITY IN ACTION
PARTING THOUGHTS
REFLECTIONS AND ACTIONS
KEY RESOURCES
CHAPTER 3. RECALIBRATE THE CURRICULUM TO ACCELERATE LEARNING FOR MLS
THE URGENCY
STUDENT PORTRAITS
LOOKING BACK, LOOKING AHEAD
RECALIBRATING THE CURRICULUM
TALK WITH AND LISTEN TO YOUR STUDENTS
EQUITY IN ACTION
PARTING THOUGHTS
REFLECTIONS AND ACTIONS
KEY RESOURCES
CHAPTER 4. TEACH AND ASSESS TO BUILD STUDENT AUTONOMY, AGENCY, AND RESILIENCE
THE URGENCY
STUDENT PORTRAITS
LOOKING BACK, LOOKING AHEAD
LET'S TEACH THE WAY STUDENTS LEARN
LET'S TEACH THE WAY STUDENTS CAN SUCCEED
EQUITY-INFORMED, INTEGRATED APPROACHES TO PLANNING INSTRUCTION FOR MLS
TALK WITH AND LISTEN TO YOUR STUDENTS
EQUITABLE ASSESSMENT PRACTICES
EQUITY IN ACTION
PARTING THOUGHTS
REFLECTIONS AND ACTIONS
KEY RESOURCES
CHAPTER 5. HARNESS THE POWER OF CONNECTIONS AND RELATIONSHIPS
THE URGENCY
STUDENT PORTRAITS
LOOKING BACK, LOOKING AHEAD
OUR CONNECTED RESPONSIBILITY TO STUDENTS
SOCIAL-EMOTIONAL LEARNING IN SUPPORT OF EQUITY
STRATEGIES FOR BUILDING CONNECTIONS IN THE CLASSROOM
STRATEGIES FOR BUILDING CONNECTIONS BEYOND THE CLASSROOM
TALK WITH AND LISTEN TO YOUR STUDENTS
EQUITY IN ACTION
PARTING THOUGHTS
REFLECTIONS AND ACTIONS
KEY RESOURCES
References and Further Reading
---
Index
---