Hands-on, Practical Guidance for Educators
From math, literacy, equity, multilingual learners, and SEL, to assessment, school counseling, and education leadership, our books are research-based and authored by experts on topics most relevant to what educators are facing today.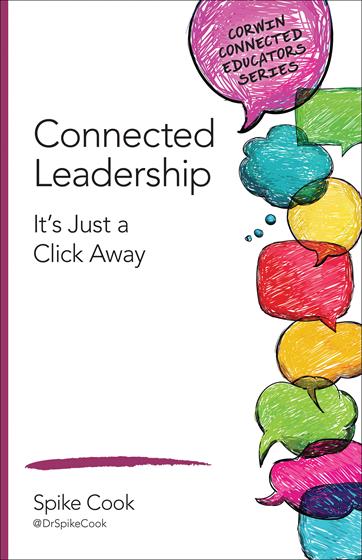 Look Inside
Connected Leadership
It's Just a Click Away
With this entry in the Corwin Connected Educator series, use social media to develop a personal learning network, blog your school's story, and transform your leadership.
Product Details
Grade Level: PreK-12
ISBN:

9781483371689

Published By: Corwin
Series: Corwin Connected Educators Series
Year:

2014



Page Count: 72

Publication date:

September 12, 2014
Price: $13.95
Description
You're at the top—but never alone!
Take the leap and connect with other educators and leaders through social media. Educators learn to transform relationships with their students, staff, parents, and with the overall community in this simple guide to social media. With real-life examples from K12 educators who've integrated social media technology and education, this guide helps educators to harness the power of connectedness and change the way you lead. Jump in and you'll learn how to:
Develop a personal learning network

Tell your school's story through blogging

Use connections to transform your leadership
The Corwin Connected Educators series is your key to unlocking the greatest resource available to all educators: other educators. Being a Connected Educator is more than a set of actions: it's a belief in the potential of technology to fuel lifelong learning. To explore the other books in this series, visit the Corwin Connected Educators website.
Check out the Connected Educator Series matrix to find out which book is right for you.

"This book has practical examples of how educators can use Web 2.0 tools to grow professionally and personally. Cook describes his journey as a lead learner in a way that is easy to read; he inspires, engages, and encourages the reader to move from isolation to connection."
Dwight Carter, Principal
New Albany High School
"After reading this book, you'll be inspired by the stories of newly connected educators. If you've been hesitant to take the plunge into the social media waters, you'll be ready to jump right in after this quick and informative read."
Erin Klein, Teacher and Blogger
Kleinspiration
Key features
This book is for the educator who is hesitant about getting connected. It tells the stories of several Connected Educators, discussing the myths about social media they had to overcome and the results that being connected has had on their schools. This book meets school leaders where they are at and gives them a roadmap for transformational change in their schools through connectedness.
This book will give leaders:
An understanding of social media and its benefits for educators

Tools for becoming connected

Proof through research and examples of how connectedness makes a difference
There is also the Connected Educators Series website where readers can connect with all of the authors of the series, find more resources, and find real support for putting flipped leadership into practice.
Table of Contents
Preface by Peter DeWitt
---
Introduction: Message to Prospective Connected Educator
---
1. A Thousand Mile Journey
Getting Started
Navitaging the Web
The Digital Footprint
Personal Story From a Connected Educator - Brad Gustafson
2. Time and Priorities
How Will I Have the Time?
When Can I Connect?
Lurking and Learning
Personal Story From a Connected Educator - Thad Haines
What Do the Researchers Say?
3. Inner Reflection, Global Exposure
Blogging, Tweeting, Pinning
I Don't Have Anything to Say or Write
Who Will Read This?
Personal Story From a Connected Educator - Ben Gilpin
5. Building an Alliance
Professional Learning Network
Chats and Supporting the PLN
Personal Story From a Connected Educator - Amber Teaman
5. Transformation
Paying It Forward
Understanding Your Leadership Color: What Will You Reveal?
Losing My Leadership Mojo
Paying It Forward
Improving the Learning Environment
Transformation Takes on Many Forms
Personal Story from a Connected Educator - Theresa Stager
Conclusion
Reflection of a Trailblazer: Melinda Miller