Hands-on, Practical Guidance for Educators
From math, literacy, equity, multilingual learners, and SEL, to assessment, school counseling, and education leadership, our books are research-based and authored by experts on topics most relevant to what educators are facing today.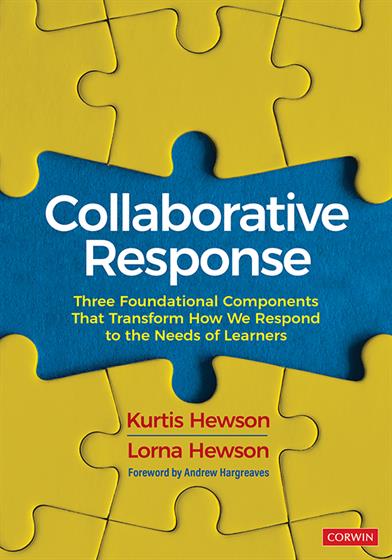 Bestseller!
Collaborative Response
Three Foundational Components That Transform How We Respond to the Needs of Learners
Foreword by Andrew Hargreaves

The authors offer a school-wide collaborative model for addressing the individual needs of students to ensure both equity and achievement success for all students.
Product Details
Grade Level: PreK-12
ISBN:

9781071862810

Published By: Corwin
Year:

2022



Page Count: 256

Publication date:

March 22, 2022
Price: $39.95
Description
A school-wide model for addressing individual needs
The greatest goal of education is to ensure equity while enhancing learning and academic success for all students. And yet, it is impossible for one teacher to meet the extensive needs of all students in his or her classroom. The traditional schooling model cannot provide for this complexity and leaves educators perplexed. The solution is a collaborative approach where "every child deserves a team" to surround them with supports that recognize their strengths and challenges.
Collaborative Response offers a school-wide model for addressing students' individual needs. The three fundamental components of the model are: collaborative structures and processes; data and evidence; and continuum of supports. In this book, readers will find:
Entry points for beginning this work
Potential pitfalls of the approach
Case studies from schools that have adopted the model
Access to a website with tools, templates, case studies, and more
With a focus on quality classroom instruction, this book shares examples from schools and districts that have transformed how they respond to the needs of all learners.
Key features
The book will provide readers with:
Access to a companion website where readers can find tools, templates, case studies, and other resources
Starting steps to provide initial entry points for beginning this work
Potential pitfalls so that leaders can be aware of common missteps and challenges
Case studies and examples from schools that have adopted this Collaborative Response model
A free book study guide available for download
Table of Contents
Foreword by Andrew Hargreaves
---
Table of Contents
---
Companion Website Contents
---
Introduction - A Call to Action
---
Chapter 1 - Examining a Culture of Response
Chapter 2 - Envisioning Collaborative Response
Chapter 3 - Collaborative Structures
Chapter 4 - Collaborative Processes
Chapter 5 - Collaborative Team Meetings
Chapter 6 - Data and Evidence
Chapter 7 - Continuum of Supports
Chapter 8 - Putting the Pieces Together
References and Resources
---