Hands-on, Practical Guidance for Educators
From math, literacy, equity, multilingual learners, and SEL, to assessment, school counseling, and education leadership, our books are research-based and authored by experts on topics most relevant to what educators are facing today.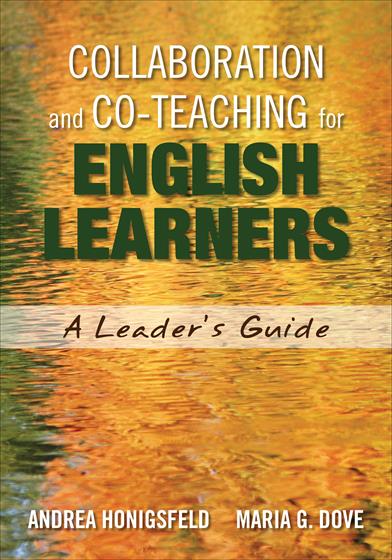 Bestseller!
Collaboration and Co-Teaching for English Learners
A Leader's Guide
The recognized authorities on collaboration and co-teaching for English language learner (ELL) achievement provide an integrated, collaborative service delivery for ensuring ELL success across language barriers.
Product Details
Grade Level: PreK-12
ISBN:

9781452241968

Published By: Corwin
Year:

2014



Page Count: 176

Publication date:

November 20, 2014
Price: $34.95
Description
Your English Language Learners are counting on you to collaborate effectively.
The Common Core State Standards have increased the pressure on English Language Learners. And with the EL population increasing every day, schools need proven systems for ensuring that the students of the future are able to thrive.
In practice, this is a challenge for educational leaders. The most promising solution is the collaborative approach pioneered by this book's authors—America's leading authorities on collaboration and co-teaching for EL achievement.
Honigsfeld and Dove's resources for collaboration and co-teaching include
Prompts for Professional Learning activities (for teams or individuals) and further reading

The latest research findings on best instructional practices that benefit ELs
This is your concise, comprehensive guide to creating a powerful collaborative program to benefit your ELs. Start implementing it today and watch the outcomes improve.
---
"We have used Collaboration and Co-Teaching to strengthen the types of support that ELL Specialists offer classroom teachers. Having a systematic, collaborative process to create a school-wide success model for ELL students benefits everyone in education with the reward of student achievement. Our district is looking forward to using A Leader's Guide as a way of strengthening our professional development and collaborative efforts towards quality instruction for English Learners."
—Heidi LaMare, Supervisor of Programs for ELL Students
Bellevue School District, WA
"Collaboration and Co-Teaching for English Learners: A Leaders Guide is a critical addition to every new and experienced educational leader's bookshelf. Schools that succeed with increasingly diverse populations are able to leverage every asset through collaborations and partnerships. This is a guidebook by trusted experts that will help any preK-12 program follow that path to success.
—Karen N. Nemeth, Author/Consultant
Language Castle LLC
Key features
(1) Provides educational leaders with essential knowledge and practical suggestions aimed at enhanced EL achievement and preparing
all
students to meet the Common Core State Standards.
(2) Emphasizes the need for effective collaboration between ESL specialists, general education teachers, and other education professionals, in designing effective programs and practices to facilitate EL achievement.
(3) Addresses a range of critical topics such as subpopulations of ELs, leadership to promote collaboration between general education teachers, ESL specialists and other professionals, collaborative program models to serve ELs, research-based instructional practices, promoting family engagement, and leading professional development to facilitate EL achievement.
(4) Each chapter includes Activities for Professional Learning for use by teams or individuals, as well as key resources such as relevant web sites or suggestions for further reading.
(5
)
A Leadership
Voice from the Field
boxes

feature short, authentic quotes from

practitioners

that capture the essence of a chapter or authentically illustrating a key point. What the Research Says boxes capture key research findings related to best instructional practices that benefit ELs.
Table of Contents
Preface
---
Acknowledgements
---
About the Authors
---
1. Why Do Collaborative Services Make Sense for English Language Learners?
2. What Are Collaborative Program Models to Serve ELLs?
3. How Do You Support Shared Curriculum Development and Implementation for the Sake of ELLs?
4. How Do You Support Collaborative Instructional and Assessment Practices for ELLs?
5. What Are the Nuts and Bolts of Coordinating Collaborative Teaching for ELLs?
6. What Type of Professional Learning Is Needed to Work with ELLs Effectively?
7. What Type of Leadership is Needed for Integrated, Collaborative Schools?
References
---