Hands-on, Practical Guidance for Educators
From math, literacy, equity, multilingual learners, and SEL, to assessment, school counseling, and education leadership, our books are research-based and authored by experts on topics most relevant to what educators are facing today.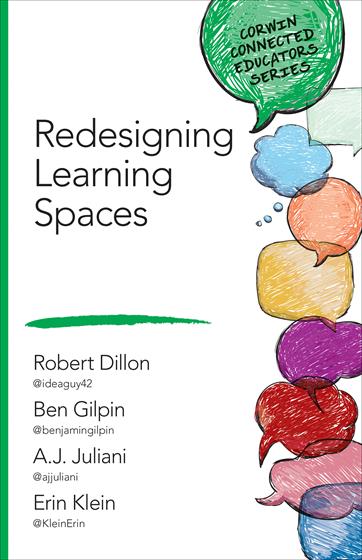 Redesigning Learning Spaces
Transform spaces to maximize student achievement. Learn to design brain-friendly learning environments that foster engagement, productivity, and achievement while seamlessly integrating educational technology.
Product Details
Grade Level: PreK-12
ISBN:

9781506318318

Published By: Corwin
Series: Corwin Connected Educators Series
Year:

2016



Page Count: 72

Publication date:

May 31, 2016
Price: $12.95
Description
It is time for the desks to lose and the children to win

Bring hope, joy, and positive energy back into the daily work of the classroom. Explore how learning space design can positively impact classroom learning, the culture of a school, healthy communities, and systems and structures that make education meaningful. In this book you'll:
Find resources for redesigning spaces on a sustainable budget
Support technology integration through b¬¬lended and virtual learning

Hear success stories from the field
The Corwin Connected Educators series is your key to unlocking the greatest resource available to all educators: other educators. Being a Connected Educator is more than a set of actions; it's a belief in the potential of technology to fuel lifelong learning. To explore the other books in this series, visit the Corwin Connected Educators website.

Check out the Connected Educator Series matrix to find out which book is right for you.

"Redesigning Learning Spaces will take you beyond the standard classroom with ideas for creating spaces that sizzle with excitement and glow with beauty and grace."
—Daniel H. Pink, author of Drive and A Whole New Mind

"As a son of teachers, as a parent, and as a technologist, I recommend this book for educators who want to create a better learning experience for our children."
—Gary Shapiro, author of Ninja Innovation and The Comeback
Table of Contents
Introduction
---
Leading Change through Classroom Learning Space Design
---
Why change classroom space now?
What are other experts saying about the elements of learning space design?
How does intentional space design impact student mindset and attitude?
How should teachers begin this process?
Learning Space Change as a Lever to Shift School Culture
---
What does it feel like?
Beginning the conversation
Starting From Ground Zero
Learning Doesn't Have To Happen In A Traditional Classroom
Potential Steps to Begin the Redesign
Showcase the Re-Design
Shaping Learning Space Change for the Community
---
Are shifting learning spaces a gateway to shifting the community at large?
How are the community and the schools the same ecosystem?
How can learning space shifts and the greater community support kids emotionally?
What steps are necessary for effective communication to the community about innovation in learning space design?
Learning Space as Lever for Systemic Change
---
How small moments have big purpose on systems
Thinking about learning spaces as deep levers of change
In what ways can teacher blend learning space design and technology integration to maximize change across the system?
How can teachers best use their resources to create systemic change?
Who else is supporting this work to change learning through space design?
Models of Excellence and a Place to Start
---
Who is doing this well?
Who can support your work? Where can I start?
Why be an agent of change?