Hands-on, Practical Guidance for Educators
From math, literacy, equity, multilingual learners, and SEL, to assessment, school counseling, and education leadership, our books are research-based and authored by experts on topics most relevant to what educators are facing today.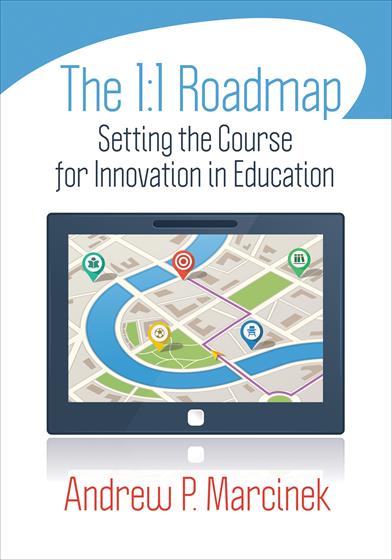 Look Inside
The 1:1 Roadmap
Setting the Course for Innovation in Education
It's easy to get overwhelmed with devices; you have to have a plan for technology that keeps learning at center stage.
Product Details
Grade Level: PreK-12
ISBN:

9781452226347

Published By: Corwin
Year:

2014



Page Count: 160

Publication date:

October 31, 2014
Price: $29.95
Description
Technology is more than just "Computer Class;" it is a literacy that must be threaded throughout the fabric of a school. In a 1:1 environment, you're preparing students to be responsible citizens of the physical and digital worlds. But it's easy to get overwhelmed with devices; you have to have a plan for technology that keeps learning at center stage.

Here you'll find a solid plan for designing a technology initiative that fuels student learning. Real-life examples, lessons, and interviews with stakeholders show you


Why a 1:1 program is not only achievable but also beneficial and necessary
How to choose the right devices
The best ways to prepare teachers through professional development
Best practices for instruction and personalization in a 1:1 environment


It's more essential than ever to integrate digital and information literacy into the fabric of our schools. This practical resource will get you started on the journey.
" Marcinek provides a desperately needed resource based on practical experience that will help districts effectively and properly implement 1:1 initiatives."
—Eric Sheninger, Educational Consultant and Corwin Author, Digital Leadership

"Ultimately, going 1:1 is about fostering a culture of trust and innovation, and this doesn't happen overnight—you need a strong plan. Marcinek helps leaders get started with a 1:1 implementation, and teaches us how to prepare the entire school community for digital citizenship."
—Salome Thomas-EL, Award-winning Principal and Author of "The Immortality of Influence"


Key features
Numerous, detailed lessons and examples incorporating digital citizenship and responsible use into schools using technology and integrating 1:1 programs
Examples from the author's classroom and classroom observations using technology effectively and responsibly
Examples from contemporary educational bloggers
Student and teacher interviews
Comments from blog posts
Table of Contents
Introduction
CHAPTER 1: THE 1:1 ROADMAP
Begin with the "Why?"
Infrastructure
Acceptable Use Policy
Selecting a Device
Teacher Readiness and Parent Support
CHAPTER 2: A CULTURAL SHIFT
Develop a Culture of Trust and Openness
Embrace Risk and Promote Innovative Practice
Devices Provoke Change
Innovation Begins with Trust
CHAPTER 3: CULTIVATING HEALTHY, RESPONSIBLE NETWORKS
Building Classroom Community
Educating the Community
CHAPTER 4: REMIXING PROFESSIONAL DEVELOPMENT
Schedule PD That Allows Time to Explore and Share
Integrating the Edcamp Format
Keeping the Momentum
Extending PD Opportunities
CHAPTER 5: THE CASE FOR A STUDENT HELP DESK
Student Help Desk Results
Authentic Learning Projects
CHAPTER 6: SUSTAINING DIGITAL COMMUNITIES
The Best Technology Is Good Teaching
Becoming a Connected Educator
CHAPTER 7: DISPELLING THE MYTHS OF EDTECH
Dispelling the Myths of 1:1 Environments
Alternatives to the Standard
CHAPTER 8: THE ROAD AHEAD
How Did You Get the Funding?
What Happens to Broken Devices?
How Were Devices Filtered beyond the School?
Were Social Media Sites such as Instagram, Snapchat, and Facebook a Distraction?
How Much Autonomy Did Students Have to Select Educational Apps That Fit Their Learning Style?
How Did Students and Teachers Send and Receive Assignments with Devices?
How Were Administrators Prepared for This Major Culture Shift?
What Happened in Those Classrooms Where Teachers Didn't Adopt the Technology?
Conclusions
APPENDIX OF RESOURCES
District Vision for Digital Learning and Technology
Access to Digital Resources
Policy for Use of Student Information and Images for Educational Purposes
Internet Safety Consent Form
GDRSD Internet Empowered Digital Use Guidelines for Students K-8
Groton-Dunstable Regional School District Empowered Digital Use Guidelines for Technology and Networks-High School (9-12) Student Agreement Form