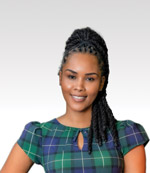 Lateefah Id-Deen
Lateefah Id-Deen is an assistant professor for mathematics education in the Bagwell College of Education at Kennesaw State University. She earned her bachelor's degree from the University of Arkansas Pine Bluff, a master's degree from Iowa State University, and a doctorate in curriculum, instruction, and teacher education from Michigan State University, with foci in mathematics education and urban education.
She has written several articles and book chapters that examine historically marginalized students' perspectives on their experiences in mathematics classrooms and ways to support educators in hearing and developing practice in relation to students' expressed interests. She investigates social justice pedagogies and culturally responsive instructional practices that promote student–teacher relationships, affirm mathematics identities, and cultivate belongingness to support students' learning experiences in mathematics classrooms. She has engaged in projects that support Black girls' schooling experiences. She also works with curriculum developers, schools, and districts that want to incorporate culturally relevant and anti-racist mathematics instructional strategies in mathematics classrooms. Her work reflects her passion for creating equitable learning environments for historically marginalized students in mathematics classrooms. Connect with her on Twitter @Prof_IdDeenL.
---
Related Titles
This is a carousel with related book cards. Use the previous and next buttons to navigate.