Hands-on, Practical Guidance for Educators
From math, literacy, equity, multilingual learners, and SEL, to assessment, school counseling, and education leadership, our books are research-based and authored by experts on topics most relevant to what educators are facing today.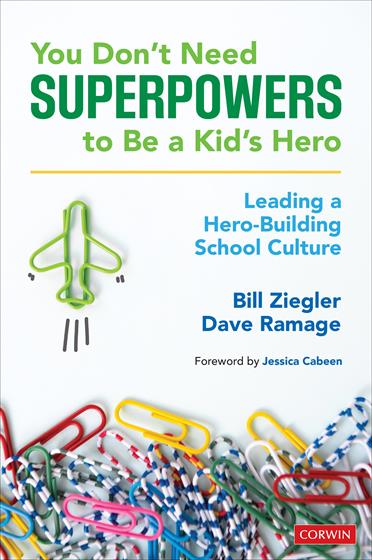 Look Inside
You Don't Need Superpowers to Be a Kid's Hero
Leading a Hero-Building School Culture
First Edition
Foreword by Jessica Cabeen

The future depends on leaders who can foster heroism in others. This book will help school leaders build heroes who are ready to take on the future.
Product Details
Grade Level: PreK-12
ISBN:

9781544355085

Published By: Corwin
Year:

2020



Page Count: 208

Publication date:

March 12, 2020
Price: $32.95
Description
Create a culture and climate that produces real heroes
The future of our schools depends on leaders who can foster every day heroism in others. This doesn't require supernatural powers. It requires a willingness to be intentional in building heroes in our communities who are ready to get things done and take on the demands of the future.
You Don't Need Superpowers to Be a Kid's Hero will help you create the climate that produces these heroes. Hero-building work will help you look deeply into your school culture and see yourself and your students and staff in a fresh, powerful way. Readers will find:
· Training ideas for leadership teams
· Instruments for gauging progress
· Practical steps for building courage into practices
· Practical strategies to help navigate the complexities of creating an extraordinary school
· Hero-building stories from the field
Written with an inspiring tone, this book will empower school leaders to lead in a way that unleashes staff and students to be superheroes in their communities.
Table of Contents
Foreword
---
Preface
---
Acknowledgments
---
About the Authors
---
Chapter 1—Heroes in the Hallways
Introduction
Principal Makes House Calls
Manufacturing Our Future
Telling Your School's Story
Leading By Example
Culture Wins Out!
Authentic Leadership
Heroes Are Built
Hero Sighting
Hero Training
Chapter 2—Look Deep Inside: See What Students and Staff Really Bring to School
The Invisible Backpack
A Culture Of Relationships
A Culture Of Resources
A Culture Of Interventions
A Culture Of Wisdom
Seeing The Invisible
Super Hearing And Dangerous Thoughts
Gap Kids
Hidden Strength
Hero Sighting
Hero Training
Chapter 3—True to Life Leadership and Learning
Lies We Tell Ourselves And Believe
High Risk Means High Rewards
Growth Challenge on FORWARD Rubric
Failure Is An Option
Hide Your Mistakes And Weaknesses
Front Runners Win
Settling
Sustainability
Consensus
Innovation Is For Crazy People
Leaders Must Be The Loudest Voice
Hero Sighting
Hero Training
Chapter 4—Unleash the Voice and Choice of Students
Is Your Hearing Good?
School Reform Through Student Voice
Social Media And Student Voice
Letting Students Lead
Gauge Your Student Voice Level
Student Choice
School Showcase
Hero Sighting
Hero Training
Chapter 5—Lead Like an Alien: Out of This World Ideas to Produce Hero Students
Break Down Historical Barriers
Procrastinators Produce
Bells Are Barriers
Grades Matter Most
Repetition Is Wrong
Tradition Holds Us Down
Homework Helps
Think Differently
Hero Sighting
Hero Training
Chapter 6—Build Resilience: Raise Your Grit Score
WHADITW
Perfection Before Action?
Public Praiser
This Too Will Pass
The Distractor
The Overbearing Octopus
Passive Resistance
Negative Self-talk
Hero Solutions For Students
Hero Sighting
Hero Training
Chapter 7—Go Big or Go Home: Empower Students to Be Global Game Changers!
Shoes For Esperanza
Give A Hand
Kangaroo Cup
Saddle Innovation
Rain Garden
Ocean Cleanup
Think Big, Act Big
Expand Your View
Leading Big
Hero Sighting
Hero Training
Chapter 8—Be Courageous: Risk It All for What's Right
Origin Stories
Super Courageous Fortitude
Courage To Be Authentic
Courage To Ask For Help
Courage To Be True
Courageous Conversations
Courage To Shatter The Status Quo
Hero Sighting
Hero Training
References
---