Hands-on, Practical Guidance for Educators
From math, literacy, equity, multilingual learners, and SEL, to assessment, school counseling, and education leadership, our books are research-based and authored by experts on topics most relevant to what educators are facing today.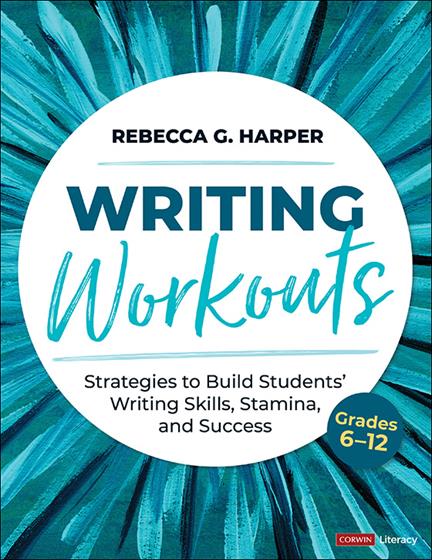 Writing Workouts, Grades 6-12
Strategies to Build Students' Writing Skills, Stamina, and Success
Good writers know what skills to use and when. Like ace athletes, they are highly trained. Writing Workouts provides standards-aligned lessons to work every writing muscle.
Product Details
Grade Level: PreK-12
ISBN:

9781071867044

Published By: Corwin
Series: Corwin Literacy
Year:

2023



Page Count: 304

Publication date:

March 09, 2023
Price: $31.95
Description
Student Writers Go the Distance with a Strength-Training Approach
Good writers don't wing it—they have a plethora of skills. They list, picture, circle, strategize and revise to make language come alive. They know what to use and when. Like ace athletes, they are highly trained, well-versed in the techniques found in this lively book.
Writing Workouts provides a method for instruction that gives students the fun they want and the targeted skill practice they need. Slinky paragraphs, pop-up poems, paint chip plotting, and many other activities get the serious business of teaching critical and creative writing done. Author Rebecca Harper shows you how to go about it systematically, so writing is tied to relevant lessons and writing standards. Help students learn to:
Hone skills in persuasive writing, argument, fiction, poetry, memoir and more
Toggle between brief and multi-step writing tasks, to build stamina (and not hyperventilate when faced with complex compositions)
Tap into auditory, visual, and kinesthetic, and digital components of crafting
Think about word, sentence, and paragraph-level techniques
Jump the high-jumps of research writing by getting good at each smaller leap
Students in middle school and high school often feel they are forever-sprinting toward a high-stakes writing task. With Writing Workouts, you help students crowd out stress with a strength-training approach to success.
Table of Contents
Chapter 1 – Writing Fitness
Chapter 2 – Writing Warmups
Chapter 3 – Targeted Training
Chapter 4 – High Intensity Training
Chapter 5 – Cold Starts and Cool Down
Chapter 6 – Rest, Recover, Revise
Chapter 7 – Stretch Day
Chapter 8 - Balanced Literacy Diet
References