Hands-on, Practical Guidance for Educators
From math, literacy, equity, multilingual learners, and SEL, to assessment, school counseling, and education leadership, our books are research-based and authored by experts on topics most relevant to what educators are facing today.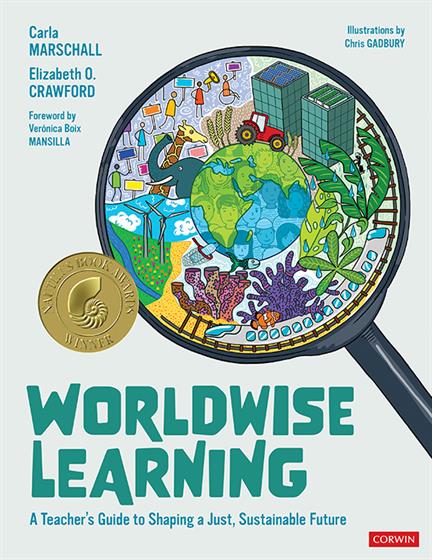 Look Inside
Worldwise Learning
A Teacher's Guide to Shaping a Just, Sustainable Future
Foreword by Verónica Boix Mansilla

Presenting a "Pedagogy for People, Planet, and Prosperity," this book supports K-8 educators in nurturing "Worldwise Learners": students who both deeply understand and purposefully act when learning about global challenges.
Product Details
Grade Level: PreK-12
ISBN:

9781071835944

Published By: Corwin
Series: Corwin Teaching Essentials
Year:

2021



Page Count: 360

Publication date:

September 23, 2021
Price: $39.95
Description
Nautilus Gold Award Winner (Books for a Better World) in Social Sciences & Education

Create inclusive, democratic classrooms that prepare knowledgeable, compassionate, and engaged global citizens.
Today's global challenges—climate change, food and water insecurity, social and economic inequality, and a global pandemic—demand that educators prepare students to become compassionate, critical thinkers who can explore alternative futures. Their own, others', and the planet's well-being depend on it.
Worldwise Learning presents a "Pedagogy for People, Planet, and Prosperity" that supports K-8 educators in nurturing "Worldwise Learners": students who both deeply understand and purposefully act when learning about global challenges. Coupling theory with practice, this book builds educators' understanding of how curriculum and meaningful interdisciplinary learning can be organized around local, global, and intercultural issues, and provides a detailed framework for making those issues come alive in the classroom. Richly illustrated, each innovative chapter asserts a transformational approach to teaching and learning following an original three-part inquiry cycle, and includes:
Practical classroom strategies to implement Worldwise Learning at the lesson level, along with tips for scaffolding students' thinking.
Images of student work and vignettes of learning experiences that help educators visualize authentic Worldwise Learning moments.
Stories that spotlight Worldwise Learning in action from diverse student, teacher, and organization perspectives.
An exemplar unit plan that illustrates how the planning process links to and can support teaching and learning about global challenges.
QR codes that link to additional lesson and unit plans, educational resources, videos of strategies, and interviews with educators and thought leaders on a companion website, where teachers can discuss topics and share ideas with each other.
Worldwise Learning
turns students into local and global citizens who feel genuine concern for the world around them, living their learning with intention and purpose. The time is now.
Table of Contents
Foreword
---
Preface
---
The Purpose of This Book
The Worldview and Beliefs That Frame This Book
An Invitation to the Reader
Acknowledgments
---
About the Authors
---
About the Illustrator
---
INTRODUCTION: THE IMPERATIVE
---
Global Competence: Transforming Learning to Action
Pedagogy for People, Planet, and Prosperity
Book Features and Structure
PART I: CREATING THE CONDITIONS FOR TRANSFORMATIVE EDUCATION
---
CHAPTER 1: THE WORLDWISE LEARNING FRAMEWORK
Learning in a Globalized World
Curriculum Design for Understanding and Action
The Learning Process: Inquiring Into People, the Planet, and Prosperity
CHAPTER 2: CREATING INCLUSIVE, DEMOCRATIC CLASSROOMS
The Democratic Classroom
Student-Centered Planning in the Democratic Classroom
The Worldwise Learning Planning Process
Strategies for Democratic Classrooms
CHAPTER 3: COMPLEX ISSUES KNOW NO DISCIPLINES
Understanding Issues Using Interdisciplinary Learning
The Role of Disciplinary Knowledge
A Fruitful Exploration of Interdisciplinary Learning
"Up and Out" Transfer
The Interdisciplinary Learning Continuum
Strategies for Interdisciplinary Learning
PART II: CONNECT: ENGAGING THE HEART, HEAD, AND HAND
---
CHAPTER 4: PERSPECTIVE-TAKING AND PERSPECTIVE-GETTING
Perspectives as Lenses for Understanding Complex Issues
When Perspective-Taking Is Not Appropriate
Looking Inward: Understanding the Self
Looking Outward: Understanding Others
Perspective-Getting: Seeking Out Diverse Perspectives
Strategies for Perspective-Taking and Perspective-Getting
CHAPTER 5: THE POWER OF STORY TO BUILD CONNECTION
Stories Are All Around Us
The Storytelling Brain
Storytelling as a Pedagogical Tool for Worldwise Learning
Stories as Mirrors, Windows, and Sliding Glass Doors
Beyond Words: Art, Map-Making, and Data Visualization
Strategies for Storytelling
PART III: UNDERSTAND: DEVELOPING "BIG PICTURE" THINKING
---
CHAPTER 6: SYSTEMS, SYSTEMS EVERYWHERE
Understanding Issues Using a Systems Approach
What Is a System, Really?
Developing Systems Thinkers
Strategies for Systems Thinking
CHAPTER 7: UP TO THE CONCEPTUAL LEVEL
Conceptual Thinking to Understand Complexity
Levels of Conceptual Thinking
Level 1: Concept Formation
Level 2: Generalizing
Level 3: Transferring Understanding
Clearing Roadblocks to Conceptual Thinking
Developing Conceptual Understanding Through Case Studies
Strategies for Conceptual Thinking
PART IV: ACT: PARTICIPATING AS GLOBAL CITIZENS
---
CHAPTER 8: CITIZENSHIP WITHIN AND BEYOND THE CLASSROOM
Big Ideas of Global Citizenship
What Global Citizenship Is Not
Big Idea #1: Global citizens develop global citizen identities.
Big Idea #2: Global citizens interrogate and draw connections between the structures, systems, and perspectives that underpin issues, including at different scales.
Big Idea #3: Global citizens engage in purposeful, informed action with others.
Strategies for Global Citizenship
CHAPTER 9: BEING A WORLDWISE EDUCATOR
Global Competence as an Ongoing Journey
Connect Phase for Worldwise Educators
Understand Phase for Worldwise Educators
Act Phase for Worldwise Educators
Strategies for Worldwise Educators
Appendix A: Sample Unit Planner: Pollinator Power!
---
Glossary
---
References
---
Index
---