Hands-on, Practical Guidance for Educators
From math, literacy, equity, multilingual learners, and SEL, to assessment, school counseling, and education leadership, our books are research-based and authored by experts on topics most relevant to what educators are facing today.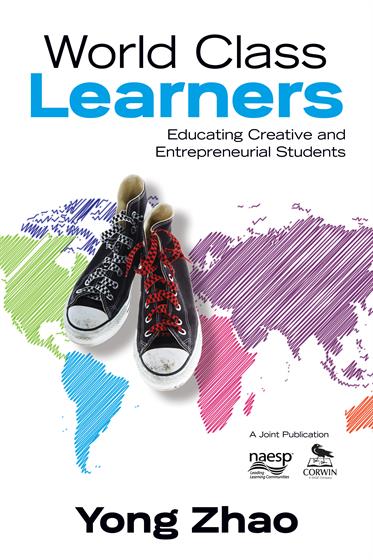 Look Inside
Bestseller!
World Class Learners
Educating Creative and Entrepreneurial Students
To succeed in the global economy, students need to think like entrepreneurs. Zhao unlocks secrets to cultivating independent thinkers who can create jobs and contribute positively to the globalized society.
Product Details
Grade Level: PreK-12
ISBN:

9781452203980

Published By: Corwin
Year:

2012



Page Count: 288

Publication date:

June 26, 2012
Price: $39.95
Description
Prepare your students for the globalized world!
In the new global economy, the jobs that exist now might not exist by the time today's students enter the workplace. To succeed in this ever-changing world, students need to be able to think like entrepreneurs: resourceful, flexible, creative, and global.
Researcher and Professor Yong Zhao unlocks the secrets to cultivating independent thinkers who are willing and able to use their learning differently to create jobs and contribute positively to the globalized society. World Class Learners presents concepts that teachers, administrators and even parents can implement immediately, including how to:
Understand the entrepreneurial spirit and harness it
Foster student autonomy and leadership
Champion inventive learners with necessary resources
Develop global partners and resources
With the liberty to make meaningful decisions and explore nontraditional learning opportunities, today's students will develop into tomorrow's global entrepreneurs.




"In this important book, Yong Zhao demonstrates persuasively that the race for higher test scores is harmful to our society. What is needed most now, he reminds us, is freedom to think, freedom to invent, and freedom to differ from bureaucratically devised norms."
—Diane Ravitch, Author of The Death and Life of the Great American School System
"In his latest book, Yong Zhao forcefully challenges us to focus on entrepreneurship and innovation. Zhao has established himself as one of the most compelling voices in 21st century education. He is not an education reformer, trying to improve our performance within the old system. He is truly an education transformer, trying to articulate the outcomes that will matter most to our 21st century students."
—Ken Kay, CEO of EdLeader21
Founding President of Partnership for 21st Century Skills
Key features
This book is loaded with clear, well drawn examples from international and domestic sources. The research on global results is bolstered by graphics that clearly illustrate principles, causes and effects.
Table of Contents
Acknowledgments
---
About the Author
---
Introduction: To Create Is Human
---
1. The Wrong Bet: Why Common Curriculum and Standards Won't Help
2. The Changed World: The Need for Entrepreneurs
3. What Makes an Entrepreneur: The Entrepreneurial Spirit
4. Achievement Gap vs. Entrepreneurship Gap: The Myth of Education Giants
5. China vs. the U.S.: How the Best Education Stifles the Entrepreneurial Spirit
6. From Accident to Design: A Paradigm Shift
7. Freedom to Learn: Student Autonomy and Leadership
8. Product-Oriented Learning: Works That Matter
9. The Globe Is Our Campus: Global Entrepreneurs and Enterprises
10. Create a World-Class Education: Principles and Indicators
Index
---