Hands-on, Practical Guidance for Educators
From math, literacy, equity, multilingual learners, and SEL, to assessment, school counseling, and education leadership, our books are research-based and authored by experts on topics most relevant to what educators are facing today.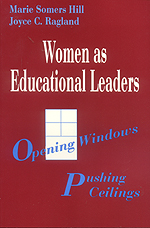 Women as Educational Leaders
Opening Windows, Pushing Ceilings
The face of educational leadership is now changing significantly as more women and people of diverse ethnic backgrounds are moving into administrative roles traditionally held by white men. Using interviews with women who have achieved success in such positions, Women as Educational Leaders describes the contributions and practice of female school leaders, while indicating the strategies each has employed to overcome various obstacles faced en route. The book also contains useful advice for aspiring female school leaders.
Product Details
Grade Level: PreK-12
ISBN:

9780803961371

Published By: Corwin
Year:

1995



Page Count: 144

Publication date:

March 15, 1995
Price: $28.95
Description
It isn't easy to find published research on the progress of women as educational leaders. Historically, classroom teaching positions have been overwhelmingly populated by women and minorities, while the top administrative positions were held by white males. Consequently, most of the research has focused on male leaders. Now, however, more and more women are reaching the top in educational administration. Women as Educational Leaders focuses on this important trend. Authors Hill and Ragland use candid interviews with outstanding and successful female educational leaders to create this timely guide for practitioners. They spotlight the personal and professional lives of 35 women who share stories of their journeys to the top of the ranks. The book pinpoints six common barriers most women encounter, including lack of political savvy, unfocused career positioning, and the long-standing male dominance of key leadership roles. The authors encourage readers to "dump" old myths, stereotypes, and baggage from the past to make way for a more open and positive mindset. Gleaning information from the interviews, Hill and Ragland offer a series of strategies for professional growth and self development, including goal-setting, creating productive mentoring relationships, and using formal and informal structures for career advancement. They include a self-assessment instrument to help you determine your personal leadership competencies and create a more focused plan for your career as an administrative leader. Women As Educational Leaders is an in-depth look at what it takes to become successful as an educational leader. It gives you guidelines, strategies, techniques, and commonsense advice you can use immediately - no matter where you're at in your rise to the top.
Table of Contents
PART ONE: WOMEN LEADERS AND THE NEW REALITY
---
Understanding the Baggage of the Past
Seizing the Catalysts of Today
Envisioning the Future
PART TWO: STRATEGIES FOR PROFESSIONAL AND SELF-DEVELOPMENT
---
Developing and Assessing Our Leadership Competency
Learning from Pathfinders
Recognizing Mentoring Reciprocals
Developing Networks
Exploring Paths