Hands-on, Practical Guidance for Educators
From math, literacy, equity, multilingual learners, and SEL, to assessment, school counseling, and education leadership, our books are research-based and authored by experts on topics most relevant to what educators are facing today.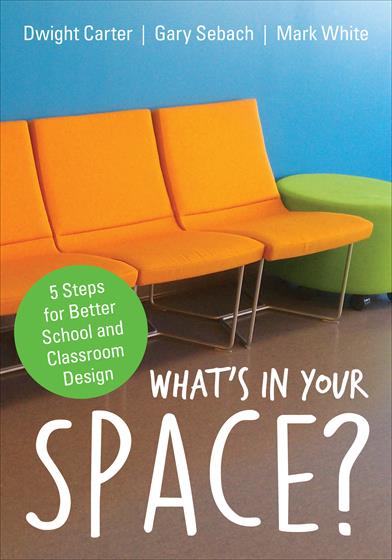 Look Inside
What's in Your Space?
5 Steps for Better School and Classroom Design
How should learning spaces change to allow for learning styles, global skills, and technology? Discover design principles for both "thinking" and "learning" spaces in the 21st Century.
Product Details
Grade Level: PreK-12
ISBN:

9781506323077

Published By: Corwin
Year:

2016



Page Count: 144

Publication date:

March 23, 2016
Price: $32.95
Description
Transformed learning spaces begin with transformed thought

For two decades, educators have been told to incorporate skills for the global economy, adapt to diverse learning styles, and employ technology. This requires changing our thinking spaces and our physical spaces. How can or should they change to keep pace with and reflect 21st Century teaching models?

In What's in Your Space?, the group behind one of America's most recognized school redesign projects walks you through the process of designing both "thinking" and "learning" spaces to accommodate today's rigorous learning models. Throughout this book, educators will
Reflect upon their craft and role in 21st Century education
Understand the nuances of teaching Generation Z
Discover design principles to help establish tech-embedded learning environments

Collaborate with other educators to craft a scalable plan for redesigning learning spaces
As we shift our thinking, it follows that the spaces in which we work and learn will also be transformed. Discover how to do it well.

"We, as educators, can't shift fast enough to keep up with the needs of today's learners, but this book is a great leap in the right direction of doing so!"
Brooke Menduni, Assistant Principal
Dublin City Schools

"There is something so unique about the framework/approach/lens of the actual physical change, so closely associated with the philosophical and pedagogical changes that can make this transformation real."
Carol Spencer, Director of Curriculum
Addison Northwest Supervisory Union


Key features
This book provides new insights into teaching the next generation of learners and designing learning spaces to fit their needs.

Educators will learn:
· How to design a world class learning experience for Generation Z
· Design principles for learning environments on any scale - from classrooms to entire buildings
· Professional development practices for continued learning in the 21st Century
· The views and mindsets of 21st Century teachers
· How to create their own step-by-step plan for learning space redesign
· How to integrate technology throughout every learning space
Table of Contents
Introduction
---
The Parable of the Sage and the Two Spaces
---
Step 1: Understand Generation Z
The Importance of Cell Phones
Connected Through Social Media
The Influence of Gaming
Working in Small Groups
It's All About the Internet
Memorization and Motivation
The Importance of Relationships
Begin Taking Steps - Now!
Professional Development Ideas to Understand Generation Z
Step 2: Start Asking Questions
Our Beginning
Our Shift
Listening to Others
Clear Talking Points
A New Design Process for a New Type of Building
Chairs Are for Thinking, Not Just Sitting
Desks Can Be Tools for Collaboration
Carpet Diem
Creativity is Contagious
Different Skills, Different Spaces
The Importance of Technology
Fostering Student Buy-In
A New Type of Building, a New Funding Formula... and New Challenges
The Importance of Selecting and Training Staff
Understanding That Educators Evolve at Different Speeds
Sometimes People Need to See New Ideas to Understand Them
Remaining True to Our Core Value
An Example of Teaching in a Z Space Like Clark Hall
It's the Teaching and the Relationships, Not Just the Space
Clark Hall Today
Two Essential Questions to Begin the Design of Your Z Space
Step 3: Shift to a 21st Century Mindset
We Must View Space Redesign as a K-12 Process
We Must Understand That Space Redesign Can Be Done on a Large Scale or a Small Scale
We Must Find Ways to Make This Shift Even When Budgets Are Tight
We Must Build a Culture of Trust in Our Schools
We Must Recognize That a Learning Space Can Enhance 21st Century Learning
We Should Make the Space Redesign a Group Effort
We Must Be Comfortable With Being Uncomfortable
We Should Study What Researchers Are Saying About 21st Century Learning
We Should Gather Ideas From New Sources
We Should Embrace Social Media
We Should Form Clear Objectives for How We Want to Use the Space and Communicate Those Objectives to Our Staff and Community
We Should Consider the Finishing Touches First
We Must Acknowledge That the Learning Space Is Only as Good as the Teaching That Takes Place In It
We Must Embrace the Idea That the Teacher in a 21st Century Learning Space Will Be a Facilitator, Not the Disseminator of Information
Professional Development Activities to Shift Thinking to a 21st Century Mindset
Step 4: Teach Global Skills
Standardized Testing and Global Skills
The Common Core State Standards
Other Sources for Global Skills
Graduate Profiles
Three Stages of Development
The Gahanna-Jefferson Public Schools Graduate Profile
Breaking Down a Graduate Profile Into Segments
Global Skills at River Bluff High School
Media Center Redesigns
Z Spaces at the Elementary Level
Individual Teacher or Small Team Skill Lists
Professional Development Ideas to Teach Global Skills
Step 5: Let Students Use Technology
We Need Technology
We Must Learn From Our Past
We Must Envision How Technology and Space Can Enhance Learning
We Must Model With Our Teachers What We Expect to See In Our Classroom
Our Network Must Be So Strong and Well Maintained That It Rarely Crashes
Our Technology Budget Must Be Robust
We Must Teach Students to Use the Internet Ethically
We Must Discuss the Role of Technology in Teacher Assessments
We Must Realize This Is a Career-Long Initiative
We Must Turn to the True Experts: Our Students
Professional Development Activities to Help Students Use Technology