Hands-on, Practical Guidance for Educators
From math, literacy, equity, multilingual learners, and SEL, to assessment, school counseling, and education leadership, our books are research-based and authored by experts on topics most relevant to what educators are facing today.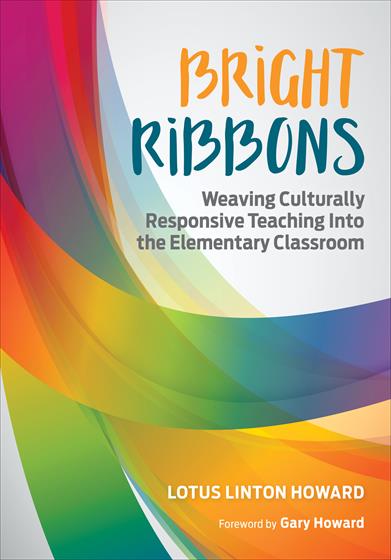 Look Inside
Bright Ribbons: Weaving Culturally Responsive Teaching Into the Elementary Classroom
Learn how to weave the seven principles of culturally responsive teaching into all lessons and activities to create an environment where every child can shine.
Product Details
Grade Level: PreK-12
ISBN:

9781506325255

Published By: Corwin
Year:

2017



Page Count: 224

Publication date:

January 20, 2017
Price: $32.95
Description
Weave culturally responsive teaching into every lesson and activity
Culturally responsive teaching practices are like bright ribbons: when you weave them into everything you teach, you create a beautiful tapestry for successful learning. Lotus Howard, who has spent four decades teaching in diverse classrooms, will show you how to build relationships with your students and create a harmonious community where every child can thrive. You'll learn:
How to use culturally responsive teaching (CRT) not as an add-on, but as a philosophy that infuses every aspect of the school day

Simple strategies for weaving the seven principles of CRT into all lessons and activities, including morning greetings, transition times, and group work


How to be more self-reflective to better appreciate and unlock students' unique gifts
With an array of practical tips, model lessons, and resources, this book will inspire you to weave a holistic tapestry of teaching and learning that benefits all children.
Key features
(1) The Seven Principles of Culturally Responsive Teaching demonstrate how CRT is woven into every aspect of the school day, from the teacher's personhood, to the classroom appearance, materials and function, to the methods of instruction, forms of testing, and classroom management skills.

(2) Takes the position that CRT is not an add-on but an approach that can unify and permeate the entire educational experience to benefit all students.

(3) Calls upon teachers to be self-reflective and become more appreciative of the giftedness of all students, and more able to find the keys to unlock their unique talents as well as to succeed in the mainstream culture.

(4) Includes an array of practical strategies, teaching tips, model lessons, and resources that teachers can use or adapt to their specific contexts.

(5) Written in a supportive, accessible style, the author honors classroom teachers as professionals with a natural propensity for learning.
Table of Contents
Foreword by Gary Howard
---
Acknowledgments
---
Preface
---
Introduction
---
Chapter 1 - Stringing the Vertical Threads: Basic Assumptions Underlying Good Culturally Responsive Teaching
Chapter 2 - Red Ribbons: Teachers Are Personally & Culturally Inviting
Chapter 3 - Orange Ribbons: The Classroom is Personally & Culturally Inviting
Chapter 4 - Yellow Ribbons: Interactions Stress Collectivity As Well As Individuality
Chapter 5 - Green Ribbons: Students Are Affirmed in Their Cultural Connections
Chapter 6 - Blue Ribbons: Students Are Reinforced for Academic Development
Chapter 7 - Purple Ribbons: Instructional Changes Are Made to Accommodate Differences
Chapter 8 - Violet Ribbons: The Classroom is Managed with Firm, Consistent, Loving Control
Chapter 9 - Conclusion
References
---
Index
---
Reviews
This is a carousel with review cards. Use the previous and next buttons to navigate.
"Bright Ribbons is inspiring, uplifting and appropriate for the 21st century classroom, including students, teachers, and administrators to read and utilize as a resource."
Melanie S. Hedges, Art Teacher
West Gate Elementary School, West Palm Beach, FL
"Bright Ribbons is a must-have resource for any school with a growing multicultural population!"
Gayla LeMay, ESOL Lead Teacher
Louise Radloff Middle School, Duluth, GA