Hands-on, Practical Guidance for Educators
From math, literacy, equity, multilingual learners, and SEL, to assessment, school counseling, and education leadership, our books are research-based and authored by experts on topics most relevant to what educators are facing today.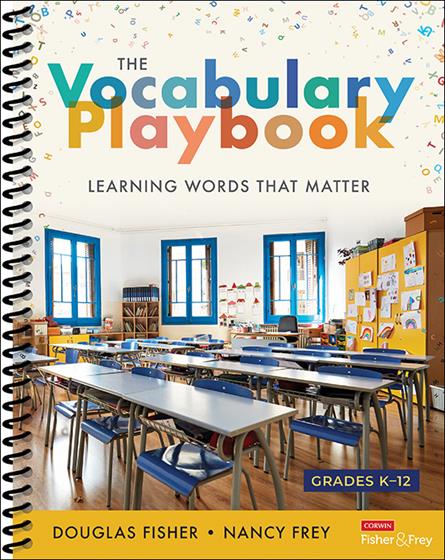 Bestseller!
The Vocabulary Playbook
Learning Words That Matter, K-12
Students develop vocabulary when teachers make it a priority—it's that simple. This resource abounds with dynamic word-learning activities for any content area.
Product Details
Grade Level: PreK-12
ISBN:

9781071894309

Published By: Corwin
Year:

2023



Page Count: 184

Publication date:

April 18, 2023
Price: $39.95
Description
Concepts, conversation, collaboration—vocabulary instruction is so much more than lists of words.
More is more when it comes to students' vocabulary knowledge, and in The Vocabulary Playbook, educators in K-12 get ideas for transforming all children into curious, capable word learners. The key? Put away the word-list mindset, and embrace active modeling, peer work, and independent practice.
Five modules offer direct instruction and effective routines that show how to:
Select and teach only the most high-utility, transferable words that are ripe for discussion
Use direct instruction to model word-solving in each content area
Teach morphology in ways that invite students to apply understandings in reading, writing, talk, and listening
Turn academic word-learning into a relevant experience with peer collaboration activities
Create a culture of word consciousness by emphasizing concepts, modeling curiosity, and offering "low-risk" routines that make it okay to not yet know
Intentional vocabulary instruction is critical in every grade, and in every content area. With The Vocabulary Playbook, your approach is now tactical, transparent, and fun. Whether you are an administrator executing a school-wide plan or a teacher eager for practical strategies, this is the book that will help students build academic success—word by word.
Table of Contents
Introduction
Module 1: Make It Intentional: A Framework for Vocabulary Instruction
Module 2: Make It Transparent: How to Use Direct Instruction and Model Word Solving
Module 3 Make It Transferrable: How to Harness the Power of Morphology
Module 4: Make It Useable: How to Build Academic Vocabulary Through Peer Collaboration
Module 5: Make It Personal: How to Promote Independence and Word Consciousness Among Students
Module 6: Make Sure They Know: Assessing Word Knowledge