Hands-on, Practical Guidance for Educators
From math, literacy, equity, multilingual learners, and SEL, to assessment, school counseling, and education leadership, our books are research-based and authored by experts on topics most relevant to what educators are facing today.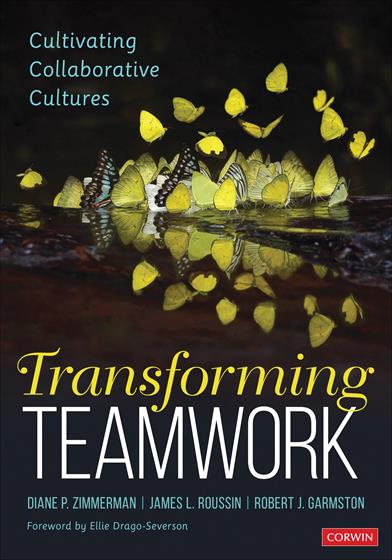 Transforming Teamwork
Cultivating Collaborative Cultures
Foreword by Ellie Drago-Severson

Allow three experts to show you how to replace group complacency, disappointment, and lukewarm morale with sustainable generative work where everyone takes an active role in building successful outcomes.
Product Details
Grade Level: PreK-12
ISBN:

9781544319889

Published By: Corwin
Year:

2019



Page Count: 280

Publication date:

September 06, 2019
Price: $28.95
Description
Discover how psychological safety, constructive conflict, and actionable learning create a powerful triple helix to transform teams!

In this ground-breaking resource, three experts in the field of education and teamwork each present one of three strands that, when woven together, support teamwork and forge collaborative interactions into a transformative way of working. You'll learn approaches, processes and tools to overcome common obstacles to team effectiveness such as feelings of futility, anxiety, and poor morale.

Drawing on research and practical experience the authors identify strategies and tools that show how to:
Build psychological safety, where teams work towards resilient interpersonal relationships
Use constructive conflict as a powerful catalyst for team learning and transformation
Inquire into problems of practice to transform capabilities and produce actionable learning
Acquire ways to develop mindful, thoughtful, and constructive teams where authentic communication drives group awareness and clear processes and goals.
Key features
Interviews of principals, department heads, teacher leaders and central office members revealing the major obstacles for otherwise successful teams.

Resources are organized around

What members can do to overcome the stumbling blocks

What leaders can do to develop team capacities

Strategies are offered that can be implemented over time for a more sustainable effect on the school culture

Tools are provided to transform how people in groups interact

Offers a fresh perspective that all team members have a role in contributing to the good of the group and the achievement of students

Addresses three common stumbling blocks to group success

the group's influence on individual behavior
inter-member relations
differences in status

The book is organized around 6 principles of effective teamwork

Presume positive intentions
Pay attention to self and others
Choose patterns of interaction that promote productive conflict
Activate Mindful Learning Behavior
Engage in Collective Efficacy
Invite Group Coaching
Table of Contents
Foreword
---
Acknowledgments
---
About the Authors
---
Introduction—Teamwork Can Transform Lives
Part I: Psychological Safety: An Overview
---
Chapter 1: Safety in Team Learning
Proficiency Scale for Safety in Team Learning
Tools for Integrating and Applying
Chapter 2: Interpersonal Trust
Proficiency Scale for Interpersonal Trust
Tools for Integrating and Applying
Chapter 3: Social Sensitivity
Proficiency Scale for Social Sensitivity
Tools for Integrating and Applying
Part II: Constructive Conflict
---
Chapter 4: Conflict Consciousness
Proficiency Scale for Conflict Consciousness
Tools for Integrating and Applying
Chapter 5: Cognitive Diversity
Proficiency Scale for Cognitive Diversity
Tools for Integrating and Applying
Chapter 6: Conflict Competency
Proficiency Scale for Conflict Competence
Tools for Integrating and Applying
Part III: Transformative Team Learning— Making Learning Actionable
---
Chapter 7: Empathy Consciousness— Seeking Compassion
Proficiency Scale for Empathy Consciousness
Tools for Integrating and Applying
Chapter 8: Collaborative Inquiry—Building Learning Capacity
Proficiency Scale for Collaborative Inquiry
Tools for Integrating and Applying
Chapter 9: Actionable Team Learning—Seeking Coherent Knowledge
Proficiency Scale for Actionable Team Learning
Tools for Integrating and Applying
Appendix
---
Proficiency Scale for Safety in Team Learning
Proficiency Scale for Interpersonal Trust
Proficiency Scale for Social Sensitivity
Proficiency Scale for Conflict Consciousness
Proficiency Scale for Cognitive Diversity
Proficiency Scale for Conflict Competence
Proficiency Scale for Empathy Consciousness
Proficiency Scale for Collaborative Inquiry
Proficiency Scale for Actionable Team Learning
Glossary
---
References
---
Index
---