Hands-on, Practical Guidance for Educators
From math, literacy, equity, multilingual learners, and SEL, to assessment, school counseling, and education leadership, our books are research-based and authored by experts on topics most relevant to what educators are facing today.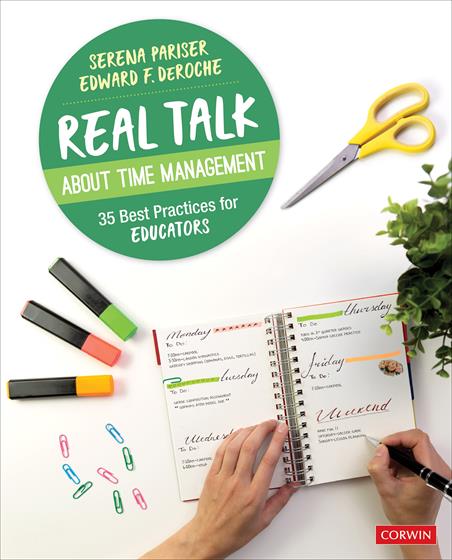 Look Inside
Real Talk About Time Management
35 Best Practices for Educators
Gain time in each day, reduce stress, and improve your classroom learning environment with 35 practical, teacher-proven strategies for managing time and setting personal boundaries.
Product Details
Grade Level: PreK-12
ISBN:

9781544376912

Published By: Corwin
Series: Corwin Teaching Essentials
Year:

2020



Page Count: 216

Publication date:

February 20, 2020
Price: $29.95
Description
"This book is exactly what busy teachers need! I found so many tips and strategies to streamline all the busyness of planning, grading, collaborating, interacting with parents, engaging students, and even the layout of the classroom. What a joy to read!"
Janel Meehan
English Language Arts Teacher, Grades 6 and 7
San Diego Unified School District
San Diego, CA
Gain more productive time in each day! Real talk about managing time, reducing stress, and avoiding teacher burnout.
Do you love teaching but feel overwhelmed by getting it all done? Effective time management skills transform teacher confidence and morale, energize and engage students, and improve the learning climate of a classroom—for both you and your students.
Time management directly relates to classroom management, your personal sanity, and your overall quality of life inside and outside of the classroom. Time management experts Serena Pariser and Edward F. DeRoche are here to help you reduce stress and find more time in your day with short, practical time management strategies that can greatly improve your classroom learning environment and your mental health. Weaving wellness research with classroom-tested tips and tricks on everything from lesson planning to grading to meeting the needs of individual students, Real Talk About Time Management includes
· 35 practical, teacher-proven strategies for saving time and setting personal boundaries
· Stories and vignettes from educators about proactive time management adjustments that worked
· Real anecdotes from new teachers about the challenges of time management
· "Your Turn" questions after every strategy that invite personal reflection and strategic planning
Students deserve teachers who are energized, optimistic, and in control of the daily grind while still having the energy and time to foster meaningful connections. Develop proactive habits for managing time and give your best self to your students.
Key features
Many of the features will be consistent with the features in
Real Talk About Classroom Management
.
Real Conversations: humorous anecdotes from new teachers about their time management woes

Stories and vignettes from the authors' personal experiences with time management

Your Turn sections after every Strategy to provide opportunities for reflection

35 practical strategies for saving time and maintaining wellness
Table of Contents
Acknowledgments
---
About the Authors
---
Introduction
---
Part I: Time Management Mindset
---
Strategy #1: Ask Yourself Questions
Strategy #2: Be Tuned in to the Advice Other Teachers Give You About Time Management
Strategy #3: You Have So Much to Do . . . Why?
Strategy #4: Be a Hunter: Track Down Controllable Factors That Add to Your Workload
Strategy #5: Change Your Language Around Your Workload
Strategy #6: Am I Scraping the Right Car?
Strategy #7: Watch Your Water Cooler
Strategy #8: Get Unstuck When You Feel Paralyzed by Too Much to Do
Strategy #9: Organize and Unclutter
Strategy #10: Prep Where It Counts Before the Start of School
Part II: Planning
---
Strategy #11 Cut Down Your Grading Time
Strategy #12: Meetings: Stick to an Agenda to Save Time
Strategy #13: What's Your Right Climate?
Strategy #14: Be Proactive, Not Reactive With Tasks
Strategy #15: Cell Phones, E-mails, and Social Media . . . Oh My!
Strategy #16: Plan Enough Time for Each Student
Strategy #17: Peer Mediators to Save Time in Your Classroom
Part III: At School
---
Strategy #18: Healthy Habits With Curriculum
Strategy #19: Groupwork
Strategy #20: When We Have to Be Present
Strategy #21: Manage Time in Your Lessons
Strategy #22: Technology
Strategy #23: Necessary Multitasking
Strategy #24: Helping Your Students Manage Their Time
Strategy #25: Get a Handle on Paperwork
Strategy #26: Manage Time in Parent Conferences/Parent Meetings
Strategy #27: Managing Your Time Dealing With Extracurricular Activities
Strategy #28: Have a System to Keep Up With E-mails
Strategy #29: Know When to Take Little Breaks Throughout the Day
Part IV: At Home
---
Strategy #30: Manage Correspondence With Parents and Students
Strategy #31: Taking Care of Yourself
Strategy #32: Meditation
Strategy #33: Enjoy Your Time After School and on the Weekends
Strategy #34: Secondary Trauma
Strategy #35: Compassion Fatigue
An Open Letter to Teachers
---
References
---
Index
---