Hands-on, Practical Guidance for Educators
From math, literacy, equity, multilingual learners, and SEL, to assessment, school counseling, and education leadership, our books are research-based and authored by experts on topics most relevant to what educators are facing today.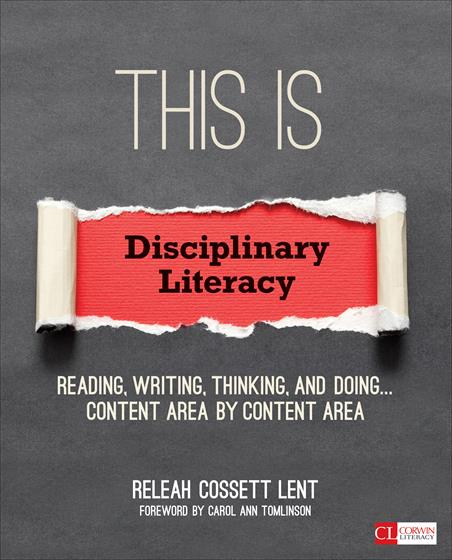 Look Inside
Bestseller!
This Is Disciplinary Literacy
Reading, Writing, Thinking, and Doing . . . Content Area by Content Area
Foreword by Carol Ann Tomlinson

This Is Disciplinary Literacy helps content area teachers put into action the key literacies of their specialties—taking students from superficial understanding to deep content expertise.
Product Details
Grade Level: PreK-12
ISBN:

9781506306698

Published By: Corwin
Series: Corwin Literacy
Year:

2015



Page Count: 232

Publication date:

September 21, 2015
Price: $30.95
Description
Disciplinary Literacy is about to go from theory to game plan—taking students from superficial understanding to deep content expertise. And guess what? ReLeah Lent's big secret lies in highlighting each content area's differences—advancing a discipline-specific model in which literacy is used as a tool for strategic thinking, reading, writing, and doing within each field.

That's right—no more reading strategies used uniformly across the curriculum. Instead, This Is Disciplinary Literacy helps content-area teachers put into action the key literacies of their specialties. Teaching science? Students must evaluate evidence and question as they read. History? Comparing and contrasting sources and interpreting the import of events are key. Writing in Math? Accuracy is favored over elaboration and craft. Reading fiction in ELA? Synthesizing and attuning to voice and figurative language reign supreme. Students fully own knowledge because your instruction zeroes in on the academic habits that matter most.

Content area by content area, ReLeah shows how to immediately incorporate these literacies into lessons, units, and project-based learning. Inside you'll find:
"Spotlights" on all major disciplines that highlight how implementation looks in real classrooms
Extend and Adapt sections with ideas for augmenting activities for students who need different challenges or support, tips for companion activities, and digital sources for short texts and video
Q&A sections bringing both reassurance and get-it-done advice

New ways to re-boot essential research-based practices that work in any field—reading, writing, inquiry, and collaboration

Free companion website featuring a complete PD workshop with PowerPoint slides for ready-to-go professional learning
And best of all, students not only engage in the genuine intellectual challenges of the disciplines—they are eager to do so! This Is Disciplinary Literacy gives students entrance to the global communities of practice, and provides schools, districts, and teachers with a proven approach that makes college-and-career-readiness a reality.

Featured Book:
Common Core CPR



Key features
Common questions and answers (FAQs) regarding each chapter topic

Mixed into every chapter are "Spotlight on

_____

_" , a feature that takes readers inside science, math, social studies, history and ELA classes to see the practices in action.

Sample activities related to the topic of each chapter. Each activity includes the following sections.

How it Works (including examples)

Why it Works (research and reasoning behind activity)

Extend and Adapt (other ways to use the resource or activity
Table of Contents
Acknowledgments
---
Foreword by Carol Ann Tomlinson
---
Chapter 1. Literacy Within the Disciplines
The Problem With Reading Strategies
Unpacking Disciplinary Literacy
Deeper Learning and Disciplinary Literacy
Disciplinary Literacy and Standards
The Role of the Teacher
Disciplinary Reading, Writing, Inquiry, and Collaboration
Suggestions for Further Reading
Chapter 2. Reading Within the Disciplines
The Benefits of Reading Within the Disciplines
Shifts for Reading Within the Disciplines
Reading Within Science
Reading Within Math
Reading Within History and Social Studies
Reading Within ELA
Questions (and Answers) About Reading Within the Disciplines
How to Get Students Reading in Every Discipline Every Day
Suggestions for Further Reading
Chapter 3. Writing Within the Disciplines
Benefits of Writing Within the Disciplines
Shifts for Teaching Writing Within the Disciplines
Writing Within Science
Writing Within History and Social Studies
Writing Within Math
Writing Within ELA
Questions (and Answers) About Writing Within the Disciplines
How to Get Students Writing Within the Disciplines
Suggestions for Further Reading
Chapter 4. Inquiry Within the Disciplines
Inquiry and Disciplinary Literacy
Shifts for Implementing Inquiry Within the Disciplines
Inquiry Within Science
Inquiry Within History and Social Studies
Inquiry Within Math
Inquiry Within ELA
Questions (and Answers) About Inquiry Within the Disciplines
How to Get Students Inquiring Within the Disciplines
Suggestions for Further Reading
Chapter 5. Collaborative Learning
The Power of Collaboration
Collaborative Learning by Any Other Name
Vocabulary: The Tool of Disciplinary Talk
Shifts for Implementing Collaborative Learning Within the Disciplines
Collaboration Within Science
Collaboration Within Math
Collaboration Within History and Social Studies
Collaboration Within ELA
Questions (and Answers) About Collaboration Within the Disciplines
Activities for Collaborative Learning Within the Disciplines
Suggestions for Further Reading
Chapter 6. This Is Disciplinary Literacy
Enter: Food Lit
Literacy Alive
Campfire: Literacy and Food
A Student Perspective
Collaboration and Community
Class Meals: A Metaphor for Community
Service-Learning at Home
Cross-Culture Connections
An Administrative Perspective
Students as Learners, Students as Presenters
The Power of Disciplinary Literacy
References
---
Index
---