Hands-on, Practical Guidance for Educators
From math, literacy, equity, multilingual learners, and SEL, to assessment, school counseling, and education leadership, our books are research-based and authored by experts on topics most relevant to what educators are facing today.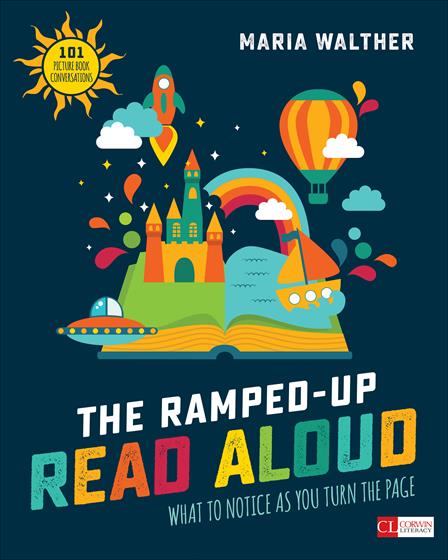 Bestseller!
The Ramped-Up Read Aloud
What to Notice as You Turn the Page
101 picture book experiences, a thousand ways to savor strategically. This is the book that shows how to use ANY book to teach readers and writers!
Product Details
Grade Level: PreK-12
ISBN:

9781506380049

Published By: Corwin
Series: Corwin Literacy
Year:

2018



Page Count: 304

Publication date:

July 20, 2018
Price: $26.95
Description
What if each page of a picture book was guaranteed to enhance a child's reading and writing tenfold? Would you ramp up your read alouds? In this remarkable resource, Maria Walther shares two-page read aloud experiences for 101 picture books that tune you into what to notice, say, and wonder in order to bolster students' literacy exponentially.

The read alouds in this book will help teachers:
Foster a strong sense of community
Celebrate the written (and illustrated) word
Build a foundation for future reading and learning
Expand vocabulary (with a focus on Tier 2 words)
Support budding writers
Spark collaborative conversations
Encourage perspective-taking, empathy, and a growth mindset
A first grade teacher for decades, Maria is a master of "strategic savoring." Her lesson design efficiently sparks instructional conversations around the cover illustration, enriching vocabulary words, literary language, and the ideas and themes vital to young learners.

Maria arranges the rich fiction and nonfiction titles into chapters that mirror the way primary teachers plan curriculum. Need books tailor made for building community? Teaching literary elements? Comprehension strategies? Foundational and language skills? Inspiring writers? It's all here and at the ready. Coaching tips on expressive oral reading, strategic seating, uncovering language nuances for EL students, effective questioning and more make the art of sharing books and learning with children do-able for everyone.

Teachers, schools, and districts looking to energize your core reading and writing program, search no further: The Ramped-Up Read Aloud delivers a formula for literacy development and joy in equal parts.
Table of Contents
Acknowledgments
---
About the Author
---
READ ALOUD = JOY!
---
Ten Compelling Reasons to Read Aloud
Six Secrets to Successful Read-Aloud Experiences
Four Ways to Network and Find New Books
Four Ways You Might Use This Book
Chapter 1: Create a Joyful Classroom Community
Transforming the Classroom World
Chapter 2: Converse About Literary Elements—Fiction
Reading Really Good Stories
Chapter 3: Converse About Comprehension—Fiction
Imagining Ourselves Into Books
Chapter 4: Converse About Comprehension— Informational and Narrative Nonfiction
Diving Into Informational Texts
Chapter 5: Build Foundational and Language Skills
Working With Words
Chapter 6: Inspire Writers
Sharing the Gift of Writing
Resources
---
Professional Resources Cited
Children's Literature Cited
Index
---