Hands-on, Practical Guidance for Educators
From math, literacy, equity, multilingual learners, and SEL, to assessment, school counseling, and education leadership, our books are research-based and authored by experts on topics most relevant to what educators are facing today.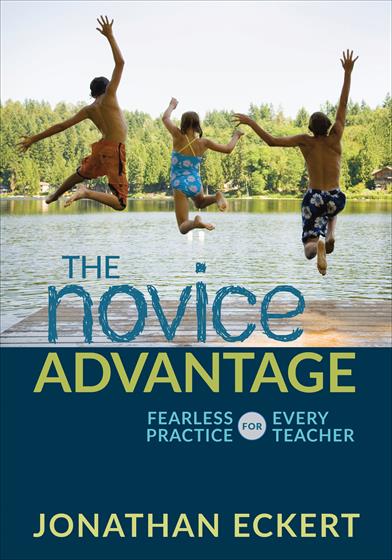 Look Inside
The Novice Advantage
Fearless Practice for Every Teacher
Inspiring to teachers of all experience levels, this guide uses humor and insight to show how to teach with daring, while growing through risk, reflection, and revision.
Product Details
Grade Level: PreK-12
ISBN:

9781506328744

Published By: Corwin
Series: Corwin Teaching Essentials
Year:

2016



Page Count: 224

Publication date:

April 21, 2016
Price: $29.95
Description
Capture the novice mindset!

Get ready to teach as never before, powered by a fresh, brave mindset. With humor and insight, this down-to-earth guide reveals a fundamental principle: the best teachers grow through risk, reflection, and revision. Readers will learn how to:
Sustain the energy and positive qualities of a novice, while building expertise at all career stages
Develop a network of support to improve teaching practice

Implement new strategies that engage and motivate students
Learn how to teach with the daring of a beginner and a lifelong passion for learning and growth.
"Dr. Eckert highlights the value of seeking those "first days" throughout our careers – the joy and nervousness experienced in these transformational moments are critical to have again and again if we are to grow personally and professionally."
Patrick Ledesma, Director of Research and Knowledge Management
National Board for Professional Teaching Standards


Key features
Describes the best qualities inherent to a novice teacher's mindset, demonstrating how all teachers can embrace this orientation to continually develop skills that will lead to effective teaching and student achievement.

Of use for K-12 pre-service, beginning, and even veteran teachers and the leaders and coaches who work with them on classroom practice for the purposes of teacher preparation, teacher induction and mentoring, professional learning communities, book studies, and individual professional development.

Filled with dozens brief, funny, and relatable stories, examples, and interviews with novice and accomplished teachers to highlight the benefits of the novice mindset.

Full of practical tips and techniques to try in the classroom right away.

Each chapter includes sidebars that offer moments of reflection, end-of-chapter case studies, discussion questions, and action steps to encourage teams to grow together or individuals to reflect and act.
Table of Contents
Dedication
---
Acknowledgements
---
Preface
---
The Novice Advantage
Who Needs This?
A Way Forward
A Way Back
A Way to Make Our Work Easier
A Tool for Fearless Action
Part 1: Novice Mindset and Process
---
Chapter 1: Cringeworthy Moments - Why Would I Want to be a Novice?
---
Is He Serious?
Creative Struggle
It's Not About "Novice" Instead of "Expert"
The Growth Mindset and the Novice Mindset
A Brief Look at the Condition of U.S. Education
Lost or Taken Away?
From Cringeworthy to Desirable
Reflect. Risk. Revise or Reject.
Chapter 2: Embrace the Novice Mindset
---
Three Exemplary "Novices"
Novice Mindset Markers
Developing and Maintaining a Novice Mindset
Reflect. Risk. Revise or Reject.
Chapter 3: Reflect. Risk. Revise or Reject.
---
The "Four Rs"
Reflection and Your Professional Learning Network
The Four Rs Transform the Classroom into an Exploratorium
Reflect. Risk. Revise or Reject.
Part II: Practices
---
Chapter 4: Fill the Classroom
---
Create Space for Growth
Engage the Entire Class
Teach Students to Work Hard
Reflect. Risk. Revise or Reject.
Chapter 5: Motivate Pragmatically
---
Stop Setting Ourselves Up for Failure
Pragmatic Motivation
Apply the Four Rs to Motivation
Reflect. Risk. Revise or Reject.
Chapter 6: Expect More
---
Honesty and Transparency: The Markers of Effective Assessment
Give Students a Chance to Grow
Techniques That Promote Student Growth
Be a Warm Demander
Reflect. Risk. Revise or Reject.
Chapter 7: Build Important Relationships
---
Find What is Fascinating
Be Intentional
We Don't Just Work with Students
Connect with Resources Outside Your Classroom
Reflect. Risk. Revise or Reject.
Part III: Expert Novices
---
Chapter 8: Become an Expert Novice
---
Getting Better in Our Classrooms
Getting Better in Others' Classrooms
Getting Better Beyond the Classroom
Becoming Expert Novices
The Expert Novice Opportunity
Reflect. Risk. Revise or Reject.
References
---