Hands-on, Practical Guidance for Educators
From math, literacy, equity, multilingual learners, and SEL, to assessment, school counseling, and education leadership, our books are research-based and authored by experts on topics most relevant to what educators are facing today.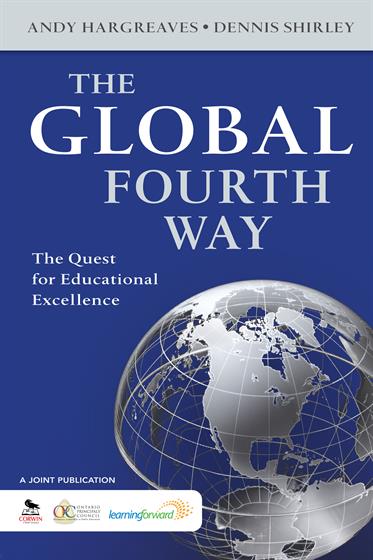 Look Inside
Bestseller!
The Global Fourth Way
The Quest for Educational Excellence
The authors focus on the real-life, nitty-gritty challenges that change leaders face and how to put Fourth Way principles to work promoting student learning and achievement.
Product Details
Grade Level: PreK-12
ISBN:

9781412987868

Published By: Corwin
Year:

2012



Page Count: 256

Publication date:

September 14, 2012
Price: $33.95
Description
Learn from global lessons of successful educational change!
Deep and lasting educational reform doesn't happen overnight, even in this fast and flexible 21st century. This example-packed sequel to The Fourth Way draws upon inspiring examples unearthed by brand new research to challenge educational leaders, teachers, and policy makers to put proven strategies to work promoting student learning and achievement and the high quality teaching that drives it. With striking success stories from diverse systems around the world, Andy Hargreaves and Dennis Shirley present a bold new vision for education aimed at:
Focusing on the real-life, nitty-gritty challenges facing change leaders on a global scale
Anticipating stumbling blocks to enacting best principles and practices
Developing and implementing a dynamic and coherent plan of action and culture of determination to overcome challenges to lasting change

Key features
Goes beyond how a district, school or policy shift has made a difference in bringing about change and illustrates the action steps needed to create a new way that is based on research and global successes
Written for school principals, staff developers, district consultants, teachers and pre-service educators
Provides established practice and clear guidelines for implementation with many examples, detailed cases and a summative chapter 10
Table of Contents
Preface
---
Acknowledgments
---
About the Authors
---
1. The Crisis of Educational Change
2. The Paradox of Innovation and Improvement
3. Finland: Professionalism, Participation, and Persistence
4. Singapore: Innovation, Communication, and Paradox
With Pak Tee Ng
5. Alberta: Innovation With Improvement
6. Ontario: Inclusion, Interaction, and Local Diversity
With Henry Braun
7. England: Inspiration, Responsiveness, and Sustainability
8. California: Professional Organizing for Public Good
9. Pointers for Practice: The Global Fourth Way in Action
Endnotes
---
Index
---