Hands-on, Practical Guidance for Educators
From math, literacy, equity, multilingual learners, and SEL, to assessment, school counseling, and education leadership, our books are research-based and authored by experts on topics most relevant to what educators are facing today.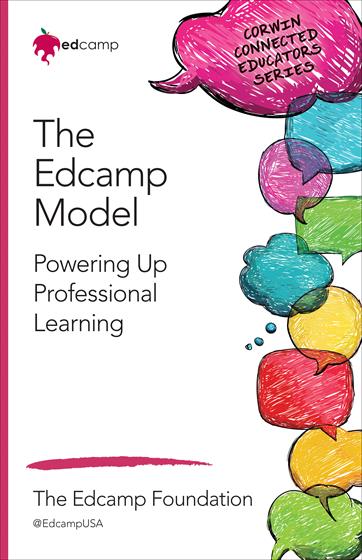 Look Inside
The Edcamp Model
Powering Up Professional Learning
This volume in the Connected Educators series teaches you to run an Edcamp "unconference," where participants combine individual expertise with active collaboration for real results.
Product Details
Grade Level: PreK-12
ISBN:

9781483371955

Published By: Corwin
Series: Corwin Connected Educators Series
Year:

2014



Page Count: 72

Publication date:

August 21, 2014
Price: $13.95
Description
Exciting professional development that works!
Discover Edcamp, a model of professional development that's never one- size-fits-all—and always productive. In Edcamp, "unconference" participants create the agenda and lead the sessions, drawing on their individual expertise, and engage in active collaboration for real results. Afterward, technology keeps the conversation going, building a connected learning environment that lasts. Here you'll find the tools to run an Edcamp in your school, district, or region and start connecting, including:
An overview of the Edcamp model

Evidence showing its effectiveness

Practical strategies to use right away

A dedicated series website
The Corwin Connected Educators series is your key to unlocking the greatest resource available to all educators: other educators. Being a Connected Educator is more than a set of actions: it's a belief in the potential of technology to fuel lifelong learning. To explore the other books in this series, visit the Corwin Connected Educators website.

Check out the Connected Educator Series matrix to find out which book is right for you.

"Anyone looking to take control of their learning should read this book. Swanson provides step-by-step ways to make Edcamp-style PD a success."
Robert Dillon, Director of Technology and Innovation
Affton School District

"Swanson outlines a new kind of professional development that will revolutionize how educators improve their craft. This blueprint for success demonstrates PD that is remarkably simple and brilliant."
Mark Barnes, Education Consultant and Corwin Author, Teaching the iStudent
Key features
This book will provide you with one easy-to-implement, practical method for modeling a connected learning environment in your school, district, or region. Called Edcamp, the model leverages internal expertise, digital networks, and conversation to generate change. Edcamp is a proven method of professional development that enhances student achievement and teacher knowledge.
This book will give teachers and leaders:
A look at what an Edcamp is and how it works

Evidence to show Edcamp's proven effectiveness in professional learning and student achievement

Tools to organize your own Edcamp

Stories and examples from educators who have participated in Edcamps
There is also the Connected Educators Series website where readers can connect with all of the authors of the series, find more resources, and find real support for putting Edcamps into practice.
Table of Contents
Preface by Peter DeWitt
---
Introduction: Learning is Changing. Is Your PD Keeping Pace?
---
1. Powering Up Professional Learning With the Edcamp Model
The Need for Edcamps
What Is an Edcamp?
What Makes an Edcamp Unique?
Tenets of the Edcamp Model
Edcamp Philly: A Vignette
So... How Do I Attend an Edcamp?
2. Does Edcamp Really Work?
What Educators Are Saying About Edcamp and Its Exponential Growth
The Impact on Student Learning
Edcamper in Action: Craig Yen
Edcamper in Action: Sean Wheeler
Edcamper in Action: Heidi Swiak
Edcamper in Action: Laksmi Puspitowardhani
The "Yes, Buts..."
We're Still Learning
3. Organizing an Edcamp-Style Event at Your School or District
Bring the Benefits of an Edcamp-Style Professional Development to Your School or District
Before You Start: Connecting to the Edcamp Community
Getting Started
Considering Culture
Convinving School Leaders Who Are Skeptical of Open Learning
Setting the Stage for Success
The Day of Your Event: A Step-by-Step Guide
Inset: A Helpful Checklist for the Day of Your Event
4. Tips for Running a Regional Edcamp Event
Recruiting a Diverse Team
Securing a Venue Large Enough to Accommodate Regional Attendance
Promoting Your Event
Fundraising
Help Via the Edcamp Foundation
5. Final Thoughts
References
---