Hands-on, Practical Guidance for Educators
From math, literacy, equity, multilingual learners, and SEL, to assessment, school counseling, and education leadership, our books are research-based and authored by experts on topics most relevant to what educators are facing today.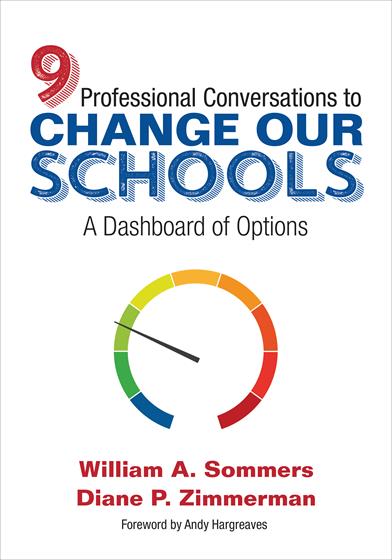 Nine Professional Conversations to Change Our Schools
A Dashboard of Options
First Edition
Foreword by Andy Hargreaves

Drawing from their coaching and facilitation experience and expertise, the authors of this book offer educators strategies for meaningful conversation in an ever-changing landscape.
Product Details
Grade Level: PreK-12
ISBN:

9781506398488

Published By: Corwin
Year:

2018



Page Count: 248

Publication date:

May 24, 2018
Price: $33.95
Description
Improve collective efficacy in schools through meaningful professional conversations

As technology substitutes for face-to-face connections, educators can feel like they're practicing their craft in isolation. Nine Professional Conversations to Change Our Schools is a framework for revitalizing the art of the professional conversation. It guides educators through structures for collaboration, offers access to vast storehouses of applied wisdom, and facilitates a coherent knowledge base for standards of excellence. Readers will find
nine conversational strategies designed to promote collective teacher efficacy
learning scenarios that demonstrate the effectiveness of these conversations in action
accessible Conversational Dashboard that assists in analyzing conditions for success
Face-to-face conversational skill is a fundamental foundation for establishing effective relationships and collaboration. Drawing from their rich careers with coaching and facilitation, the authors of this book offer strategies that will expand your conversational repertoire and provide insight into how to respond meaningfully in an ever-changing environment.
Table of Contents
Foreword
---
Acknowledgments
---
About the Authors
---
Dedication
---
Epigraphs
---
Introduction
---
Part I: The Foundation—Conversational Competence
---
Chapter 1: A Crisis in Our Midst—No Coherent Knowledge Base
Chapter 2: The Disadvantage of Being Left Behind— A Knowing–Doing–Learning Gap
Chapter 3: Emotional Blocks to Collective Efficacy— How Stress Shuts Down Communication
Part II: Conversations Designed to Build Knowledge Coherence From the Inside Out
---
Chapter 4: Reflective Conversations—The Fundamental Professional Act
Chapter 5: Humble Inquiry—Exploring Needs Instead of Helping
Chapter 6: Cognitive Coaching—Lingering in Conversations to Learn
Chapter 7: SCARF—Open to Diverse Viewpoints
Part III: Calibrating Conversations—Conversations at the Tipping Point From Outside In
---
Chapter 8: Stakeholder Centered Coaching— Expanding Consciousness
Part IV: Conversations Designed to Build Knowledge From the Outside In
---
Chapter 9: Positive Deviance—Mining for Group Gold
Chapter 10: From Conflict to Consensus— The Chadwick Process
Chapter 11: FRISK—Making Expectations Clear
Chapter 12: MOVE—Time to Move On
Part V: Final Musings—Making Unrealized Dreams Come True
---
Chapter 13: Leaving Knowledge Legacies
Appendix
---
References
---
Index
---