Hands-on, Practical Guidance for Educators
From math, literacy, equity, multilingual learners, and SEL, to assessment, school counseling, and education leadership, our books are research-based and authored by experts on topics most relevant to what educators are facing today.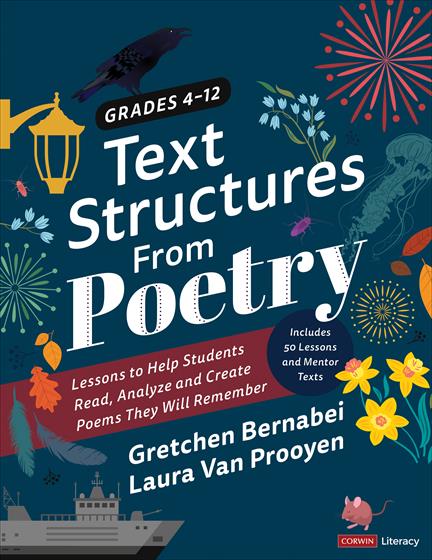 Look Inside
Text Structures From Poetry, Grades 4-12
Lessons to Help Students Read, Analyze, and Create Poems They Will Remember
"Pop the hood" on fifty poems to discover what makes them work and lead the way to a rewarding love of poetry for teachers and students alike.
Product Details
Grade Level: PreK-12
ISBN:

9781544384856

Published By: Corwin
Series: Corwin Literacy
Year:

2020



Page Count: 264

Publication date:

January 27, 2020
Price: $39.95
Description
Poetry is a joyful art form, but how do you teach students to joyfully read, analyze, and write poems? In Text Structures from Poetry, Grades 4-12, award-winning educator Gretchen Bernabei teams up with noted poet Laura Van Prooyen to light the path.

Centered around 50 classroom-proven lesson and poem pairs, the mentor texts represent a broad range of voices in contemporary poetry and the canon. These unique and engaging lessons show educators how to "pop the hood" on a poem to discover what makes it work, using text structures to unlock the engine of a poem. This method enables educators to engage students in reading and re-reading a poem closely, to identify how the parts of the poem relate to each other to create movement, and to leverage what they have learned to write their own evocative poems.

Each of the 50 lessons includes a mentor poem that serves as an excellent model for young writers, a diagram that illustrates the text structure of the poem, and several inspiring examples of student poems written to emulate the mentor poem. Easy-to-use instructional resources enhance instructor and student understanding and include:
Teaching notes for unlocking the text structure of a poem and the engine that makes it work.
Tips for exploring rhyme scheme, meter, and fixed forms.
Instructional sequences that vary the ways students can read and write poems and other prose forms.
Ideas for revising and publishing student poems.
A "Meet the Contemporary Authors" section that includes fascinating messages from the contemporary poets.
Teach your students to learn about poetry using the magic of poems themselves and lead the way to a rewarding love of poetry for teachers and students alike.
Table of Contents
Contemporary Poems
---
"Love Waltz With Fireworks" by Kelli Russell Agodon
"At the Lake" by Sarah Anderson
"I Am Offering This Poem" by Jimmy Santiago Baca
"Possums" by Sheila Black
"I Remember" by Joe Brainard
"My Mother's Tortilla" by Joanne Diaz
"Still Life With Summer Sausage, a Blade, and No Blood" by Vievee Francis
"Chorus, Venable Elementary" by Ann Hudson
"Snow in North Jersey" by August Kleinzahler
"Draw" by Amy Ludwig VanDerwater
"'Nighthawks' by Edward Hopper" by Nathan McClain
"Full Capacity" by Rose McLarney
"Because of Libraries We Can Say Such Things" by Naomi Shihab Nye
"Letter to a Cockroach, Now Dead and Mixed into a Bar of Chocolate" by Matthew Olzmann
"Parting" by Octavio Quintanilla
"The Falcon" by Leslie Contreras Schwartz
"Fixing on the Next Star" by Patricia Smith
"What I Learned This Week" by Angela Narciso Torres
"Maria" by Natalia Treviño
"On the Shoreline" by Larua Van Prooyen
"As Always, Thirty Years Between Us" by Laura Van Prooyen
"Postcard from Texas" by Laura Van Prooyen
"One of Those Day" by Laura Van Prooyen
"She Inherits His Steady Hand" by Laura Van Prooyen
Classic Poems
---
"The Author to Her Book" by Anne Bradstreet
"Sonnet 43: How Do I Love Thee? Let Me Count the Ways" by Elizabeth Barrett Browning
"My Last Duchess" by Robert Browning
"To a Mouse" by Robert Burns
"Regret" by Olivia Ward Bush-Banks
"Heard a Fly Buzz When I Died" by Emily Dickinson
"The Flea" by John Donne
"A Musical" by Paul Lawrence Dunbar
Excerpt from "Preludes" by T.S. Eliot
"Fire and Ice" by Robert Frost
"Learning to Read" by Frances Ellen Harper
"Old Ironsides" Oliver Wendell Holmes
"Pied Beauty" Gerard Manley Hopkins
"When I Was One and Twenty" by A.E. Housman
"The Jellyfish" Marianne Moore
"Dulce et Decorum Est" by Wilfred Owen
"The Raven" by Edgar Allen Poe
Excerpt from "An Essay on Man" by Alexander Pope
"On the Capture and Imprisonment of Crazy Snake, January, 1900" by Alexander Posey
"Grass" by Carl Sandburg
"Sonnet 130: My Mistress' Eyes are Nothing Like the Sun" by William Shakespeare
"Ozymandias" by Percy Byshee Shelley
"Do Not Go Gentle into That Good Night" by Dylan Thomas
"I Saw in Louisiana a Live-Oak Growing" by Walt Whitmas
"I Wandered a Lonely as a Cloud" by William Wordsworth
"When You Are Old" by William Butler Yeats