Hands-on, Practical Guidance for Educators
From math, literacy, equity, multilingual learners, and SEL, to assessment, school counseling, and education leadership, our books are research-based and authored by experts on topics most relevant to what educators are facing today.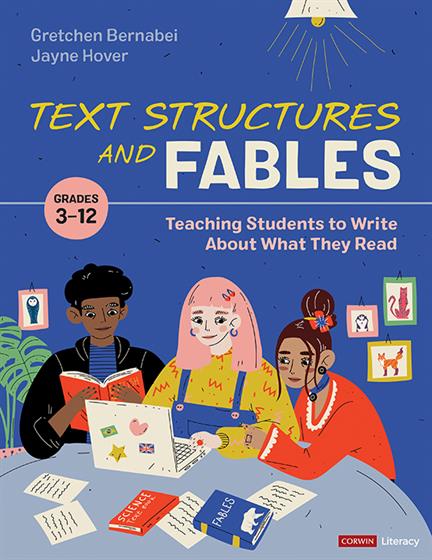 Bestseller!
Text Structures and Fables
Teaching Students to Write About What They Read, Grades 3-12
Want to improve writing about reading? Use these lessons and concrete text structures designed to help students write self-generated commentary in response to reading.
Product Details
Grade Level: PreK-12
ISBN:

9781071894248

Published By: Corwin
Series: Corwin Literacy
Year:

2022



Page Count: 200

Publication date:

October 28, 2022
Price: $39.95
Description
State tests are assessing reading and writing together—Are you ready?
I wish students would interact with a text on their own…I wish it wasn't like pulling teeth to get them to elaborate their thinking. Wish no more, because bestselling author Gretchen Bernabei shows you how to guide students to be nimble at both short answer and extended responses. Her secret? "Teach students text structures, and they can pour their swirling ideas about the text into cogent writing."
Using the accessible format of fables, Bernabei and Hover share lessons and an appendix full of fables so you can teach students five concrete ways to respond to text in any genre:
Generate basic responses, using structures that support clarity
Craft fiction inspired by the text to unveil literary knowledge and imaginative response
Write essays about a theme or moral that display empathic and evidence-based interpretation
Answer open-ended questions by selecting a technique that reflects the text and their engagement
Use non-traditional formats like graphics and spoken dialogue to showcase their learning
The heat is on—beginning in third grade, state tests are now assessing reading and writing together. And that's a good thing, but we've got some catching up to do. With Text Structures and Fables in hand, your students will swiftly and surely become text-savvy readers and writers.
Table of Contents
PART I. BUILDING STRONG READERS AND WRITERS
---
LESSON 1. RESPONDING TO READING
LESSON 2. WRITING FICTION FOR READERS
LESSON 3. WRITING ESSAYS ABOUT THE MORAL
FABLE THEMES 1–10
PART II. ASSESSING STRONG READERS AND WRITERS
---
LESSON 4. WRITING ANSWERS TO COMPREHENSION QUESTIONS
LESSON 5. WRITING ANSWERS ABOUT THE AUTHOR'S CRAFT
FABLE THEMES 11–20
PART III. USING NONTRADITIONAL FORMATS
---
LESSON 6. THE QA12345 DIALOGUE
LESSON 7. INFOSHOT (CUBING): SHOW WHAT YOU KNOW
LESSON 8. BA-DA-BING
LESSON 9. THREE-THINGS RESPONSE
LESSON 10. ONE-LINERS
FABLE THEMES 21–30