Hands-on, Practical Guidance for Educators
From math, literacy, equity, multilingual learners, and SEL, to assessment, school counseling, and education leadership, our books are research-based and authored by experts on topics most relevant to what educators are facing today.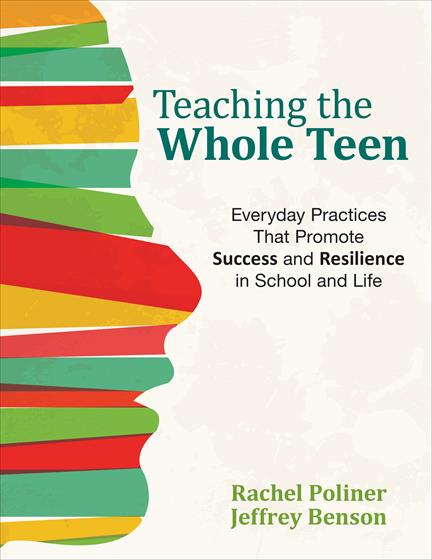 Look Inside
Teaching the Whole Teen
Everyday Practices That Promote Success and Resilience in School and Life
Help teens thrive in school, home and community, integrating lifelong skills into practical, culturally responsive, research-based daily practices. Shape a positive climate for adolescents and adults.
Product Details
Grade Level: PreK-12
ISBN:

9781506335889

Published By: Corwin
Year:

2016



Page Count: 288

Publication date:

August 19, 2016
Price: $39.95
Description
How can you help teens thrive now and for life? Support them as whole learners.

Developing independence and shared responsibility. Collaborating and communicating effectively. Establishing valuable work habits. Harnessing emotions. Finding motivation. We all want teens to acquire these vital skills and engage meaningfully in academics. In this insightful and culturally responsive guide, Poliner and Benson integrate these lifelong skills into daily practices through
Practical applications for diverse populations in every class, advisory, team, or club
The latest research on best practices from adolescent psychology, neuroscience, mental health, and school climate

Tools for teachers, administrators, counselors, and parents to help teens succeed now and later in school, home, workplace, and community.
Teaching the Whole Teen supports adolescents and adults within the school to thrive.

Check out this interview with BlogTalkRadio!

"This treasure-trove of inventive, concrete ideas offers a gift to our profession."
Roland Barth, Educator

"…the book to turn to when you are working with teens, when you desperately need help, when seeking solace."
John Hattie, Professor & Director, Melbourne Education Research Institute
University of Melbourne

"…explicitly addresses the unique needs of students of color, students from poverty, and immigrant students in ways that other books don't; should be read by every middle and high school educator."
Zaretta Hammond, Educational Consultant

"…manifests the best thinking in modern education"
Rick Wormeli, Teacher, Writer, Education Consultant

"What a treat to read! Every principal will benefit from reading it."
Thomas Hoerr, Emeritus Head
New City School, St. Louis, MO
Table of Contents
Acknowledgments
---
About the Authors
---
Introduction
---
Part I. Seeing the Whole Teen
---
Chapter 1. The Whole Teen Comes Into the School
Chapter 2. The Whole Teen Comes Into a Dominant Culture
Part II. Everyday Practices
---
Chapter 3. Connecting to Adults and Peers, Not Just to Academics
Chapter 4. Creating a Culture of Shared Responsibility, Not Just Obeying
Chapter 5. Learning Collaboratively, Not Just Nearby
Chapter 6. Communicating Effectively, Not Just Mumbling, Exploding, Avoiding, or Texting
Chapter 7. Managing Work and Developing a Work Ethic, Not Just Passing or Cramming
Chapter 8. Developing Emotional Skillfulness Proactively, Not Just Reactively
Chapter 9. Becoming More Independent, Not Just Alone
Chapter 10. Connecting Lessons to Life, Not Just to Tests
Part III. The Whole School Surrounds the Whole Teen
---
Chapter 11. Leaders Set the Tone for Themselves and Others
Chapter 12. Schoolwide Structures, Practices, and Policies That Support the Whole Teen
Chapter 13. Faculty Culture That Supports the Whole Teen
Chapter 14. The Novice Teacher Comes Into the School
Appendix: Formats and Facilitation Tools
---
References
---
Index
---
Reviews
This is a carousel with review cards. Use the previous and next buttons to navigate.
"Teaching the Whole Teen is an insightful, hopeful, and very practical resource for teachers, parents and schools. The book stays rooted in the day-to-day practice of teaching the whole teen, and it articulates in very doable ways suggestions for how to better support teenagers in their development. It's accessible, inspiring, and a valuable read for all educators."

Jennifer Abrams, Educational Consultant
Author of Having Hard Conversations & The Multi-Generational Workplace
"This rich treasure-trove of inventive, concrete and well-grounded ideas offers a gift to our profession and to all who would strengthen the quality of life and learning for young people and adults under the roof of the schoolhouse."
Roland S. Barth, Educator
"An important contribution to the field of SEL with a much-needed focus on teens in middle and high schools - this book highlights the importance of relationships to cognitive and social growth, explicitly teaching SEL skills, and the role of adults as models. Combining research and best practices from multiple disciplines, Poliner and Benson deliver accessible, hands-on tips and tools for educators and educational leaders. Through discussion of theory and helpful anecdotes from a wide range of school settings, this book provides an SEL guide that is culturally relevant for all teen and adult populations. Students and educators will benefit from the holistic approach and practical guidance presented in this book."
Nova Biro, Co-Director
Open Circle
"As a former elementary school principal first in a K-5 setting and then K-8, this book would have been an excellent and valuable resource for understanding teenagers and middle school students. I found so many practical strategies that I could have used with the students in the K-8 setting and shared with staff that had taught in a K-5 setting and also had to transition."

Gustava Cooper-Baker, Principal
KCPS, UCM
"I sincerely feel that new and veteran teachers will benefit from reading and discussing this book. Readers are guaranteed to reflect upon current practice and be introduced to countless teaching strategies that will improve the educational experience of their students."
David G. Daniels, High School Principal
Susquehanna Valley Senior High School
"Hallelujah! Benson and Poliner have written a book that many educators have been searching for - one that illuminates a pathway to develop important social and emotional skills that all adolescents need to master. There is much available in this domain that focuses on the needs of young children but fewer substantive resources for secondary educators (and parents!) interested in balancing academic accountability with vital skill development in self-efficacy, civic responsibility, and resiliency. These authors demonstrate a deep understanding of adolescent development and use that knowledge to illuminate pathways to strengthen important youth competencies. The authors frame their insights and practical strategies through a lens that is cognizant of the needs of the wide range of diverse learners that populate our modern-day middle and high schools. The book is also filled with thoughtfully crafted teaching lessons that can help educators infuse youth development into classroom work without compromising academic rigor. Additionally, there are pragmatic supports for principals who want to facilitate faculty discussions and parents who want to bring these lessons home. This book is rich with both insights and practical guidance for how we can help teens to become sharp thinkers and caring and contributing citizens."
John D'Auria, President
Teachers21
"Poliner and Benson empower our school communities to lay the foundations, practices, spaces, and rituals to educate the 'whole child.' They walk us through the various lenses students bring with them each day to school--the social, emotional, physical, cognitive, etc.--and how those lenses interact with the cultures and practices in our communities. They provide us ways to foster the positive relationships that lead to students who are resilient and self-aware and ultimately better prepared to navigate the complexities before them. Understanding schools and their leaders, the authors offer practical and accessible tools that can really make a difference. This useful resource will quickly become a go-to guide for planning conversations, faculty meetings, parent education, and self-examining and rethinking our schools."
Roberto D'erizans, Middle School Principal
Graded - The American School of São Paolo (Brazil)
"Teaching the Whole Teen is a gem of a book, one that sparkles with brilliant insights, guidance and invaluable practical resources to support "everyday practices that promote success and resilience in school and life." Poliner and Benson tap into evidence-based research within the fields of education, psychology (adolescent development), and social neuroscience to compellingly present why and how caring "whole school" environments, anchored by relational trust, can most optimally cultivate adolescents' positive learning and development in secondary schools. In paying attention to the vital importance of systematically supporting novice teachers' development of social-emotional skills and stress resilience, the authors attend to practice that is too often de-prioritized in schools. As they rightly assert, "how we support [novice teachers] to persevere and thrive will mirror our success, or failure, to do the same for whole teens." This book should be required reading for all involved in educator preparation and induction programs, including middle and high school leaders!"
Deborah Donahue-Keegan, Ed.D., Lecturer at Tufts University Department of Education
Co-Director of Massachusetts Consortium for Social-Emotional Learning in Teacher Education
"It is an honor to learn from the wonderful and important beliefs and strategies presented in this book. I will be incorporating many of the ideas in my teaching."
Lyman Goding, Retired Principal
Plymouth Community Intermediate School Bridgewater State College
"At last we have a courageously written book that focuses on the needs of teens, versus the needs of the school systems. While this concept appears like revolutionary thinking, it is not. This is simply common sense whose time has come. The ideas and concepts advanced in this book promise to engage and motivate all students by strengthening their LOCUS of control, and quality of life."
Jim Grant, Author, Consultant, Founder
Staff Development for Educators (SDE)
"Teaching the Whole Teen provides educators and administrators a comprehensive resource for teaching our diverse student population. The authors cohesively weave together the various principles of working with a myriad of diverse student populations including those that are often overlooked by other authors and educational researchers. Educators who are interested in elevating their practice and increasing authentic student engagement from theory into action should read this book."
Lisa Graham, MA, NBCT - Director, Special Education
Berkeley Unified School District
"If you think Teaching the Whole Teen is just another book about how to communicate with teenagers, then think again. Poliner and Benson have written a manual for how to provide social-emotional support in culturally responsive ways. It explicitly addresses the unique needs of students of color, students from poverty, and immigrant students in ways that other books don't. It is full of practice tools and clear guidance. This book should be read by every middle and high school educator."
Zaretta Hammond, Educational Consultant
"Finally, we have a book that applies the 'whole child' concept to the turbulent teenage years. In Teaching the Whole Teen, Rachel Poliner and Jeffrey Benson provide high school principals and teachers with a hands-on guide that applies the lessons of neuroscience and social-emotional learning to support healthy adolescent development and maximize learning."
James Harvey, Executive Director
National Superintendents Roundtable
"Teaching and raising teens can be both fun and fiery! Poliner and Benson use the latest research to inform educators and parents about how to teach the teen, basing their work on the "whole person," and teens do change and become interesting people! This is the book to turn to when you are working with students during the teen years, when you desperately need help now, and when you are seeking solace."
John Hattie, Professor of Education & Director of the Melbourne Education Research Institute
University of Melbourne
"What a treat to read! Poliner and Benson have created a treasure-trove of insights and strategies to improve teaching and leading. Their work is pragmatic and based on an appreciation and understanding of how teenagers learn and schools function. I was particularly struck by the specific strategies for principals. They are designed to facilitate both student and teacher growth. This book is interesting, informative, and insightful.



The authors recognize that successful change doesn't come from mandates. Rather, meaningful change is an organic process that is only effective when we approach problems through collaboration and with respect. Every principal, regardless of the kind of school that she leads or his years of experience, will benefit from reading it."
Thomas R. Hoerr, PhD, Emeritus Head
New City School in St. Louis, MO
In Teaching the Whole Teen, Rachel Poliner and Jeffrey Benson lay out a treasure trove of insights and reminders about what makes adolescents tick,

and

what that means for those who work with them each day. As our schools regain a sense of the primacy of social-emotional development, educators at any level will appreciate these tools, tips and helpful prompts to bring out the best in relationships for learning for all students. There's plenty here as well for parents, counselors and district leaders from two people with a deep sense of schools and the inextricable bond between growing and learning.
Larry Myatt, President of Education Resources Consortium & Founding Principal
Fenway High School, Boston
"In their book Teaching the Whole Teen, Poliner and Benson provide the reader with practical applications that support student success in and outside the classroom. Grounded in solid research and contemporary thinking, their book reminds us that we are not only responsible for educating the minds of students, but we also have the opportunity to establish the conditions necessary for them to reach their fullest social and personal potential. Let there be no doubt, we have the ability to make a real difference in the lives of young people and this book provides a solid framework to lead the way."
Russell J. Quaglia, President & Founder
Quaglia Institute For Student Aspirations
"Implementing SEL skills into the secondary grades can feel contrived and artificial, and many secondary teachers don't feel adequately trained or equipped to teach these skills. Finally the mountains of brain research that all teachers need to know and use have been put into a very useful and easy-to-read guide. Teaching the Whole Teen creates authentic ways to teach SEL skills that secondary curriculum almost always lacks. Rachel Poliner and Jeffery Benson have put together the perfect guide to teach secondary students the skills they need for life!"
Andrea Ramirez, School Improvement Facilitator
James Bowie High School
"Those of us striving to help educators re-envision family engagement as a partnership between home and school have been given a powerful gift in Teaching the Whole Teen. The authors' suggestions of complementary strategies for school and home speak to the importance of adults working together to support youth, and provide tools for how to get there.

As both a parent of a teen and a school-family engagement professional, I was thrilled to find Teaching the Whole Teen. The roles that educators and families play in supporting the development of young people in every aspect of their lives can be either integrated and supportive or in conflict and disruptive. This book provides educators with strategies to ensure that students are encouraged to bring their cultures and communities into the classroom in order to be truly known and supported in school and to make the most of their educational experiences.

By providing strategies for all of the adults in a young person's life, both at home and at school, Teaching the Whole Teen makes it clear that we all have a role to play in supporting students' personal and academic growth. The examples and strategies in this book will transform classrooms and welcome families into schools to build cohesive communities with the shared goal of helping youth become their best selves – for life."

Ann M. Walsh, Chief of Family Engagement
1647
"Teaching the Whole Teen is a wonderfully practical guide for educators who aspire to promote the social, emotional, and academic competence of middle- and high-school students. It offers compelling strategies for engaging, motivating, and inspiring young people (the "what" and "how") and rationales for applying them (the "why"). This important book should be used in pre-service and in-service professional learning for teachers, administrators, and counselors. It will help them in their quest to educate knowledgeable, responsible, caring, and contributing young people."
Roger P. Weissberg, Ph.D., Distinguished Professor of Psychology and Education
University of Illinois at Chicago
"'Cogent writing, smart content, practical insights, and not a word wasted: Reading Poliner and Benson's Teaching the Whole Teen is an unusually good use of an educator's time. Thankfully devoid of simplistic platitudes, the authors reflect real students and teachers and the challenges each group faces in their collective enterprise. Finally, we have a clear-minded, research-based education book written by veteran educators that annihilates the notion of "teen intellect" as oxymoronic, and fully respects the complex realities of modern adolescent lives and brain power.


Poliner and Benson get it, and we are better for it: Here, they've captured middle and high school students' quest to mature and connect with both people and content beautifully, and they provide powerful tools to help students and the adults in their lives carve the path forward. The authors prove middle and high school students' innate resolve to become independent, resilient individuals, even as they stumble in the effort, and the authors demonstrate how mentors can help students accept their current selves while aspiring to be something more.

Teaching the Whole Teen manifests the best thinking in modern education, including actionable steps on developing students' self-agency and self-regulation, and how to develop communication and executive function skills so vital to school and life success. Their candid approach doesn't pull any punches: They speak honestly of the bigger issues at play in adolescents' education: developing a sense of purpose, autonomy, the influences of dominant cultures, dealing with academic and personal setbacks, restorative justice, and developing a healthy work ethic. Thankfully, too, they provide specific responses to the needs of English Language Learners, students in rural communities, students and families in LGBTQ communities, and communities struggling with racial conflicts.


Teaching the Whole Teen is the course all of us wanted to take as undergraduates in our schools of teacher education but was never offered. It answers the burning issues of student motivation, maturation, and how we can facilitate students' growth in school and at home. And hey, building leaders and novice teachers: There's specific material here for you!

From now on, when a middle or high school teacher asks me during an effective grading practices workshop how we can build responsibility, meaningful connection, personal fortitude, and healthy independence in today's students if we are no longer allowed to use grades to bribe them into compliance, I'm going to direct them to read Teaching the Whole Teen, then sit back and watch their faces light up in dawning realizations and teacher epiphanies. They'll finish the book, look up with conviction, and declare, "We can do this!""
Rick Wormeli, Teacher, Writer, Education Consultant
"The authors have painstakingly tackled a very pertinent issue for middle and high school personnel. They not only thoroughly examine the entire child but they also do so by leaving no stone unturned. The child is addressed, the culture is addressed, and the people who work with the children are addressed. This is a great resource for anyone working with adolescents."
Janice Wyatt-Ross, Associate Principal
Bryan Station High School
"It is deeply refreshing and reinvigorating to read Rachel Poliner and Jeffrey Benson's book, Teaching the Whole Teen. These are two experienced and skilled educators, but it is not in these characteristics, valuable as they are, that their greatest power lies. Poliner and Benson never, ever lose sight of the reasons for which those of us who became educators did so. They carry with great strength and constant clarity the focus on students, their needs, and their best interests. They remind us in every chapter, every concept, every focus and suggestion, that before standards, before testing, before government accountability, before politics, before all of the things that distract and pressure us every day, come the young people whose future we are shaping. Just as vital, they carry with deep assurance the reminder of the great joy and sense of fulfillment that spring inevitably, for both teacher and students, when this priority is maintained.

It is far too easy in the hectic day to day of unfunded mandates, changing curriculum, and increasing days spent on testing, to see the system and its needs instead of the students who are served by it. It is important to attend to and nurture the institution. If a school or district does not do well in the accountability system, they find themselves unable to deliver those elements of education they know are so very important. Knowing as they do that the pressures of modern education will not go away, Rachel and Jeffrey only present techniques and scenarios that are entirely practical in that context. It is the gift of this book that they do so without compromising any elements of a complete education that we all strive to deliver.

Teaching the Whole Teen is full of the message we must never forget. Our students are precious individual people whose future has been entrusted to us. We must equip them with what they need to thrive in the world. These things include not only academic knowledge, and that is constantly changing, but an entire palate of skills, knowledge, and abilities. The authors know, with tremendous empathy, what the life of the typical teacher and administrator is like. It is because of this that they are able to craft suggestions and strategies that are sophisticated enough to be entirely workable in the real world.

This book is particularly timely because the discussion in educational circles has recently started to focus on aspects of teaching the whole child, and social-emotional factors as they impact a student's ability to learn. While this conversation might make it appear that these issues have just been discovered, some educators, Poliner and Benson among the foremost, have always carried the importance of seeing the whole teen to all of their work. For those who are now looking for resources to enhance their knowledge and expertise in this area, this book will provide a wealth of highly usable information that they can implement immediately.

It is precisely because of the infinite number of interacting characteristics in and among human beings that education is so difficult to truly master and measure. Some disciplines, like mathematics and music, function within closed systems, where a complete understanding of the elements leads to success. Poliner and Benson have such an elegant way of holding and speaking about this complex dance that is teaching and learning. Without distilling it into one or two dimensions, which would misrepresent its essence, they work with specifics that school staff on all levels can instantly embrace and carry into their day. Each section of the book is grounded in research which is clearly referenced and synopsized. More important for the working educator in the field, there follows a series of suggestions and examples with specific emphasis on students of different backgrounds and needs. Included in these are sections with ideas on how to engage parents in the work with secondary children, an area where many educators are hungry for ideas."
Marguerite C. Rizzi Ed.D., Superintendent of Schools
Stoughton Public Schools