Hands-on, Practical Guidance for Educators
From math, literacy, equity, multilingual learners, and SEL, to assessment, school counseling, and education leadership, our books are research-based and authored by experts on topics most relevant to what educators are facing today.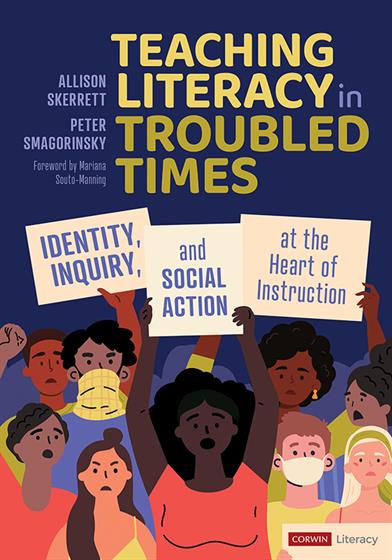 Teaching Literacy in Troubled Times
Identity, Inquiry, and Social Action at the Heart of Instruction
Foreword by Mariana Souto-Manning

Engage your students in critical thinking, literacy activities, and inquiry using as a springboard the personal and social issues of pressing importance to today's students.
Product Details
Grade Level: PreK-12
ISBN:

9781071852842

Published By: Corwin
Series: Corwin Literacy
Year:

2022



Page Count: 240

Publication date:

August 02, 2022
Price: $39.95
Description
"Upending deficit narrative of learning loss, combating broken approaches to racial equity, and wading deep into the contested waters of democratic principles of learning within today's schools, Dr. Skerrett and Dr. Smagorinsky offer an accessible guidebook for making our classrooms sites of justice and joy. Perhaps most importantly, theirs is a book that reveals classroom practices as they really are--the voices of teachers are situated as co-authors in this important journey. I cannot think of a more timely or relevant book for English educators than Teaching Literacy in Troubled Times."
— Antero Garcia, Ph.D., Associate Professor, Graduate School of Education, Stanford University
Relevant instruction to move education forward instead of "back to normal"
Educators often bemoan the so-called learning gap that followed the upheaval to schooling in 2020, but the real learning gap will occur if the watershed events and social shifts of the early 2020s are not integrated into school instruction and learning. For today's learning to be relevant to today's students, it must reflect their lives and the true social worlds they inhabit. But how?
Teaching Literacy in Troubled Times empowers educators to engage students in critical thinking, literacy activities, and inquiry to investigate the personal and social issues of pressing importance to today's middle and high school students. Six units of study, each co-authored by a teacher who road-tested the activities in their own classroom, guide teachers through the process of teaching literacy around the topics of identity, social inequity, global justice, empathy, racism and racial literacy, and conflicting ideas of patriotism. This urgent, timely guide to creating a relevant classroom includes:
Instructional methods, content knowledge, and learning activities for each unit that engage students in critical inquiry and social action.
Insights and guidance from teachers who put the full unit plans in action with students.
Reflection questions to help teachers envision the work in their own classrooms.
Templates, rubrics, examples of student work, and other tools that help teachers to plan and implement activities that grow students' capacity to understand and act in society.
Prime your students with the critical thinking, investigative, and communicative skills they need to connect themselves to broader social movements and create a new generation of educated changemakers.
Table of Contents
Foreword by Mariana Souto-Manning
---
Introduction
---
Chapter 1: Exploring Identity: Who am I in relation to Others and the World?
Chapter 2: Promoting Critical Inquiry: Discrimination and Civil Rights
Chapter 3: Developing Social Change Activists: Equity Audits
Chapter 4: Teaching Empathy and Understanding: Cultural Conflict
Chapter 5: A Blueprint for Racial Literacy Teaching: Distribution of Power
Chapter 6: Defining Disputed Terms: Patriotism
References
---