Hands-on, Practical Guidance for Educators
From math, literacy, equity, multilingual learners, and SEL, to assessment, school counseling, and education leadership, our books are research-based and authored by experts on topics most relevant to what educators are facing today.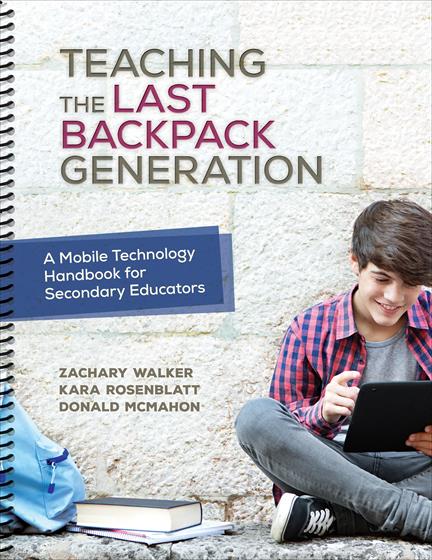 Look Inside
Teaching the Last Backpack Generation
A Mobile Technology Handbook for Secondary Educators
Discover how to transform learning using mobile technology with this easy-to-use workbook that shows how to make it a natural part of every lesson.
Product Details
Grade Level: PreK-12
ISBN:

9781506321523

Published By: Corwin
Year:

2015



Page Count: 216

Publication date:

October 01, 2015
Price: $30.95
Description
Let mobile devices transform teaching and learning
Don't just know how to use mobile technology. Know how to use it to transform learning. This refreshingly easy-to-use workbook shows educators how to make mobile devices a natural part of their classrooms by optimizing technology, no matter what the content. Discover:
Practical mobile device management skills such as how to project and use devices as a whiteboard and tools to capture student responses
Fun strategies students will love such as teaching vocabulary using text speak and slang or using a digital assistant (like Siri) instead of writing
Helpful resources to enhance professional learning

"It is difficult to keep up with the ever-growing list of available technology tools. The authors present a comprehensive guide that will help any educator find the best tools to ensure the purposeful integration of technology in the classroom."
Eric Sheninger, Author of Digital Leadership and International Speaker
Senior Fellow, International Center for Leadership in Education
"This is a well thought out, practical guide on tech integration for teachers at all levels of the spectrum. It gives flexible considerations and planning points for individuals on solo dives or for small/large groups redesigning their learning spaces and approaches to teaching."
Derek L. McCoy, Principal
Spring Lake Middle School, 2014 NASSP Digital Principal of the Year
"This is an extraordinary example of how "one book fits all." Here is one of the richest, most comprehensive and user-friendly collections of practical ideas, strategies and tips for using technology to reach and teach today's students. While technology will continue to change, this book – with its emphasis on ways to use technology to maximize student involvement and learning – will be invaluable for many, many years to come."
Dr. Boyce Heidenreich, Former Principal and Administrator
"With a focus on teaching 21st century skills, the strategies presented in this workbook not only strengthen a student's ability to engage technology, but also to problem solve through creativity, collaboration, communication, and critical thinking. This book is an essential item for the successful integration of technology, PBL, and soft skill acquisition. Teaching the Last Backpack Generation is a catalyst for good teaching and learning!"
Terry L. Roller, Director of High School Education
Tuscaloosa City Schools
Key features
This easy-to-use handbook provides teachers with
Knowledge and expertise in using mobile technologies
Dozens of strategies for integrating devices into every content area

Practical examples from real teachers implementing these strategies

Tips for using technology with non-traditional learners

Detailed lesson-planning worksheets that allow teachers to plan, try, evaluate, revise, and try again
Ideas and starting points for continued professional development
A companion website with tutorials, examples of student work, and downloadable templates
Table of Contents
Thanks to the Educators
---
About the Authors
---
Introduction
---
Welcome
How to Use This Workbook
Glossary of Terms
Current Research on Mobile Technology
Research Reports
1. The Basics of Teaching With Technology
Classroom Management Strategies
Choosing a Learning Management System (LMS)
Managing Multiple Devices in the Classroom
Professional Development Reminders
2. The Basics of Devices
Mobile Devices
The Device Settings: Get Started Here
Using the Accessibility Features of iOS
Using the Restrictions Features of iOS
Projecting Your Device
The Mobile Device as an Interactive Whiteboard
Student Response Systems and Backchannel Discussions
3. Strategies for the Classroom
Simple-to-Use Strategies Sheets
Strategy 1: How to Use Photos
Strategy 2: How to Use Texting
Strategy 3: How to Use Video
Strategy 4: How to Use QR, AR, and Other Scannable Technology
Strategy 5: How to Use Gaming
Strategy 6: How to Use Google
Strategy 7: How to Use Google Docs
Strategy 8: How to Use Geographic Information Systems (GIS) and Google Earth
Strategy 9: How to Use the Cloud
Strategy 10: How to Use Digital Assistants (Such as Siri)
Strategy 11: How to Use Twitter
Strategy 12: Supporting Students With Special Needs
Strategy 13: Universal Design for Learning (UDL)
Strategy 14: Read-Aloud Testing
Strategy 15: Accessible Educational Materials (AEM)
Strategy 16: A Few Other Random Ideas
4. Lesson Planning
How to Use the Lesson Plan Templates
Lesson Plan Samples
Lesson Plan Templates
Week 1 Professional Development
Week 2 Professional Development
Week 3 Professional Development
Week 4 Professional Development
Week 5 Professional Development
Resources
App Warehouses
Technology/Integration Review Tools
Twitter Chats and People to Follow
Video Warehouses
Website Warehouses
Quotes to Keep in Mind