Hands-on, Practical Guidance for Educators
From math, literacy, equity, multilingual learners, and SEL, to assessment, school counseling, and education leadership, our books are research-based and authored by experts on topics most relevant to what educators are facing today.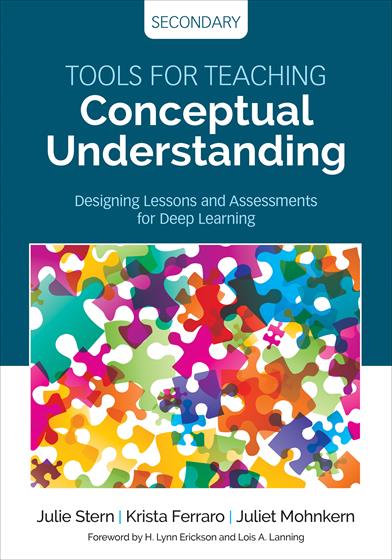 Look Inside
Bestseller!
Tools for Teaching Conceptual Understanding, Secondary
Designing Lessons and Assessments for Deep Learning
Foreword by H. Lynn Erickson and Lois A. Lanning

Discover how to help learners uncover conceptual relationships and transfer them to new situations. With this foundation, students will be poised to become experts and innovators!
Product Details
Grade Level: PreK-12
ISBN:

9781506355702

Published By: Corwin
Series: Corwin Teaching Essentials
Year:

2017



Page Count: 192

Publication date:

February 22, 2017
Price: $39.95
Description
Students become experts and innovators through Concept-Based teaching

Innovators don't invent without a deep understanding of how the world works. With this foundation, they apply conceptual understanding to solve new problems. We want our students to not only retain ideas, but relate them to other things they encounter, using each new situation to add nuance and sophistication to their thinking. To do this, they need conceptual understanding.

This book serves as a road map for Concept-Based teaching. Discover how to help students uncover conceptual relationships and transfer them to new situations. Specifically, teachers will learn:
Strategies for introducing conceptual learning to students
Four lesson frameworks to help students uncover conceptual relationships
How to assess conceptual understanding, and
How to differentiate concept-based instruction
Look no further. For deep learning and innovative thinking, this book is the place to start.

"The authors tear down the false dichotomies of traditional vs innovative education and provide a practical toolkit for developing creativity and applying knowledge through Concept-Based learning. Every practitioner needs this book to juxtapose what worked well in the 20th Century with what is essential in the 21st Century and beyond."

Michael McDowell, Superintendent
Ross School District, Ross, CA
"While most good educators recognise the incredible value of teaching conceptually, it is challenging. The authors have created accessible, practical baby steps for every teacher to use."
Dr. Vincent Chan, principal
Fairview International School, Kuala Lumpur, Malaysia
Key features
Teachers will learn:
Strategies for introducing students to conceptual learning

Instructional strategies to help students

uncover

and

transfer

concepts

How to write concept-based lessons

How to assess for conceptual understanding

How to differentiate in a concept-based classroom

How CBCI aligns with other current best practices and initiatives (like PBL, CCSS, etc.)
Table of Contents
Introduction: Why Is Concept-Based Curriculum Critical for the 21st Century?
---
1. What Are the Essential Elements of Concept-Based Curriculum Design?
2. How Do We Establish a Culture of Deep Learning?
3. What Are the Building Blocks of Concept-Based Instruction?
4. What Additional Tools Can We Use to Design Lessons?
5. How Do We Design Ongoing Assessments for Conceptual Understanding?
6. How Can We Meet the Needs of All Learners in a Concept-Based Classroom?
7. What Is the Relationship Between Current Best Practices and Concept-Based?
Conclusion: Imagine What School Could Be…
---