Hands-on, Practical Guidance for Educators
From math, literacy, equity, multilingual learners, and SEL, to assessment, school counseling, and education leadership, our books are research-based and authored by experts on topics most relevant to what educators are facing today.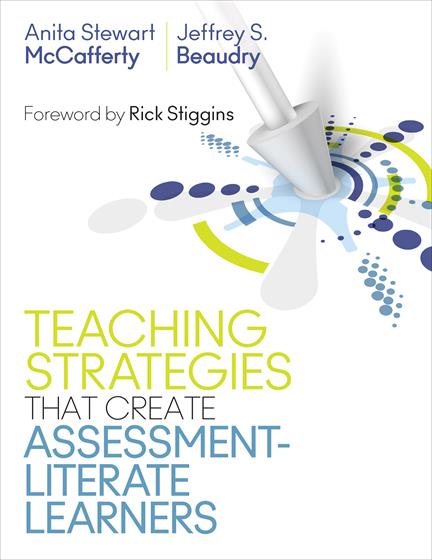 Teaching Strategies That Create Assessment-Literate Learners
Foreword by Rick Stiggins

The seven strategies of assessment for learning and five keys of quality assessment this book examines will help produce learners ready to support their own progress.
Product Details
Grade Level: PreK-12
ISBN:

9781506382098

Published By: Corwin
Year:

2018



Page Count: 248

Publication date:

May 07, 2018
Price: $39.95
Description
Your go-to guide for using classroom assessment as a teaching and learning tool!
How can we bring students into the assessment process as full partners in ways that help them become owners of learning?
Becoming an assessment-literate learner means understanding where you are going as a learner, where you're at now, and what you need to do to reach a learning goal. This book unpacks seven strategies of assessment for learning, along with the five keys of quality assessment, in a practical vision of quality assessment used to support and certify learning. With a focus on high-impact classroom practices, this book offers

Clear and relevant examples of assessment for learning strategies in specific subject matter contexts

Visual learning progressions for use in a self-assessment checklist and professional development
Additional material and examples on an author-created website
When we take a balanced approach to assessment and give students the tools and skills to support their own progress, students and teachers win. This book gives you the strategies and examples to make this possible.

"This is the book that practitioners have been waiting for: Assessment kept simple—its importance and how to do it, with plenty of support and templates to ensure success."
—Ken Darvall, Principal
Tema International School
Table of Contents
Foreword
---
Acknowledgments
---
List of Contributors
---
About the Authors
---
Chapter 1. Introduction to #assessmentliteracy
Assessment Literacy
Classroom Assessment: A Brief History of the Impact of the Field
Classroom Assessment: Today's Dialogue About High-Impact Practices and Strategies
The Era of Rapid Response: Our Concerns About the Commercialization of Formative Assessment
Assessment Literacy: It's About the Teachers and Their Leaders
Chapter 2. Contextualizing Assessment Within Curricula and Instruction
WHY, WHAT, and HOW
Backward Planning in a Proficiency-Based or Standards-Based Context
Designing Forward and Backward
Assessment Traps
Need for Assessment-Literate Leaders
What Is Effective School Leadership?
Types of School Leadership
Conclusion
Chapter 2 Appendix: U.S. History Assessment Task and Rubric
Chapter 3. The Convergence of Research and Practice: Seven Strategies of Assessment for Learning Meets High-Impact Strategies
Learning Progressions for High-Impact Assessment for Learning Strategies: From Surface to Deep Practice
Conclusion
Chapter 4. Clear Learning Targets: Clarity Is the Goal!
Clear Learning Targets: The Progression of Strategies for High Impact
Curriculum Context for Clear Learning Targets
A Primer on Cognitive Models: Identifying, Organizing, and Communicating Clear Learning Targets From Standards Documents
Classroom Strategies to Influence Clear Learning Targets: From "As Is" Standards to "I Can . . . This Means" Statements
Learning Progressions
A More In-Depth Look at Clear Learning Targets Using Next Generation Science Standards as an Example
Concept Maps and Deconstructing Standards
Combining Clear Learning Targets Strategies
Concerns About Creating Learning Progressions: Avoid the Traps
Grading, Scores, and Learning Progressions
Conclusion
Chapter 5. Mapping, Visual Literacy, and Assessment for Learning
What Is Visual Literacy? Why Is It Important?
High-Impact Visual Learning Strategies: Mind Mapping, Concept Mapping, and Visual Representations
Primer: What Is a Mind Map?
Primer: What Is a Concept Map?
Mind Mapping in Practice
Concept Maps in Action
Using a Concept Map to Make Comparisons and to Understand Similarities and Differences of Concepts
Graphic Organizers + Concept Maps + Sketches = Fluent Visual Literacy
Conclusion
Chapter 6. Putting Feedback Into Action
Giving and Receiving Feedback: Creating a Culture Receptive to Feedback
Using Objects to Understand How One Prefers to Receive Feedback
Educators Need and Deserve Formative Feedback, Too!
Conclusion
Chapter 6 Appendix: Earth-Sun-Moon System Pre-Self-Assessment and Teacher Feedback Case Study
Chapter 7. Metacognition, Self-Assessment, Goal Setting, and Reflection: GPA Matters! (Goals, Plans, and Actions, That Is!)
Meet Our Friend Ed
Fully Developed Rubrics
The Next Steps Rubric: A Bridge Between Standards and Fully Developed Rubrics
Clear Learning Targets
Descriptive Feedback
Self-Assessment and Goal Setting
Working in Concert With Fully Developed Rubrics
How and When to Use the Next Steps Rubric for Maximum Impact
Linking Metacognition and Student Success
The Anatomy of the Next Steps Rubric: Form, Function, and Flexibility
Educators Benefit From the Next Steps Rubric, Too!
Summary of the Next Steps Rubric
Other Self-Assessment, Goal Setting, and Reflection Tools
Conclusion
Chapter 8. Diagnosing Student Learning Needs During the Learning Process
Using Questions to Diagnose and Improve Student Learning
Why Use Questioning?
What Does the Research Say About Questioning?
What Can I Do to Improve My Questioning Skills, You Might Ask?
Teaching Productive Discourse: Using Classroom Discussions Effectively to Diagnose Learner Needs
Visual Thinking Strategy: Classroom Discussion Protocol
Conclusion
Chapter 9. The Whole Learner and Nothing But the Learner
A Key Standard of Quality: Assessment-Literate Learners
So, What Else About the Learner?
Deep Dive: What Is Grit?
Metacognitive Learning Strategies—A Deep Dive
Metacognitive Learning Strategies in Practice—From 21st Century Skills to Habits of Work and Learning
Learner's Attributes and What She or He May Be Thinking
Mindset Celebrating Errors and Mistakes
Self-Handicapping
Deep Dive: Encounters With Learners
Conclusion
Chapter 9 Appendix: Metacognitive Strategies: Definitions, Effect Sizes, and Examples
Chapter 10. High-Impact Professional Learning Principles and Communities of Practice: Let's Get It Right!
Standards for Professional Learning
Conclusion
Chapter 11. Professional Learning Strategies and Tools for Creating Assessment-Literate Educators
Common Language and Vetted Resources
Interactive and Immersive Learning Strategies
Self-Assessment, Goal Setting, and Reflection Tools and Strategies
Simplify Sources and Displays of Evidence (Quicker Prompts)
Use of Modules: Bite-Sized Professional Development
Grow Assessment-Literate Leaders Within and Outside of One's District and/or Partnership: Creating a Partnership of Partnerships
Finding the Sweet Spot: Embed Assessment Literacy Into Other Professional Development Initiatives: It Is the Plate!
Conclusion
Chapter 12. Assessing Student Growth and Teacher Effectiveness
Overview of Foundational Skills for Sound Assessment of Student Growth and Proficiency
Assessing What Matters Most in Social Studies-Historical Thinking Example: A Case Study in Student Growth Models
Conclusion
Chapter 12 Appendix: Historical Thinking and Summarizing
Chapter 13. The #assessmentliteracy Challenge
Take a Creative Deep Dive: Express-a-Book, Video, Podcast, or Article
Following the Flow of Ideas and Finding Your Happy Place
What Will Be Your Next Steps in Your Assessment Literacy Journey?
Chapter 13 Appendix A: What Is Quality? High-Impact Teaching Strategies Meet Zen and the Art of Motorcycle Maintenance by Robert Pirsig (1974)
Chapter 13 Appendix B: Art, Fear, and High-Impact Teaching and Learning Strategies
References
---
Index
---