Hands-on, Practical Guidance for Educators
From math, literacy, equity, multilingual learners, and SEL, to assessment, school counseling, and education leadership, our books are research-based and authored by experts on topics most relevant to what educators are facing today.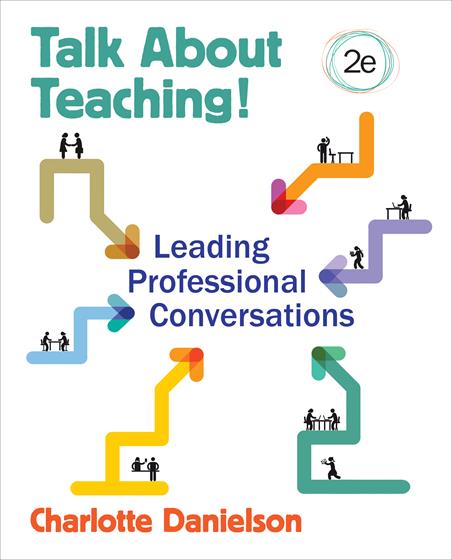 Bestseller!
Talk About Teaching!
Leading Professional Conversations
Second Edition

Harness the power of informal professional conversation and invite teachers to do the intellectual work needed to boost achievement. Move beyond passive observations and ineffective workshops and really talk the walk.
Product Details
Grade Level: PreK-12
ISBN:

9781483373799

Published By: Corwin
Year:

2015



Page Count: 160

Publication date:

September 22, 2015
Price: $39.95
Description
Improve teaching practice through powerful professional conversations!

Move beyond isolated teaching, passive observations, and ineffective workshops to be the leader who engages staff and affirms the value of reflective and informal professional discussions. Launch meaningful conversations and a powerful team of teachers who understand how students learn, what motivates them, and how to implement that research in the classroom.

Good leaders know that sharing, discussing, and examining teaching practices and student work improves student learning through professional examination, inquiry, and growth. Educators who harness the power of informal professional conversation invite teachers to do the intellectual work needed to connect with students and boost achievement. The second edition of this powerful book includes:
A new chapter guiding conversations to align with new state standards
Outlines for specific conversation skills needed to initiate and succeed
Mental maps, sample topics, and conversation activities
Read Talk About Teaching! and build a culture of understanding, respect, and empathy that encourages your team to reach for new possibilities.

"This is a great resource for leaders who regularly facilitate conversations with teachers. I use it in my graduate class in supervision and strongly recommend that students keep this book as a resource for the future."
Diane Canino Rispoli, Clinical Professor of Educational Leadership and former school leader
Syracuse University, Syracuse NY
"The book's major strength is that it combines a discussion of what constitutes good teaching and how to conduct productive professional conversations. This book would be an excellent resource for supervisors and principals."
M. Susan Bolte, Principal
Providence Elementary, Aubrey, TX
Key features
Identifies topics for professional conversations that are linked to the "big ideas" or essential components of successful teaching

Links the "big ideas" to both critical research and to the author's frameworks

Identifies and describes research-based conversation skills, including setting the tone, probing, paraphrasing, and inviting thinking

Demonstrates how to create an environment that supports informal and effective professional conversations, e.g., making time for the conversations, establishing the necessary trust, reaching consensus on the essential components of successful teaching

Provides an entire chapter of very specific conversation activities or protocols organized around the "big ideas" that comprise suggested questions, materials to support the conversations, and likely outcomes of discussions
Table of Contents
Acknowledgements
About the Author
Preface
1. Why Professional Conversation?
The Imperative for Improvement in Teaching
The Nature of Teacher Learning
Promoting Professional Learning Through Conversation
Assumptions Underlying Professional Conversations
Summary
2. Power and Leadership in Schools
Overview
The Reality of Power
Reconciling Power and Leadership
Summary
3. The Big Ideas that Shape Professional Conversations
What Constitutes Important Learning?
What Causes Learning?
How Are Students Motivated?
The Merging of All These Ideas
Summary
4. The Topics for Conversations
Power, Leadership, and the "Big Ideas"
Summary
5. Conversation Skills
Setting the tone for conversation
Linguistic Skills
Paraphrasing
Summary
6. Informal Professional Conversations
Purpose
Settings for Professional Conversations
Procedure
Summary
7. Implementation Issues
Finding Time for Conversation
Communicating the Purpose
Establishing Trust
Forging Understanding and Consensus on the "Big Ideas"
Elaborating the "Topics for Conversation"
Summary
8. Conversation Activities for Implementation
Establishing the Foundation
Communicating the Purpose
Establishing Trust
The Big Ideas: Considering High-Level Learning
How do People Learn?
Worthwhile learning experiences
Human Motivation
Topics for Conversation
Summary
References
Index