Hands-on, Practical Guidance for Educators
From math, literacy, equity, multilingual learners, and SEL, to assessment, school counseling, and education leadership, our books are research-based and authored by experts on topics most relevant to what educators are facing today.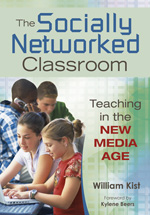 Look Inside
Bestseller!
The Socially Networked Classroom
Teaching in the New Media Age
This book demonstrates how pioneering teachers have successfully integrated screen-based literacies into instruction and how you can harness students' social networking skills for learning.
Product Details
Grade Level: PreK-12, Elementary, Secondary
ISBN:

9781412967013

Published By: Corwin
Year:

2009



Page Count: 152

Publication date:

October 21, 2009
Price: $32.95
Description
"Kist writes as a learner should, sharing what he discovers along the way. I like even more that he asks important questions while capturing how he and several other master teachers have attempted to ask and answer them with their own students. You will, too."
—Bud Hunt, Blogger at Bud the Teacher
Instructional Technologist, St. Vrain Valley School District, Longmont, CO

"The innovative classroom activities in this engaging book will inspire teachers to help students acquire digital-media literacies for collaborating on and sharing their work—literacies essential for participation in a networked world."
—Richard Beach, Professor of English Education
University of Minnesota
"A veritable smorgasbord of ideas and suggestions. This text grabbed me right away, and I started flagging all sorts of ideas even in the earliest chapters. It is as if Bill Kist met me in the hallway, took me by the hand, and simply said, 'Come here, I want to show you something.'"
—Sheila M. Gragg, Technology Integration Coach
Ashbury College, Canada
Incorporate social networking into instruction, no matter your level of technological expertise or Internet access!
Web sites like Facebook and Twitter have transformed the way young people interact and communicate. With appropriate guidelines, students' social networking skills can be harnessed to develop new literacies and deepen teaching and learning in the 21st century.
The Socially Networked Classroom demonstrates how pioneering teachers have successfully integrated screen-based literacies into their instruction. This book includes:
Real-world activities and lesson examples with assignment sheets, assessments, and rubrics
Ideas on fostering collaborative learning using blogs, wikis, nings, and other interactive media.
Tips on Internet safety, blogging etiquette, protected blogging sites, and more
Blog entries from classroom teachers
With this accessible guide for Grades 5–12, teachers of all levels of technological expertise can help students develop the new literacies necessary to succeed in a digital world.
Key features
Identifies and documents the processes of teaching and learning in pioneering new media classrooms featuring social networking
Documents the assignments, assessments, and outcomes of instruction in these classrooms
Explores a broadened definition of literacy in relation to human learning and education
Brings nationally known "new literacies" theoreticians—who may be known internationally only to well-read academics—to a wider audience
Table of Contents
Foreword by Kylene Beers
---
Acknowledgments
---
About the Author
---
1. The Writing Is on the Screen: Social Networking Is Here to Stay
2. "Short": Social Networking in a Low-Tech Environment
3. "Tall": Social Networking in a Medium-Tech Environment
4. "Grande": Social Networking in a High-Tech Environment
5. "Venti": Social Networking in an Unlimited Tech Environment
6. "Refill": Continuing the Dialogue
Appendix: Sample Letters to Parents
---
References
---
Index
---