Hands-on, Practical Guidance for Educators
From math, literacy, equity, multilingual learners, and SEL, to assessment, school counseling, and education leadership, our books are research-based and authored by experts on topics most relevant to what educators are facing today.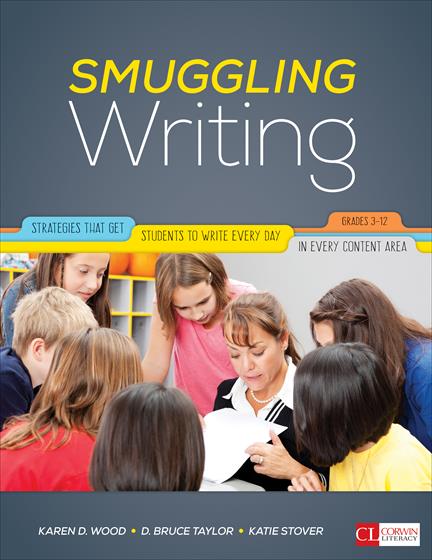 Look Inside
Smuggling Writing
Strategies That Get Students to Write Every Day, in Every Content Area, Grades 3-12
Integrate writing seamlessly into your lesson plans with 32 written response activities that help students process information and ideas in short, powerful sessions.
Product Details
Grade Level: PreK-12
ISBN:

9781506322629

Published By: Corwin
Series: Corwin Literacy
Year:

2015



Page Count: 256

Publication date:

November 20, 2015
Price: $31.95
Description
Is it possible to sneak more writing into your already-jammed curriculum? Yes! With this cache of classroom-tested ideas, you have all you need to make writing-to-learn a daily habit for students that deepens their content understanding and creates learners ready to take on all of the world's information.

Smuggling Writing shows how to integrate writing seamlessly into your lesson plans with 32 written response activities that help students process information and ideas in short, powerful sessions. The authors invigorate time-tested tools like GIST, Herringbone, and Anticipation Guides, and organize them into sections on Vocabulary and Concept Development, Comprehension, Discussion, and Research & Inquiry so you can select and use them to maximum effect.

Here are the success-ensuring how-to's that accompany each strategy:
A step-by-step process ensures students use the strategy before, during, and after reading/learning so they "own" the strategy and can track their thinking
Engaging digital applications, including Story Impression with Bubbl.us, Reading Road Map with Prezi, Possible Solutions with Padlet, CLVG with Brain Pop
Sample lessons showing both traditional and online formats, taking the guess work out of trying these new digital tools
Ideas for "smuggling" additional writing opportunities into or after the lessons, ensuring that students' writing skills improve
Connections to Common Core State Standards
With all the heady talk of what it's going to take for students to read, write, and analyze across multiple sources, it's nice to know that there is a book that shows how big gains will come from "writing small" day by day.
Key features
· Includes 30+ process-oriented literacy strategies in the areas of vocabulary and concept development, comprehension, research and inquiry, and discussion
· Provides a quick-reference matrix that shows, at a glance, each strategy, its associated "literacy strand," relevant digital tools, sample lesson details, and related standards
· Structures the strategies in such a way that they can be used as metacognitive tools for teachers and students to use in learning across all areas of the curriculum
· Demonstrates how to seamlessly integrate writing into your lessons while simultaneously teaching content—any content—from math to science to social studies to literature
· Presents strategies in a scaffolded manner to help students think about, process, read and recall from varied sources—both traditional and digital
· Breaks each strategy down clearly into instructional phases: prereading, reading, and postreading
· Illustrates how the strategies can be used with and applied to many forms of both informational and narrative text
· Shows how teachers can model instruction for students through whole-class instruction and discussion and then transfer that to small groups and pairs of students who work collaboratively
· Includes digital applications, "smuggling writing" tips, standards-based connections, and samples lessons for the strategies
Table of Contents
Preface
---
Acknowledgments
---
About the Authors
---
A Matrix for Using This Book
---
Section I. Vocabulary and Concept Development
---
Scenario: A Look Inside a Middle School Classroom
What the Research Tells Us About Vocabulary and Concept Development
Strategy 1. Frayer Model Plus
Strategy 2. Semantic Feature Analysis Plus
Strategy 3. Vocabulary Cards
Strategy 4. Vocabulary-Concept Journals
Strategy 5. Vocabulary Self-Awareness Chart
Section II. Comprehension
---
Scenario: A Look Inside an Elementary School Classroom
What the Research Tells Us About Comprehension and Close Reading
Strategy 6. List–Group–Label–Write
Strategy 7. Book Reviews/Book Trailers
Strategy 8. Generating Interactions Between Schemata and Text (GIST)
Strategy 9. Extended Anticipation Guide
Strategy 10. Possible Sentences
Strategy 11. Story Impressions
Strategy 12. Reading Road Map
Strategy 13. Say Something and Summarize
Strategy 14. Somebody–Wanted–But–So–Then
Strategy 15. Exchange Compare Writing
Strategy 16. RAFT Writing
Strategy 17. So What?
Strategy 18. Found Poetry Summaries
Strategy 19. Sticky Note Maps
Strategy 20. Double Entry Journal/Dialectic Response Journal
Section III. Research and Inquiry
---
Scenario: A Look Inside a High School History Classroom
What the Research Tells Us About Inquiry and Research
Strategy 21. 1–2–3 Research
Strategy 22. Collaborative Listening Viewing Guide (CLVG)
Strategy 23. Herringbone
Strategy 24. Inquiry Charts
Strategy 25. KWL Plus
Strategy 26. Multiple Source Research Strategy
Strategy 27. Web Page Evaluation Tools
Section IV. Discussion
---
Scenario: A Look Inside a Middle School Science Classroom
What the Research Tells Us About Classroom Discussion
Strategy 28. Discussion Webs
Strategy 29. Talking Drawings
Strategy 30. Tea Party
Strategy 31. Think–Pair–Share–Write
Strategy 32. Ticket to Talk